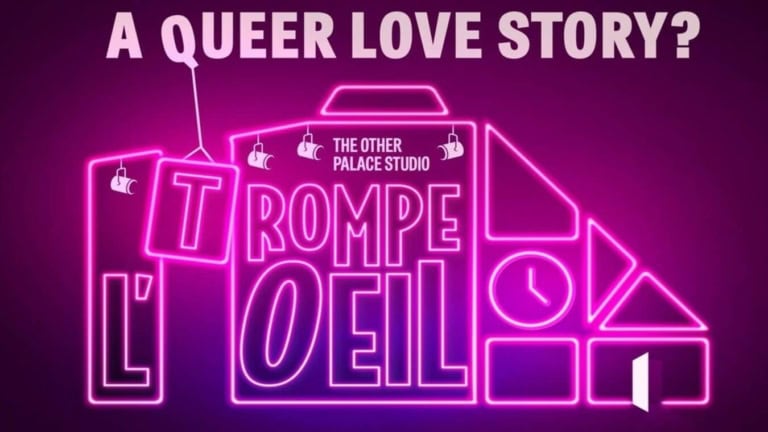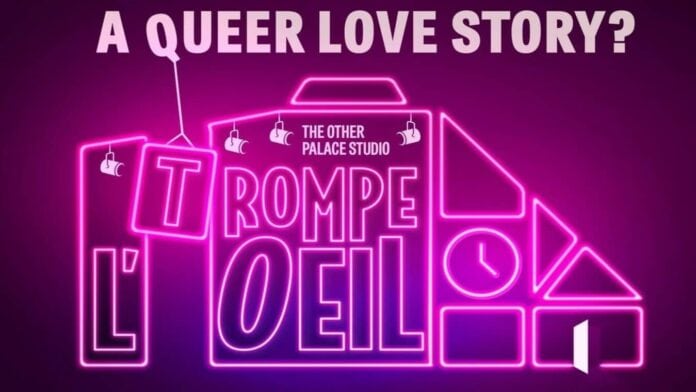 Trompe L'Oeil is a stunning new musical that combines cabaret, musical theatre, queer theatre, politics, and circus. As all the elements are combined to create a trompe l'oeil illusionary art form, we asked Henry P Biggs, the show's writer and producer, to illuminate the magic and illusion for us ahead of the show's run at The Other Palace Theatre from the 28th of September to the 15th October.
Thank you for meeting with us, Henry, to discuss Trompe L'Oeil. How did you come up with the title for the musical, and what does it signify?
First and funnily, I recognise it is a tough title to pronounce! It has been affectionately nicknamed T L'O if that helps.
Trompe l'oeil is an art term – used in English (no, really!) – that literally means "deceives the eye". The art idea is to trick you visually – Escher's stairs is a notable example.
I love the idea because I think that is more and more of our challenge these days – understanding what is real and what is not, be it in ourselves or in others. The musical then becomes a sort of omnium gatherum of all things illusional. It's a wonderful premise to work from at all creative levels.
Can you give us a brief overview of the storyline and main characters in the musical?
Well, I don't want to be a spoiler, so let me just say broadly that Trompe L'Oeil follows the evolving relationship between Rip – a US Republican – and Demi – a Democrat and drag queen – who both find themselves interested in the other against all logic and reason.
This all takes place during the presidency of Trump, who also unwelcomingly appears now and again and is – of course – convinced the show is about him. It is about folks loyal to Trump after all, no, Trump loyal? And awayyy we go!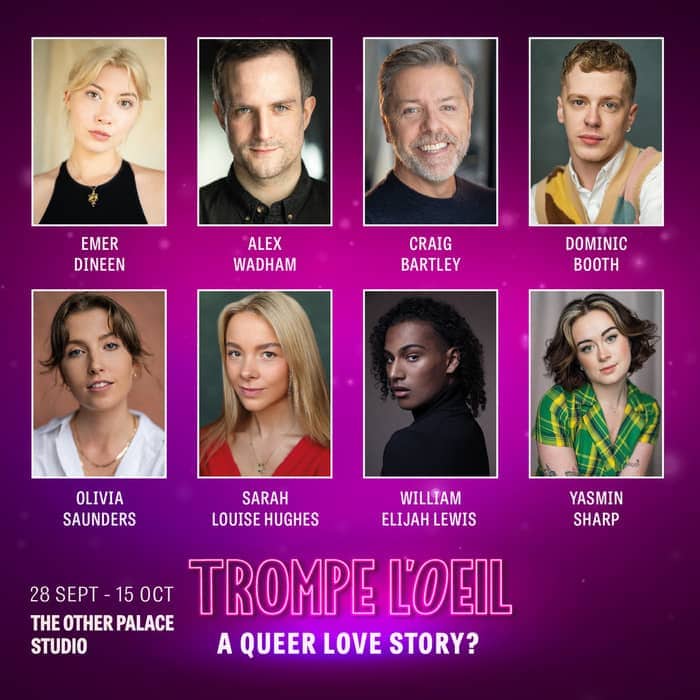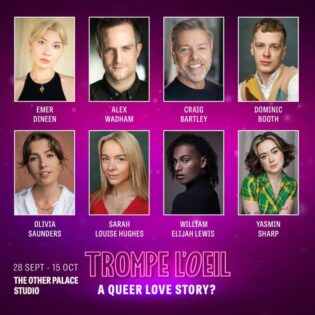 Is Trompe L'Oeil a love story?
Absolutely – and, as is the case with many love stories – it is a story about self-discovery and fully seeing and receiving those we love.
Can you tell us about scenes in Trompe L'oeil that will delight the audience?
I think the illusionary set design literally sets the stage. It's amazing, but there is magic as well as illusion throughout – and even a bit of circus – that audiences quite enjoy.
I think the song "Bounce" is a highlight, and "Pop Tart" is an absolute show stopper with lyrics like:
"Don't want your teeny canoli,

that won't amuse my bouche,

won't pop your cherry stromboli,

just to sex my sweet tooth."
The corresponding choreography of Blake Anderson and Thomas Ashton is most enjoyable. Showstopper.
The preview alludes to cryptic messages in the lyrics. Is there a specific message that you want the audience to take away with them?
I think the cryptic messages have their place, for the most part, in the background. My worry has been that these sorts of word games have the potential to make the show heavy and slow – so they are illustrated and annotated in the Playbill only unless their crypticness can be represented elegantly on stage.
By the way, these trompe l'oeil lyrics actually have something of their own following beyond the musical. The songs have, for example, appeared purely visually at the Fluctuart Gallery in Paris this past June.
As an example of how these songs work visually, the Fop's Lament song, pictured below, may be instructive.
The character is pretentious and petty – underlying the text of his song, however, is a carefully constructed image, requiring specific letters to land in exact positions to create a salacious bit of viewing, as follows: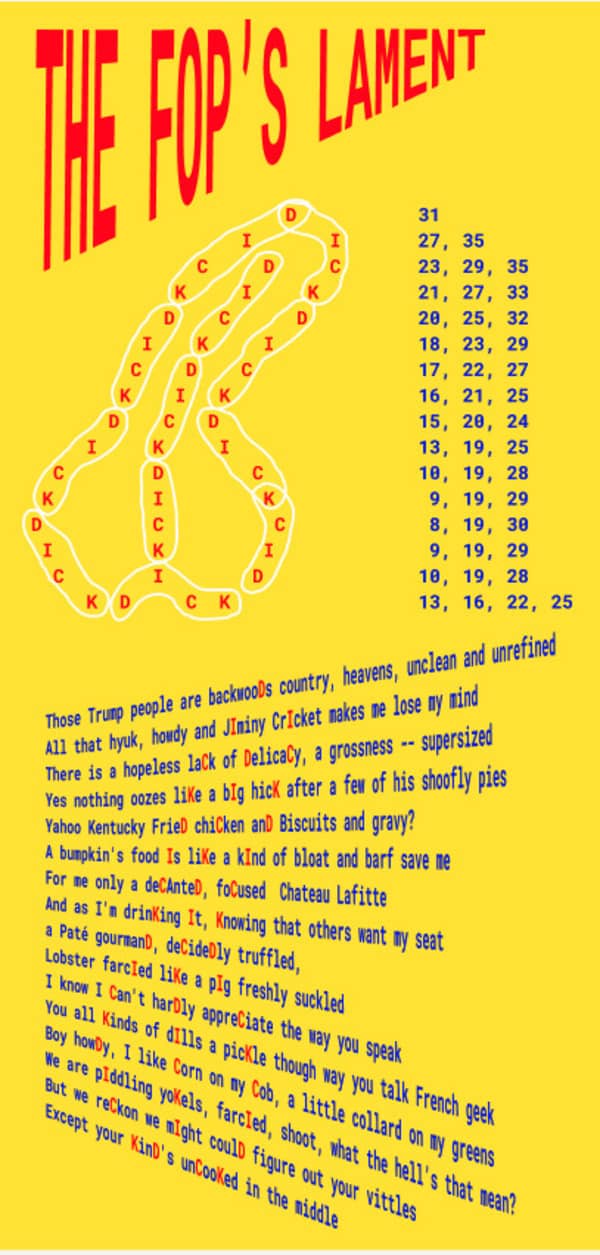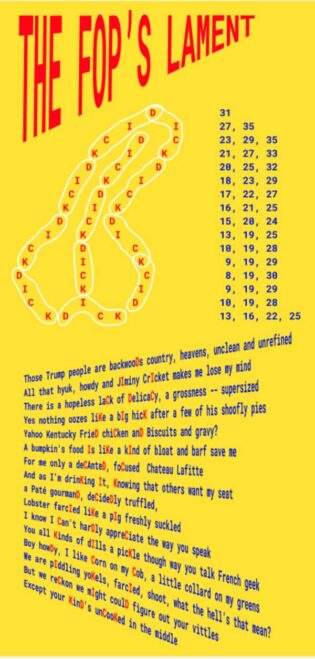 How do you think Trompe l'oeil fits into the current landscape of musical theatre?
My modest hope is that, at a larger emotional level, Trompe L'Oeil helps us heal, understand and be more accepting, and at a lyrical level, it makes us more fully consider the lyrically unexplored and what's possible.
Trompe L'Oeil runs from 28 September to 15 October 2023 at The Other Palace Theatre, 12 Palace Street, London SW1E 5JA, United Kingdom.