The best LGBTQIA+ gay theatre shows and gay plays in London can be found at the following venues and if you'd like to purchase theatre tickets then please click on the link to the Theatre where you'll find theatre tickets.
Best Gay LGBTQ Queer Theatre in London for October 2023 onwards:
---

As You Like It at Shakespeare's Globe, 18 August – 29 October 2023.
A transformative adventure that celebrates friendship, love, and freedom. In the court of Duke Frederick, division and distrust is rife. When Rosalind is banished, she runs away with cousin Celia to the Forest of Arden. No longer governed by the court's strict rules, they take the opportunity to explore new identities and find that the forest is a place where the possibilities for love and connection are infinite. In this ancient community of nature, unexpected friendships are forged, curious minds meet, bitter enemies reconcile, and strangers fall in love. Macy-Jacob Seelochan, who uses all pronouns, plays Celia and they have written a queer pespective feature for QX.
Tickets: https://www.shakespearesglobe.com/whats-on/as-you-like-it-2023/
Shakespeare's Globe , 21 New Globe Walk, London SE1 9DT, United Kingdom.
---

Beautiful Thing at Theatre Royal Stratford East, 8 September – 7 October 2023.
A beautiful revival of Jonathan Harvey's play. Two teenage boys, Ste and Jamie, are neighbours on an urban estate in South London. Jamie knows about musicals, while Ste loves sports, and both are being bullied. One night, seeking refuge from his abusive father, Ste stays at Jamie's flat and, sharing a bed, the boys strike up a new relationship. What follows is a touching gay love story full of warmth and humour.
Tickets: https://www.stratfordeast.com/whats-on/all-shows/beautiful-thing
Theatre Royal Stratford East, Gerry Raffles Square, London E15 1BN, United Kingdom.
---

Frank and Percy at The Other Palace Theatre, 8 September – 3 December 2023.
A witty and poignant take on the unexpected relationship that blossoms between two elderly gentlemen. Have you ever seen a couple of old chaps on a park bench and wondered what they're chatting about? In this new play, starring Ian McKellen and Roger Allam, we overhear Frank and Percy as they discuss the weather, their dogs and each other, and so much more. Will the widowed schoolteacher and the elder statesman dare to risk changing their lives, or will he let sleeping dogs lie?
Tickets: https://theotherpalace.co.uk/frank-percy/
The Other Palace Theatre, 12 Palace Street, London SW1E 5JA, United Kingdom.
---

Strangers in Between at Golden Goose Theatre, 9 September – 7 October 2023.
This play delves into the complexities of identity and relationships, offering a mix of laughter and tears. Shane flees his family and arrives in Sydney's Kings Cross, where he tries to build a surrogate family. But he confuses the two families. The city lover he worships is confused with the brother that he fears. Peter is an older man dealing with the imminent death of his elderly mother, and he's rendered maternal by the needs of runaway Shane.
Tickets: https://www.goldengoosetheatre.co.uk/strangers-in-between
Golden Goose Theatre, 146 Camberwell New Road, Camberwell, London SE5 0RR, United Kingdon.
---

Deeper and Deeper at Union Theatre, 13 September – 7 October 2023.
Written and directed by Tim McArthur, Deeper and Deeper is a new comedy-drama from Above The Stag. Five gay men begin sharing a flat in 1990s Camden. Friendship and love are tested over the following years by secrets, lies and betrayal.
Tickets: https://abovethestag.com/deeper-and-deeper
Union Theatre, Old Union Arches, 229 Union Street, London SE1 0LR, United Kingdom.
---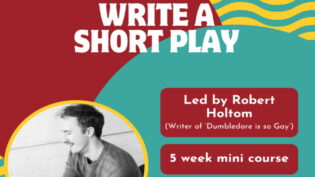 Write a Short Play – Mini Course at The Glitch, 19 September – 17 October 2023.
This is a brand new workshop series led by Robert Holtom, writer of 'Dumbledore is so Gay'. It's your opportunity to write a short play.
Tickets: https://www.eventbrite.co.uk/e/write-a-short-play-mini-course-tickets-709311879927
The Glitch, 134 Lower Marsh, London SE1 7AE, United Kingdom.
---

Trompe L'Oeil at The Other Palace Studio, 28 September – 15 October 2023.
Queer theatre where cabaret, politics, and the circus collide in this tongue-in-cheek musical inspired by surrealist masterpieces such as The Escherian Stairwell, Magritte's apples and Salvador Dali's melting clocks. The songs themselves even become illusionary, with cryptic and hidden messages.
Tickets: https://theotherpalace.co.uk/trompe-loeil/
The Other Palace, 12 Palace Street, London SW1E 5JA, United Kingdom.
---

The Island at Cervantes Theatre, 28 September – 21 October 2023.
Ada and Laura are two parents waiting for news about their son's condition after a devastating accident left him with severe injuries, and the prospect of his death could mean the chance to rebuild their shattered lives. But can you really move on from the death of a child? The Island offers a poignant reminder of the fragility of life and the resilience of the human spirit while delving into the uncomfortable territory of human emotion.
Tickets: https://www.cervantestheatre.com/home/
Cervantes Theatre, Arch 26, 229 Union Street, London SE1 0LR, United Kingdom.
---
Jock Night at Seven Dials Playhouse, 9 October – 4 November 2023.
Adam Zane's bold new comedy-drama uniquely explores contemporary gay life and the complexities of friendships, sex and relationships. The script is hilarious, cuttingly honest, and thought-provoking. The play unfolds over a year of wild nights in Manchester's Gay Village. Ben (played by Holby City's David Paisley) is a Victoria Wood enthusiast in his forties, looking for love in a culture of casual encounters and chemsex. The play casts a light on mental health, peeling back the veneer of modern gay culture and using comedy to highlight provocative issues within the LGBTQ+ community. "A razor-sharp skewering of modern gay life, but done with compassion, intelligence, and hope." – Russell T. Davies.
Tickets: https://sevendialsplayhouse.ticketsolve.com/ticketbooth/shows/1173643021/events/428588542
Seven Dials Playhouse, 1a Tower Street, London WC2H 9NP, United Kingdom.
---

What It Means at Wilton's Music Hall, 9 October – 28 October 2023.
A new play by James Corley, What It Means, is an adaptation of Merle Miller's seminal essay What It Means to be a Homosexual. Printed in 1971 in the New York Times and published as On Being Different by Penguin. This act of bravery and quiet protest has become a defining part of the LGBTQ+ rights movement. The show is an emotional, one-person voyage through history, some personal and some not. What It Means speaks directly to audiences about standing up for what you believe in and accepting the validity of one's voice. "Nothing short of a triumph." – Theatre Weekly.
Tickets: https://www.wiltons.org.uk/whatson/818-what-it-means-
Wilton's Music Hall, 1 Graces Alley, London E1 8JB, United Kingdom.
---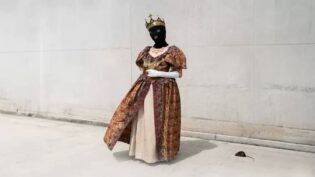 The Flea at The Yard Theatre, 11 October to 18 November 2023.
The Flea is a retelling of the Cleveland Street scandal. The scandal surrounds the discovery by the police of a male brothel in Fitzrovia in 1889. Gay male sex was illegal in Britain then, and the brothel's clients faced prosecution if discovered. The government was accused of a cover-up as they sought to protect the names of prominent patrons. There were rumours that Prince Albert Victor, Queen Victoria's grandson, had visited. None of the wealthy clients were ever prosecuted. However, the male prostitutes, who also worked as telegraph messenger boys for the General Post Office, were tried by public opinion, humiliated in the press and sentenced to jail.
Tickets: https://www.theyardtheatre.co.uk/events/theflea
The Yard Theatre, Unit 2a Queens Yard, London E9 5EN, United Kingdom.
---

The Silence of Snow: The Life of Patrick Hamilton at Brockley Jack Studio Theatre, 17 – 21 October 2023.
Mark Farrelly, who performs in his one-man show Quentin Crisp: Naked Hope and Jarmen, now presents The Silence of Snow: The Life of Patrick Hamilton, a riveting, kinetic solo show portraying one of the great English writers of the inter-war years. Patrick Hamilton was a dazzling success in his twenties, producing hit plays and classic novels. But he was a repressed homosexual, having married twice – at the start of the play, he's in a straitjacket as he's about to be subjected to electrotherapy, a form of conversion therapy – and also an alcoholic whose wit became mordant as his worlds collapsed. This is a witty and engaging tribute to a great English writer. "You won't be able to take your eyes off this magnetic actor Mark Farrelly. He inhabits the character of Hamilton with a blazing fluidity" – The Times.
Tickets: https://brockleyjack.co.uk/jackstudio-entry/the-silence-of-snow-the-life-of-patrick-hamilton-2/
Brockley Jack Studio Theatre, 410 Brockley Road, London SE4 2DH, United Kingdom.
---

The Best Of Edinburgh at the Pleasance Theatre, 17th October – 27 November 2023.
The Pleasance Theatre is bringing some of their favourite shows back to London from the Edinburgh Festival Fringe. There are twenty-plus spectacular theatre, comedy, magic, and cabaret shows and you can save 20% off tickets when booking two shows together. LGBTQ+ themed shows include 52 Monologues For Young Transsexuals, How To Live A Jellicle Life: Life Lessons from the 2019 Hit Musical Cats, Scaredy Fat, Baklâ, Drag Queens vs. Vampires, Drag Queens vs. Zombies, Weird Wood, Chatham House Rules and Aidan Sadler: Melody, with more to be announced soon.
Tickets: https://www.pleasance.co.uk/events/type/bestofed
Pleasance Theatre, Carpenters Mews, North Road, London N7 9EF, United Kingdom.
---
How To Live A Jellicle Life: Life Lessons from the 2019 Hit Musical Cats at Pleasance Theatre, 20 – 21 October 2023.
A jellicle discussion about the jellicle aspects of the jellicle cats in Cats and how you can apply them to your life to make it truly jellicle. This award-winning evening of queer chaos is brought to you by the team from Diana: The Untold and Untrue Story and comes with five-star reviews. "A Masterclass" – Broadway World,"Linus Karp's shining brand of queer joy is just what we need for these times" – The Recs.
Tickets: https://www.pleasance.co.uk/event/how-live-jellicle-life-life-lessons-2019-hit-musical-cats
Pleasance Theatre, Carpenters Mews, North Road, London N7 9EF, United Kingdom.
---
Scaredy Fat at Pleasance Theatre, 28 October 2023.
Stuffed with steamy recollections of Candyman and Carrie, Scaredy can't enjoy themselves because evil horror host Count Calories cuts in on the fun. It's time for Scaredy to stop being such a big scaredy fat and face their fears. Scaredy pokes fun at fat and queer representation in horror films while asking what it means to love a genre that doesn't love you back. This show won the ENP 2023 Lyric Belfast and LET Award 2023.
Tickets: https://www.pleasance.co.uk/event/scaredy-fat
Pleasance Theatre, Carpenters Mews, North Road, London N7 9EF, United Kingdom
---

Jonny Woo's All Star Cabaret at Theatre Royal Stratford East, 2 November 2023.
East London cabaret and drag legend Jonny Woo teams up with superstar cabaret and musical theatre pals Adam Perchard, Sooz Kempner, George Bourgeois and Richard Thomas. Enjoy a night of music, comedy and fabulous costumes at Stratford East.
Tickets: https://www.stratfordeast.com/whats-on/all-shows/jonny-woos-all-star-cabaret/
Theatre Royal Stratford East, Gerry Raffles Square, London E15 1BN, United Kingdom.
---

GuyMart at Waterloo East Theatre, 2 – 12 November 2023.
GuyMart is a one-act musical which imagines gay hookup apps as a supermarket where men can browse for and purchase their next sexual partner. We follow young and single Matt as he becomes part of GuyMart stock, hoping to find the perfect man. However, things at GuyMart are not as they seem.
Tickets: https://www.waterlooeast.co.uk/guy-mart
Waterloo East Theatre, Brad Street, London SE1 8TN, United Kingdom.
---
52 Monologues For Young Transsexuals at Pleasance Theatre, 3 November 2023.
'What's the worst thing that's ever made you feel like a woman?' This award-nominated debut has no actual monologues. Instead, they sat down with other trans women to get sleepover-honest about bodies, sex, and love. Armed with lots of baby oil and killer dance moves, they're leading you through hilarious confessions, from pleasure to pagan ritual, from Barbara Streisand to BDSM. "Brutally revealing" – Guardian. "Genuinely groundbreaking" – To Do List.
Tickets: https://www.pleasance.co.uk/event/52-monologues-young-transsexuals
Pleasance Theatre, Carpenters Mews, North Road, London N7 9EF, United Kingdom.
---
Baklâ at Pleasance Theatre, 9 – 10 November 2023.
Much influenced by Spanish and English, Tagalog is an Austronesian language, the basis of Filipino. Baklâ is Tagalog and means homosexual, unable to reproduce, and f*ggot. 1521, the start of 300 years of Spanish colonial rule, sparked a genocide across the islands now known as the Philippines. The loss of ancestral homeland sends ripples through time, emitting a cultural amnesia. But is sex the best cure for a headache? A daring one-person physical theatre show about how intergenerational trauma takes shape in the modern Filipino. Winner of The Asian Arts Award Best Show and Fleabag Fund.
Tickets: https://www.pleasance.co.uk/event/bakla
Pleasance Theatre, Carpenters Mews, North Road, London N7 9EF, United Kingdom.
---
Premier LGBTQIA+ Gay Theatre In London:
VENUE CLOSED AboveTheStag Theatre London
An independent Charity and Theatre Company serving the LGBTQIA+ community and its supporters. It is the only designated queer theatre in London and is located in Vauxhall. It´s very convenient for after theatre drinks at one of the many gay venues in the area, so You have an excellent opportunity to make a night of it. The theatre is London's delightful LGBT thespian oasis. A gorgeous corner of performance and campery, and they're the only theatre in the UK that's exclusively LGBT-focused! They also have a very nice bar so you can enjoy pre-theatre and interval drinks, plus bar snacks.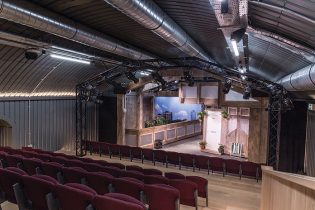 To purchase LGBT+ theatre tickets visit the QXTickets portal with links to theatre websites that are currently staging LGBT+ gay theatre London.
The Soho Theatre London
Soho Theatre is one of the country's busiest venues with a year-round festival programme of theatre, comedy and cabaret. There are six shows a night across three stages, with a very popular bar. The Theatre is based in the heart of gay soho and a very gay friendly theatre in the heart of Soho that includes a lot of queer theatre content in its programming. Tickets at The Soho Theatre
Soho-Theatre-Whats-On-LGBT
The Pleasance Theatre London
Located in Islington, The Pleasance Theatre has three production spaces. Mainhouse: Capacity 230. Downstairs: Capacity 75. Stagespace: Capacity 54. This Off-West End theatre welcomes artists at all stages of their careers, with a commitment to new work that pushes boundaries. Tickets at The Pleasance Theatre
Park Theatre London
Located very close to Finsbury Park station, Park Theatre describes themselves as a neighbourhood theatre with a global ambition. They focus on staging a mix of both new writing and modern revivals. This stunning playhouse aims to stage content that resonates and reflects the world around them and the neighbourhoods close by. Tickets at the Park Theatre
Kings Head Theatre
Located in Upper Street, Islington and established in 1970, The King´s Head was the first pub theatre to be founded since Shakepeare´s day. The pub is a cozy traditional Victorian pub and a great place to meet up. In the winter customers get to enjoy a roaring fire! The theatre is located at the back. This is the Theatre where Hugh Grant made his acting debut. The Theatre is firmly committed to equality and diversity in everything it does. It regularly stages LGBTQI+ gay theatre shows and will run a whole season of gay theatre in London. Tickets at The Kings Head Theatre
Brixton House Theatre
As they embark on a new journey as Brixton House, The team told QX, "we are proud to continue expanding on Ovalhouse Theatre's renowned legacy for creating safe-spaces for artists across the LGBTQI+ community and beyond, to authentically create and fearlessly share their voices with audiences keen to hear their stories." Tickets at Brixton House.
The Other Palace Theatre
A theatre situated 3 minutes for Victoria tube. There is a 300-seat Main Theatre space and a smaller Studio space that accommodates up to 120 people. They offer a varied programme of drama, musical theatre, cabaret and jazz. There is also an excellent restaurant and bar. Tickets at The Other Palace.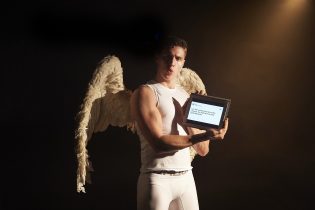 The Vaults
London's home for immersive theatre and alternative arts is set in a maze of disused railway arches under Waterloo Station and regularly puts on LGBTQ+ focused shows. They are on a mission to inspire. Tickets at The Vaults
Southwark Playhouse
The Playhouse is 5 minutes from Borough Station in an area with excellent eateries. Described as quirky and classy at the same time (The Stage), the theatre has two distinctive theatre spaces. They seek to showcase the U.K.´s best up and coming talent, offering such talent the opportunity to present their first fully realised productions. Content focuses on reinterpreting classic plays and contemporary plays of note. Tickets at the Southwark Playhouse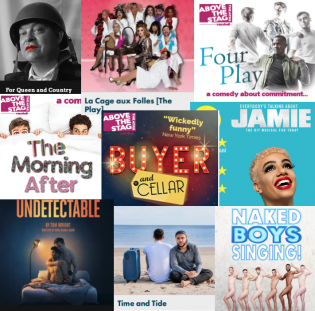 The Donmar Warehouse
This is a 251-seat, not-for-profit theatre in Covent Garden, and they have won more than 100 awards in their 27-year history. They bring together a wide variety of people in an intimate warehouse space. For this theatre representation really matters. Tickets at The Donmar Warehouse
---
Other Theatres that stage excellent LGBTQIA+ gay theatre shows:
ICA
The Apollo Theatre : Everybody´s talking about Jamie
Charing Cross Theatre
Leicester Square Theatre
And many other fantastic gay theatres across London…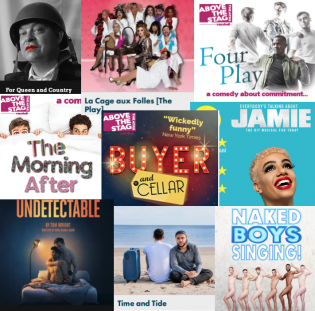 Please send press releases for LGBTQ+ gay plays in London and LGBTQ+ gay theatre London releases to [email protected]
Other sources of gay plays and gay theatre shows in London