London LGBTQ gay clubs are diverse in their offering, from the East London's on trend and creative queer club hotspots to South London's hedonist gay clubs. Whatever the focus, LGBTQ clubs are safe spaces for us in an increasingly hostile world. London LGBTQ clubbing can be quite tribal so to help you in your research QX has composed a list of the top LGBTQ gay clubs. Designated LGBTQ+ nightclubs are at the top of the list followed by regular club nights then other irregular party nights and some of the best nights are irregular! Click on the following: club name for club website; postcode for google maps and reviews; social to follow. To find out what's on tonight then please visit our night by night listings pages. Updated January 2023.
The best LGBTQ+ gay clubs in London
G-A-Y Heaven, Charring Cross.
It's a camp nightclub attracting a young energetic mixed (hetero friendly) crowd that love a confetti drop. The club has a large stage in front of the main dance floor that plays host to regular RPDR winners and contestants, whatever the night. Heaven is one of the biggest gay clubs in London, and the G-A-Y brand is huge. Sister venues in Soho are G-A-Y where you can get special entry wristbands from, and G-A-Y Late. Saturday nights at G-A-Y Club are mostly dedicated to live performances. Club nights include Thursday amateur strip night Porn Idol, Monday Popcorn, and Friday Camp Attack. Folks come in to town from the surrounding counties for a night out at Heaven. London, WC2N 6NG United Kingdom.
Circa Embankment, Embankment.
This is a more upmarket 500 capacity gay nightclub with the kind of production values you'd expect from the West End of London. Top DJs play House music. The dance floor and bar are open area while the seating is in plush booths. They recently launched a new Friday club night called Red Room which is a circuit style House music dance party with go-go boys. Saturday's gay party is Power House with the emphasis on Euphoric House, also with go-go boys. London WC2N 6PA United Kingdom.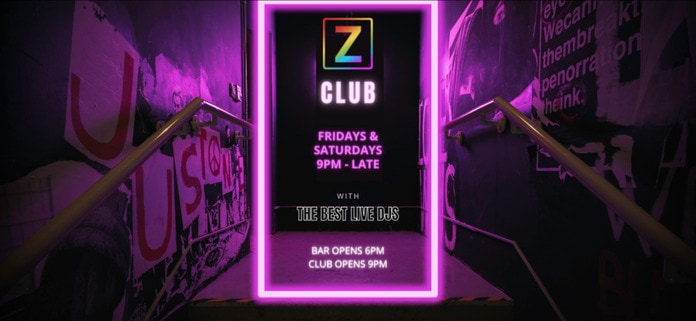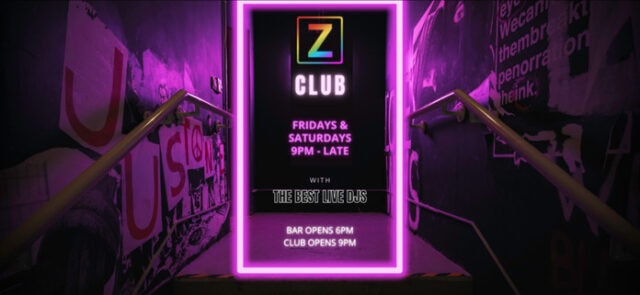 Z Club, Camden
The latest addition to dedicated LGBTQ+ club spaces in London. Attached to Zodiac bar, Z Club has particularly popular nights on Friday and Saturday when, if you're lucky, you can get free entry. Expect a fabulous show in the upstairs bar before the club opens, where there's something on most nights of the week (except closed on Mondays). For the latest on what's happening check out the QX LISTINGS. 119 Hampstead Road, London, NW1 3EE
G-A-Y Late, Soho.
It's the middle sister in the G-A-Y family. Camp sounds and cheep drinks by the bucket load. Open late with a small dance floor. Its conveniently located in Soho and just round the corner from G-A-Y bar so they all trot on to G-A-Y Late for more of the same. London WC2H 0EA United Kingdom.
Ku Klub, Soho.
Klub is situated in the basement of Ku Bar. The Klub is a dimly lit and intimate space with a small dance floor. Ideal for snuggling up to someone and possibly even a stranger. Some nights are hosted by scene celebs and cabaret performers. London WC2H 7BA United Kingdom.
The Glory, Haggerston.
This gloriously queer club is what a queer club should be like. A fabulous offering of drag and cabaret most nights, with a rotating schedule of performers. Queer club nights take over both floors totally engulfing the club in madness and mayhem. The party nights at The Glory are truly fabulous. London E2 8AS United Kingdom.
Dalston Superstore, Shoreditch.
Shoreditch chic collides with trashy glam. The polysexual fashionable/arty crowd are a party lovin' yet laid back bunch, and the venue plays host to a raft of eclectic nights over two floors. With diverse décor, long bar and seating upstairs, plus a queer club space downstairs that plays host to a raft of big name DJs and cutting edge sounds. There's more variety here than a box of Quality Street with schizophrenia… on acid! London E8 2PB United Kingdom.
BGWMC, Bethnal Green.
Bethnal Green Working Men's Club is a venue that plays host to queer and queer-friendly events. This former Working Men's Club is a hub of diverse discos and polysexual parties. London E2 6NB United Kingdom.
VFD, Stoke Newington.
This queer collective is at the vanguard of the queer revolution. VFD is in an edgy queer arts and entertainment venue in East London. With an arts space and club, VFD is a hub of queer London offering the very best in LGBTQI entertainment, music and general mayhem. London N16 7XB United Kingdom.
Two Brewers, Clapham.
The Brewers is one of the biggest gay bars in London and has a gay club space in the back. The DJs play pure cheese in this South London gay club. It's very friendly and also a great place to pick up which is one of the reasons we still go out, isn't it? Take advantage of the cheap early entry price and watch a drag show while your'e waiting for the club to start up. No visit to gay Clapham is complete with out a trip to The Two Brewers. London SW4 7UJ United Kingdom.
Fire Complex, Vauxhall.
Vauxhall's main dance nightclub where club brand Orange Nation hosts some of the biggest gay club nights in London. Expect pumped muscle and lots of heat! This 2,000 capacity venue boasts LED lit rooms, a garden and a playroom for the raunchier club nights. Expect serious clubbing, House, Pop, late hours and lots of gorgeous people. The Fire Complex also contains nightclubs Protocol and Lightbox. Resident party brands currently under the Orange Nation umbrella include A:M After Hours, Beyond, Heat, Gossip!, Orange, Madmen and the As One Festival. Buy Orange Nation Tickets. London SW8 1RT United Kingdom.
Irregular and Regular LGBTQ+ Gay Clubs In London
Beefmince, Vauxhall.
Big biceps and hairy chests make for a fuzzy evening of fun. The disco for bears is on at The RVT twice a month on a Friday. Check QX's Friday listings. London SE11 5HY United Kingdom.
Horse Meat Disco, Vauxhall.
Sunday in Vauxhall just isn't Sunday with out Horse Meat Disco at The Eagle. A fun gay disco for horsing around that doesn't take itself too seriously. A popular destination for us gayers on a Sunday night out in Vauxhall. London SE11 5QY United Kingdom.
Feel It Party, Borough.
Jodie Harsh and Little Gay Brother present a queer party at Omeara club playing House and Disco all Friday night long and presented by Jodie Harsh and Little Gay Brother. A fresh fantasy for the beautiful and the exotic. Dress to impress! The look is cool and sexy. London SE1 1TE United Kingdom.
WE Party, Brixton.
This is the sell out circuit party super-brand imported from Spain. For the last few party nights this huge international gay party brand has been hosted at South London club Electric in Brixton. Muscle boys dance the night away in to the wee hours on a packed dance floor to House with go-gos and spectacular themed shows. Dress to impress and book early. WE Party music sets can be found on Soundcloud. London SW2 1RJ United Kingdom.
Exilio.
Established Latin dance party playing all the favourites with a loyal and friendly crowd. Book a table. London WC2R 2PN United Kingdom.
Bootylicious.
London's longest-running club night for QTPOC. Playing new and the classic, from RnB Hiphop Dancehall, Afrobeat and Trap to Disco and House. Last Saturday of the month. London SE1 7TP United Kingdom.
Urban World.
Bi-monthly party. Celebrating diversity, unity and good vibes. DJs, MCS and hosts. Playing urban, desi and house. #qtipoc. Scala London N1 9NL United Kingdom.
R and She.
Queer dance club dedicated to the queens of HIP-HOP and R&B. Super friendly. Run by promoters and DJs Neil Prince, QBoy & David Oh. London N1 6NU United Kingdom.
The Connection Party.
Irregular black queer centred party where the LGBTQI+ members of POC & Allie's can collectively celebrate their cultural music, dance and fashion, in a safe, diverse and inclusive space. Social IG media here. Clapham Grand, London SW11 1TT, United Kingdom.
OUTHAUS.
Queer cabaret dance party presents a spectacular event at a stunning venue. London SW11 1TT United Kingdom.
Queer.
An LGBTQ live music event and club night that platforms DIY queer musicians. IG
Unicorn.
London's homo-euphoric dance party. Music: Trance and Euphoria. Dancefloor often with darkroom/play area, and outdoor area. London United Kingdom.
MIMI at BGWMC.
London's premier Queer drag-circus-clubnight. Expect sparks and all things circus-like. London E2 6NB United Kingdom.
Riposte.
A queer art rave with multiple techno DJs and performers, visual artists and stalls. Including fetish sex performances. A hugely popular rave night.
Hungama.
Hungama is the night for queer Asian people and their pals. The vibe is eclectic, the music is Bollywood smashed together with techno, the hosts are always insane, and the crowd will be gorgeous. It's an all-round multicultural partygasm!
One More Time.
A party night not to be taken too seriously as the focus is on having a lot of fun. From A lister to B lister to flopster, expect all the pop and dance hits, and not so hits of a particular year 2000+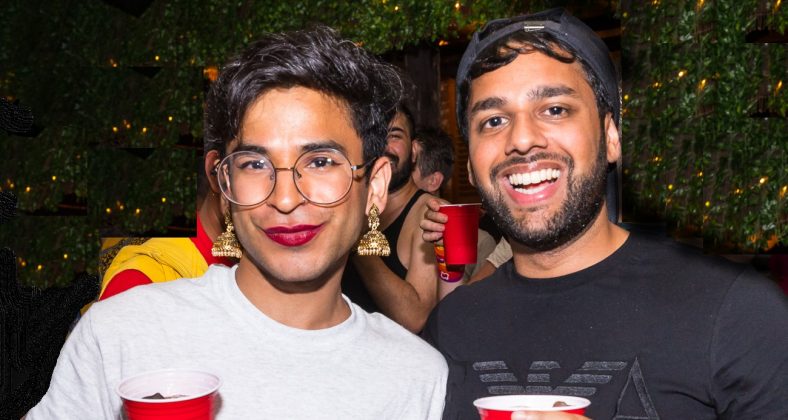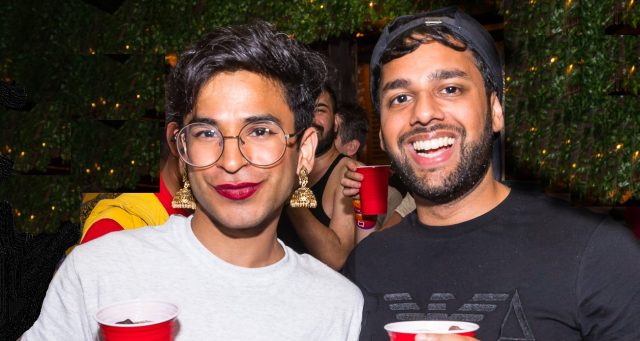 Bolly-Pop party at various venues. Website here
Push The Button.
Regular party at The RVT celebrating 3 decades of Pop.
Queer House Party.
Little Gay Brother.
Queer Bruk
Celebrating queer culture to afrobeats, dancehall and reggae.
Body Movements.
The queer dance festival that takes over the East End. London
Trough London
Stylish and sexed up dance party. Puts the 'wank' in 'swanky'. If a hardcore evening of stellar DJ sets and sweaty men writhing on the dance floor is what you've been looking for, then look no further. Dancefloors, darkroom, bars and chill out areas. Changing area. Smoking outside area. Recently at Electrowerkz
Read more: The Guardian: Queer today, gone tomorrow: the fight to save LGBT nightlife
Check out the QX daily listings below to find out what gay parties are on in London LGBTQ+ Queer and Gay clubs.