Searching for "London gay bar jobs" "London gay scene jobs" and more?

Current vacancies for jobs in LGBT+ gay bars, clubs, saunas, restaurants and shops across the scene in the London area.
This page has been posted in response to the current high level of demand for staff on London's gay scene, across LGBT+ gay bars, clubs, restaurants and saunas. QX is offering this as a service to our advertisers for their benefit and that of our readers. Please place JOBS in the subject field and email up to one jpeg image less than 200kb and any job description up to 50 words to [email protected] . We also kindly ask that advertisers please have the courtesy to notify us when a vacancy is filled.
TOP TIP: It doesn't hurt to submit your enquiry to older postings when searching for a job in a gay bar. Just click the link and email. If they still need staff to fill a job vacancy they'll respond!
PLEASE MENTION QX WHEN RESPONDING.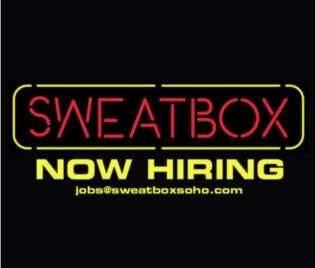 Posted 06/07/2023: Vacancy various positions at Sweatbox Soho sauna and gym: Do you want to join our award-winning SweatBox team? We're currently looking for people to join the team in various positions.⁠ MANAGERS, TEAM MEMBERS & MASSEURS.⁠ For more information, please send your C.V. mentioning QX to [email protected]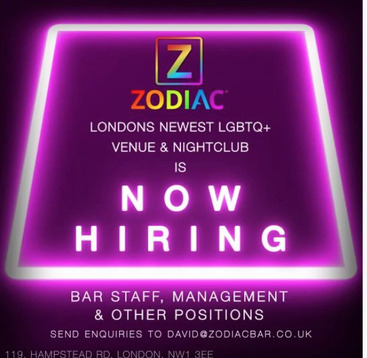 Posted 23/08/2022: Zodiac (Camden) London's newest LGBTQ+ venue and nightclub is now hiring. Bar staff, management and other positions. Send enquiries mentioning QX to [email protected]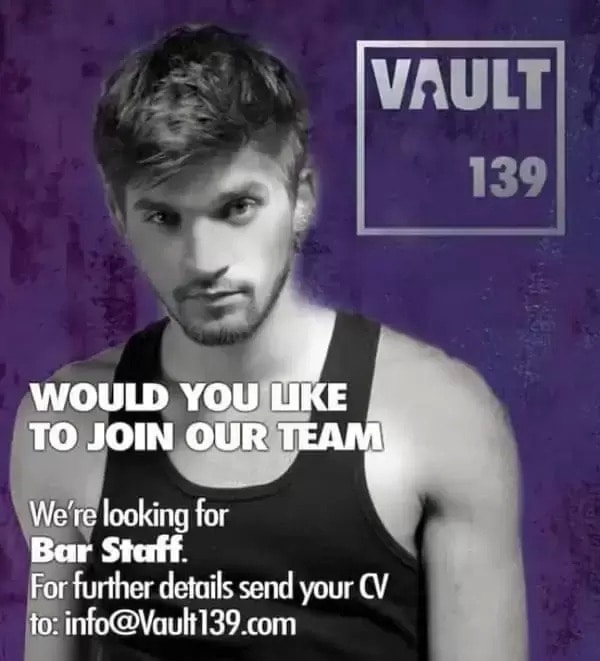 Posted 23/08/2022: Vacancy for full-time bar staff at gay bar Vault 139 (Central London) . Email mentioning QX [email protected]
Posted 11/07/2022: Taco Queer (Lewisham). We are looking for waiters for our new Taqueria+Bar called Taco Queer. Willing to learn and grow in the business and with a fun and proactive profile. Don't forget to mention QX. 22 Loanpit Hill, Lewisham, London SE13. Contact: [email protected]
Posted 7/07/2022: G-A-Y Bar and G-A-Y Late. Looking for an assistant manager. Experience, personal license and reference required. To apply: Email [email protected]
Posted 6/06/2022: Bar Village512 are hiring. Full-time and part-time. Bartender. Cloakroom Attendant. Assistant Manager. Mention QX. DM @512village512 on IG/FB
Posted 29/05/2022: The Quebec. They are looking for team members at all levels. Email [email protected] . Don't forget to mention QX!
Posted 23/05/2022: Duke Of Wellington (Soho). Looking for full time and part time positions so go on the link below and apply today. Mention QX!
https://venues.current-vacancies.com/Jobs/Advert/2576608?cid=1044
Posted 23/05/2022: Eagle London (Vauxhall) is looking for full and part time staff to join their team. Immediate start. Email mentioning QX: [email protected]
Posted 20/05/2022
glasshouselondon
Common Counter are looking for FULL-TIME Bartenders with great cocktail knowledge and a passion for building inclusive queer spaces to join our team! Experience in hospitality, bartending & barista skills are preferred, but not as important as attitude and willingness to learn and develop within the business. An interest in LGBTQIA+ spaces, diversity, and teamwork is desired & Passionate Kitchen Team, hiring at all levels, for our brand new restaurant space, within our multidisciplinary collective project, due to open this Spring! Individuals who love to have creative input in what they do, as well in a small committed team would be ideal for these roles! Be part of an exceptionally motivated team committed to building our fabulous queer haven in the heart of the east end!
Positions starting from £10.85p/h To apply / for more info / questions email:

[email protected]
Posted 12/04/2022: The Two Brewers (Clapham)is looking for part time bar staff, no experience necessary. Application link mention QX HERE
Posted 26/03/2022: Circa are currently hiring and looking to fill a variety of exciting roles across their venues (Circa Soho, Circa Embankment). Please contact Circa and mention QX at [email protected] with your CV.
Click gay bar jobs link for a full list of gay bars in London.
For more LGBTQ+ inclusive jobs visit: