– I popped my head in at the Admiral Duncan, which has had a slight shake-up last Saturday to find that drag pussycat (her bark is worse than her bite) Rose Garden entertaining the merry crowd. She even sang Mari Wilson. The camp of it all! Apparently she was dancing on the bar after we left. She's incorrigible that one. 
–  Queen of elegance, Baga Chipz has unveiled the line up for the inaugural Miss Manbar, which takes place at the end of this month. Fourteen contestants will aim to impress the esteemed panel of judges (and me), who will preside over a swimwear, talent and evening gown round. Tits and teeth, ladies.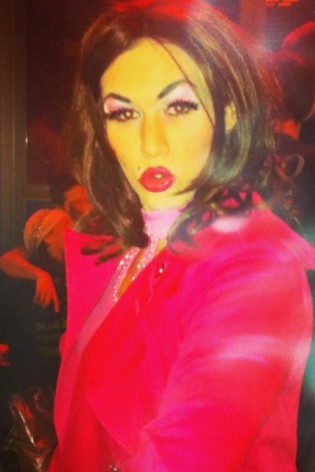 Dragback
This smoky Scot has swapped her all weather Mac for bespoke tartan-laden frocks these days. It's soooo obvious, c'mon…
Event Of the Week 
David Hoyle's six-week run of shows at the RVT continues with the cabaret terrorist and avant-guardian being joined by Kurt Dirt.
• David Hoyle – 'Illustration', Royal Vauxhall Tavern, 372 Kennington Lane. SE11 5HY
Thursday 30th October. Doors 7pm. Show 8.30pm.