It's a blustery September morning, and we're having a coffee and a gossip in a chic West London café with Hannah Jane Lewis. Dressed head-to-toe in pink, complete with pink pom-pom earrings and a sparkly pink flamingo laptop bag, her look is wonderfully evocative of iconic nineties and noughties pop stars like Britney and Christina.
Hannah specializes in what she confidently refers to as "proper pop"; wonderfully unselfconscious, bubblegum-sweet songs, with the same carefree, aerated feel as material by artists like Carly Rae Jepsen or Allie X. With over a million listens on Spotify, things are looking promising for Hannah! Added to that, her new single 'Raincheck' is an absolute banger, and has already garnered praise from music critics and the discerning eye of the gay twitterati.
We spoke to Hannah about music videos, hangovers and of course, millennial pink.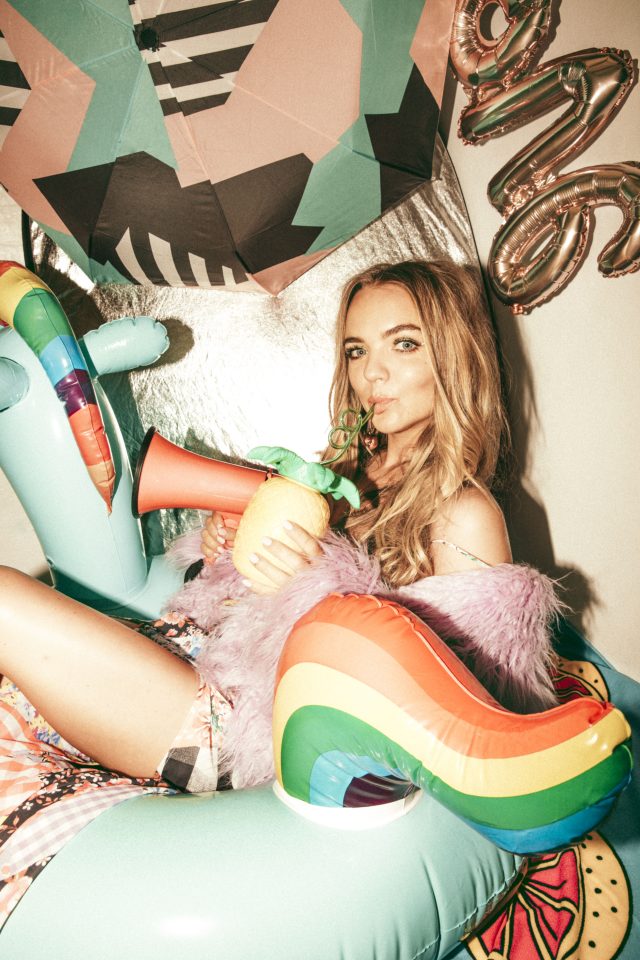 SO Hannah! Did you do FASHUN week this year? Is that a thing that you do?

I did! I've never been before. At the last minute people were like 'do you wanna go to fashion week?' It was Spindle Magazine, for their blog. I was like 'SHIT what am I gonna wear?!' I was really hungover because my single came out the day before. So I was running around Westfield desperately trying to find something to look cool in. It was all very edgy and alternative when I got there. And I was dressed all in pink.
Well pink's very in right now! Millennial pink.
I know! When I was meeting the girl who's helping me with my music video, we were talking about it and she was like 'yeah, it's gonna be all millennial pink!' And at first my manager was wary of the pink. He didn't get the pink. And I was like 'don't worry, it's millennial pink. It's cool pink.'
So what do you think of London? Are you a London girl?
Well I grew up in Surrey, so I knew London pretty well. But then my family moved to Florida when I was fourteen, and I went to high school there, which was amazing! At first it was hard, because it was so different. I went from an all-girls boarding school here, to a co-ed American high school. I was like 'holy shit.' I was the novelty English girl, and people asked me crazy questions like 'do you have computers in the UK?' I had a great time though! I was a cheerleader. I just did all the things. I got the full American experience!
So you moved back here obviously. How did you get into making music?
I've been singing my whole life. I never had a plan B. I literally never thought of doing anything else. When I moved back I had NO idea how to get into the industry, because I hadn't lived here in years, so I hardly even knew anyone here anymore. But I just started writing tons of songs, and just met people along the way. I had a brief career in country pop! Which I decided I didn't want to do. But it all led me to here.
When I'm listening to music, I always get a vision of what the video would be like. Do you do that with your music?
All the time! Even when I'm writing my songs I'm like 'what could the music video be like?' I love music videos! I've always loved them. I still watch behind-the-scenes clips of old Britney videos on MTV. They're so good. Her air stewardess look in the Toxic video…every Halloween I'm like 'I'm gonna be that!' But it's so hard to pull it off.
What's your favourite music video?
Her videos! They're iconic. I obviously like 'Hit Me Baby One More Time.' And one video that stuck with me forever…that Janet Jackson one where she's on the subway in New York. Lately, I'm loving Dua Lipa's New Rules video.
It's so good!
SO good. They got it perfect. And it's such a good way to represent that song. But its success was cool, because these days lots of people say 'oh music videos don't matter anymore.' But that music video really mattered for that song.
You're right! I think without that video the song wouldn't have been anywhere near as successful.
And the video for Boys by Charli XCX. Love that! And the same applies to that. So hopefully music videos are making a comeback.
I think they have died out a little bit though. Like, remember people always used to put music videos on while they were getting ready to go out or whatever. And we don't really do that anymore, it's more Spotify.
Yeah it's true. Most of my really good friends aren't in music at all, and they don't really watch music videos, or care about music videos. But that makes me sad. I just thought of another one! The Spice Girls video where they're in the desert! Say You'll Be There! So yeah. I love music videos!
Do you think the way things have moved over to online is good or bad? Like the whole Spotify thing, rather than people buying physical EPs.
I don't know. I'm not totally against the whole streaming thing. I think it gives new artists a bigger platform than they had before. You can do more by yourself. And songs have a longer shelf life, because once it's there, it's there, and you can go back to it. Whereas with CDs, they went out of circulation after a certain amount of time. Like, Lush Life by Zara Larsson…that was out for so long before it got big.
We've got a piece on hangover meals in this issue of the magazine. What's YOUR hangover meal?
Oh man, I get the worst hangovers in the whole world. My hangover meal of choice is Alka Seltzer, because it's so bad I can't even eat. I should be a salesman for Alka Seltzer.
It's so annoying when people are like 'OH, I don't get hangovers!'
I don't understand how that's possible. Are they lying? Mine are so, so bad. I can have three glasses of wine and have a hangover the next day.
Maybe it's because you're quite petite!
Yeah, and I forget that. So if I'm out with a bunch of guys I'm like "yeah, I can drink the same amount as them!" And then I'm like dead the next day.
So going back to your music…Raincheck! What a tune!
Yay! I'm so glad you like it!
It's already got a big gay following.
It has! Which is great, because it's always been my dream to be a gay icon. Someone tweeted me saying they were "obsessica simpson" with Raincheck and I was like "that's the best thing I've ever heard." But yeah, it seems that the gay community have got behind it. Which is great.
What do you think it takes to be a gay icon?
God, I have no idea. My world is pink and glittery and fun. Maybe you have to really commit to something. Maybe it's because I'm doing proper pop? Like, bubblegum pop.
It really is proper pop. It's really refreshing. Your sound reminds me of Allie X a bit.
She's great. I love her. Her song 'Vintage' is one of my favourite songs ever. But that's the sort of thing I really love, and that's what I've been writing. I know everyone tries to be cool at first, but it's not really me to do that. I full on love proper pop music, and that's what I want to do. That's what I'm inspired by.
So who else are your absolute faves then?

Britney Spears! And the Spice Girls, I've definitely been inspired by them.
You've got a hint of Emma Bunton about you.
People say that! When I lived in America people used to call me Baby Spice. But that's the best thing ever because I love her. She was my favourite Spice Girl. I really love Katy Perry too, and Carly Rae Jepsen.
I feel like Katy Perry's gone a bit off the rails recently.
Did you like the recent album?

No.
Me neither. But I think Teenage Dream – the album – is the best pop album ever. And I think Teenage Dream – the song – is one of the best pop songs ever. I was disappointed about the recent one.
If you could collaborate with anyone, who would it be?
Obviously Britney. Something like Slumber Party that she did with Tinashe. Or I'd love to work with Sia.
So…what's in store for the future?! Is there gonna be an album with Raincheck?
So I've been writing tons, we've got more singles on the way – it's probably gonna be a while until we get to the album. You know how it is these days with albums! There's a music video for Raincheck coming, which I'm super excited about, because I did something really crazy in it. I won't go into detail but it involves a large amount of glitter. I had to have like ten showers to get it out of my hair. Actually it's still everywhere. In my clothes, my shoes, the carpets in my house. And right now we're choosing the next single! So in the process of doing that. I'm super excited!
Raincheck is out now on Spotify. Follow Hannah on Twitter & Instagram @HJLOfficial