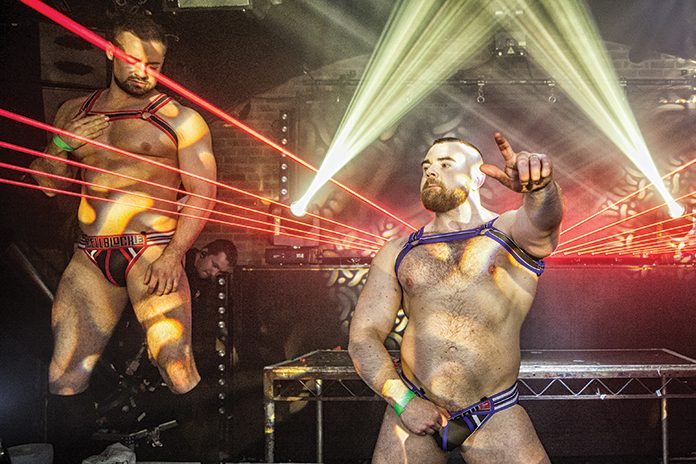 London's sexiest, steamiest, sluttiest (and we mean that with love) party is BACK, as Sexcircus swaggers into Fire this Saturday.
We heard from promoter Martin Rab and performer Gabriel Phoenix, to give us a bit of an idea of what to expect. *FLINGS DOORS OPEN * Gird your loins!
Gabriel Phoenix
So not only is this is your fourth time performing at SexCircus but also you're QXMen's cover boy this time round. What is it about SexCircus that you love?
I love the whole vibe of sex circus; it's literally the best crowd i've had the pleasure of performing for! It's so high energy fun and literally does encompass something for everyone; the diversity of the performers I think is an integral part of what makes sex circus so successful and alluring!
What can we look forward to seeing from you on stage this time?
I always try to give 100% when I perform! This time around I've been working really hard to sculpt my body and be at the top of my game, not only for the fans, but for my co-stars who I will be really enjoy it. But, I can say that this SC I will be so much more impressive than the last!
We see from the pic you have a dom and submissive side…which one is the real you?
Well I guess that's subjective; I try to remain open-minded and fluid when it comes to roles, as I'm naturally averse to limitations! Though, if I had to quick-fire choose a role that feels more natural, I would say the dominant side would come out on top, 80% of the time!
A little birdie tells us you are going to be launching your own collection of branded harness's / jock & more. Can you give us a little teaser into what is to come?
That's right! I'm really excited to be delving into a different side of the industry and making available some of the items that I really enjoy and find sexy!
I'm working on a collaboration with the super talented *Martinrabdesigns* to present a range of sexy, innovative jocks and harnesses! As well as some clothing, accessories and personal replicas to really give a diverse perspective into the world of Gabe! WATCH THIS SPACE.
Follow Gabriel on Instagram @thegabrielphoenix
Martin Rab
WE'RE BACK! And bringing London the biggest end-of-summer blowout it's ever seen! It's crazy for me to think this is the 8th Edition of Sexcircus, and it's getting bigger and better every time.
I'm extra excited, because for the first time ever, I'm flying over one of the biggest porn stars from the states, the beefy hunk Jaxton Wheeler. So this is going to be one of our hottest shows EVER.
Joining him on stage we have Damien Crosse, Allen King, JP Dubois, Max Duro, Massimo Piano and QXMen cover boy Gabriel Phoenix.
We're really pushing the boundaries this time, so as well as the usual Jamie HP & The Hoist with us, we have an extra special bulging treat – the big boys from Dublin, DADDi Europe are joining us, turning our threesome into the sexiest, dirtiest foursome around.
Expect all our trademarks; sexy music, the sexiest guys, sucking, fucking and everything else on stage. And the hottest crowd with the most eclectic mix of sexy people in London.
It makes us as always the sexiest party where there really is something for everyone!
Early bird standard, group & VIP tickets available: www.orangenation.seetickets.com
SEXCIRCUS @ Fire, South Lambeth Road, SW8 1RT, 1 Minute Walk from Vauxhall Station