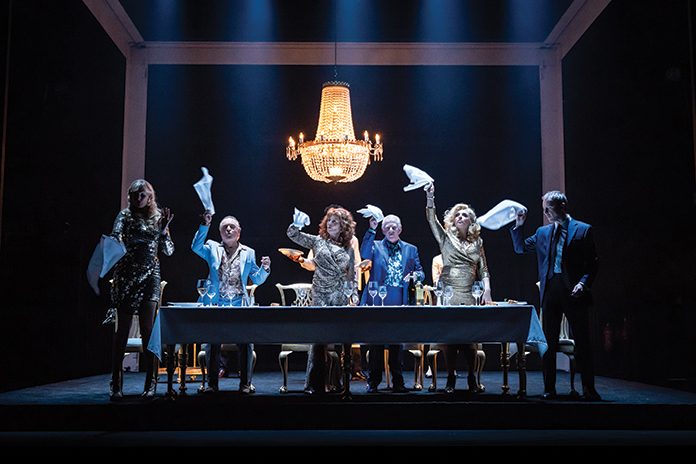 Celia Imrie dazzles in this new imagining of Pinter's short works
---
Pinter's shortest works are often condemned to the attention of university productions and A Level examination performances but the Pinter at the Pinter program finally has the work back in adept hands. With the likes of noughties TV darling John Simm, Tracy Ann Oberman and British theatre's naughty aunt Celia Imrie in the mix, two of Pinter's comedies were set to pack a punch.
This thematic pairing of Party Time and Celebration, two of Pinter's later plays, brought forward his meditations on wealth, high society and their sway on humanity. The first act saw a bleak dark stage with the row of our characters dressed in black sitting starkly in front of a backlit door. This high pressured Party Time peters on cordially between high society socialites, despite the intermittent intrusion of obscure references to an ambiguous uprising happening right on their doorsteps. The obscurity of what's unfolding outside this social bubble brings a weight to the fatuous discussion of a tennis and swimming club.
Toeing the line between the sombre and sardonic, the first act successfully executed the play's duplicity that inevitably felt politically relevant in the current climate. Though the light touches of the choreographed wine sipping and architectural lighting brought an interesting dynamic to this piece, Jamie Lloyd's direction did border on gilding the lily by way of overproduction. The intrusion of Jimmy, one of the partygoers' brother who had disappeared, bent double and blundered in ragged clothing, blood-drenched and spitting, detracted from the play's poignant closing soliloquy.
In returning for a second act and a second play, there was a sense that Celebration would involve sitting through another dose of the same tint of leaden severity, but this wasn't the case. There are few moments in recent memory that give as much joy as seeing Celia Imrie in huge hair and a snake-print jumpsuit with a heavy East End accent. It was clear that this second part was truly a celebration. Posed along one side of a dining table in a 70's glam pastiche of da Vinci's Last Supper the characters sat in a post-dinner, but more importantly post-drinking recline.
Julie and Prue are sisters, married to brothers Lambert and Matt who are celebrating an anniversary at one of London's top restaurant and drinking to their great success as strategy consultants. Also at the restaurant are couple Russell and Suki who later join the other diners. The caricaturing of these characters as the cast of The Real Housewives of the East End breathed new life into the work that had us lapping it up. Though easily construed as a downward-looking glance at the habits of the nouveau riche, it provided a more nuanced and complicated rendering of class as opposed to its literal black and white depiction in Party Time. This play also culminates in a poignant monologue by a marginal character, complicating the scene that you've just enjoyed.
This double-bill of Pinter's later works brings with it a renewed appreciation of his shorter works. While reinvigorating the old works, this production is a 101 introduction to established Harold Pinter in the canon of great British playwrights. The Pinter pause is here in abundance, with the repetition of phrases foregrounding his almost Gertrude Stein sense of people understand themselves by repeating themselves and still retaining a casual sense of conversation. Pinter Six reminds its audience of what British theatre is at its bones: Dramatic, intelligent and comedic. Basically, Celia Imrie in snake-print with gigantic hair.
Pinter 6 is at The Harold Pinter Theatre until 26th January. Tickets available at atgtickets.com.