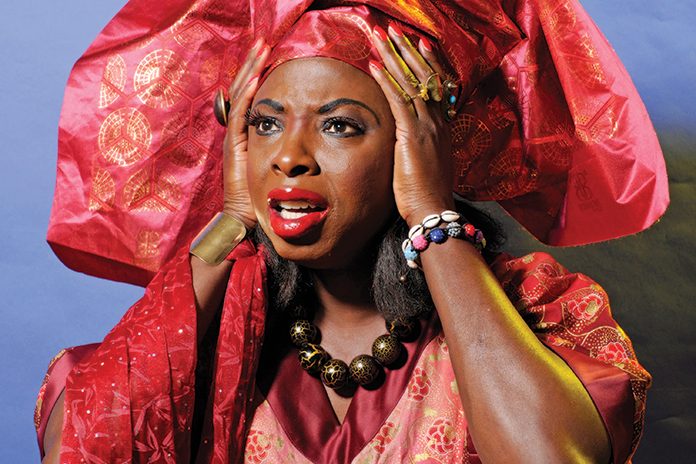 By Jason Reid
Son Of a Tutu and I have been friends for the best part of a decade – since she first tentatively stepped on to a cabaret stage.
She is a person and performer who raises spirits wherever she goes. Someone who is passionate about all that she does. Constantly striving to better herself and inform others. We should treasure her greatly.
When she's not performing up and down the UK, Tutu is usually locked into LGBT+ activism and equality, current affairs, politics and videos of gruff, well-endowed men shaking their bits on Facebook.
I always relish spending time with her, and this week, ahead of her show at Mother's Best, I interrupted her Sunday afternoon nap to talk rainbow racism, the Cock Destroyers, Drag Race UK and more…
Hey darling! First off, tell us about Mother's Best – the new Sunday cabaret event you're involved with.
You tell me, you caused it.
I did? I'm confused…
I blame you because I got booked for it when I was doing your Matt Lucas benefit night in January. That's when one of the Mother's Best promoters approached me when I came off stage; and you told us both to be quiet [laughs] because the show was on.
Oh god, I remember now! So that's when you were sealing the deal?
Indeed. I want you to put it in print, that I blame you! [laughs]. Seriously though, it's a great, brand-new event bringing something fresh to the Sunday cabaret scene. We hope it works because it's varied and different. Also it's developmental, in order to make sure there's enough acts to do well on a Sunday at the RVT.
It'll be good to see you on the RVT stage on a Sunday. It's been one of my aims: to see you there every Sunday, because I know how much you love residencies…
I HATE RESIDENCES! [laughs] As you well know, missus. The only residency I do is Porn Idol, which I absolutely love – it keeps getting bigger and better.
I'm glad you brought that up because I wanted to chat about the Cock Destroyers, who you worked with at Porn Idol a few weeks back. Did they teach you how to destroy them cocks?
Noooo, I taught them new techniques on how to destroy cocks. But what the Cock Destroyers did demonstrate, is how the balance of power is shifting in parts of the straight porn world. In the past, women have been at the complete mercy of male fantasy, and as a result have been subjugated in porn. What women like the Cock Destroyers have done is to create a caricature of those fantasies – in order to exact their revenge – and sell it back to those very same people and make a hell of a lot of money out of it.
Why do you think they're so popular with the gays?
I have no idea. I've actually not seen any of their work. My only vantage point is that which I gleamed from working with them at Porn Idol, and to me it was like taking the typical Pam Anderson type male fantasy and turning it into a cartoon. I suppose why gay men resonate with it is because of the 'we are going to own our sexuality and gender without any compromise' message – and I think it's that confluence of aspiration that makes it something we buy into.
At Porn Idol you also work with queens from RuPaul's Drag Race; have you applied for the new UK version?
No.
Okay…care to elaborate?
I've always been a Drag Race fan and I've always been a Drag Race critic. Because I'm a fan, I'll be watching and supporting whoever shows up on it; however because I'm a critic of its non-inclusivity I will not be submitting myself to it, and I will be shouting from the rooftop, the basement, the land, the ocean about why in 2019 the leaders of the prime art-form in our community still think it's right to exclude cisgender women and trans women. Whether they be drag kings, drag queens or whatever; I think it's completely wrong. So I didn't apply for season one because I want to see if they take on those questions, and if they don't it means I'm going to take on the protest mantle.
Perhaps with the UK version they'll open up the playing field to all. If that were the case, would you enter?
Oh yeah, I'm never averse to entering. It's a great platform for any artist. But at the same time, I would be hypocritical to use that platform to boost my profile knowing full well it is in a way – a very important way – counter to everything I believe in when it comes to equality and opportunity.
Give us your brief thoughts on Jussie Smollett.
If he is guilty as suspected then it's disgraceful, and I hope he comes clean and we can all, together, move out of the mess he has created.
Finally; rainbow racism…
Sometimes you can look at an apple tree and notice how lush and healthy it looks; however until you shake it up you won't know to what degree there are bad apples lurking amongst its foliage. Thank you Manchester Pride for including those two new stripes on the rainbow flag because that really did reveal so many bad apples that need to be shaken from the tree.
Son Of a Tutu will be performing at Mother's Best at the Royal Vauxhall Tavern,
372 Kennington Lane, London SE11 5HY on Sunday 3rd March.