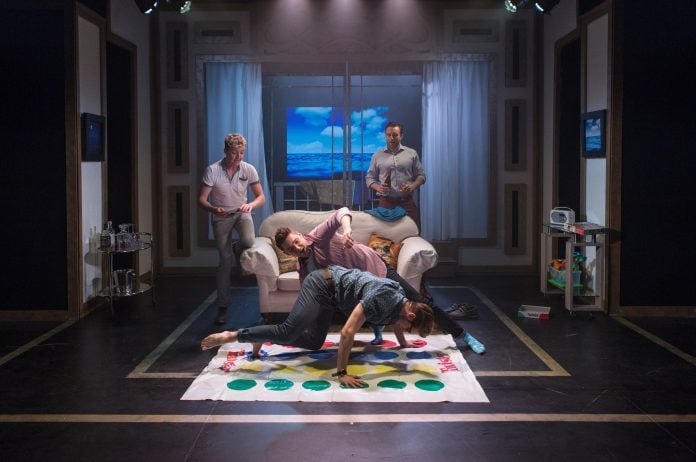 ★★★★by Ifan Llewelyn
It's been over thirty years since Romance/Romance first hit the off-off-Broadway stage of the Actor's Outlet Theatre, and though not quite staking a place in the American musical theatre canon, it saw great critical success after transferring to Broadway, garnering five Tony nominations. Now playing at Above the Stag, an audience sat with bated breath to see how they would succeed in queering the show, turning the central romances into gay relationships. Romance Romance is a fanciful, harmless romp that entertains without asking any big questions.
The first act, 'The Little Comedy', sees two well-off gentlemen at the turn of the century in Vienna who have become weary with their wealth, decide to don a disguise and slum it for a while and grab themselves a commoner to get involved with. Their two paths inevitably cross and hilarity ensues as the two try and keep up their penurious personas. As Valentin, the wildly extravagant young man of means, Jordan Lee Davies was magnetic with every shrill of his voice evoking the purest sense of camp. He made the most of every word in his libretto, flaunting his wears as a true balladeer. Wealthy playboy Alfred (Blair Robertson) took little courting before the two engage in their romance (romance), and made a noble attempt at embodying the role's, well, nobility. Their relationship feels familiar, which is unexpected for a queer couple from a century, having a Bosie and Wilde air to them, enjoying the lavishness of their affluence.
Gay relationship fitting into norms set up by straight relationships is a problem faced often by us homosexuals, with the "which one of you is the woman?" question still strangely being around. In changing this straight couple gay, unfortunately, there was no question around who the woman was. The use of masks to represent their disguises was also a little on the nose, but it did bring forward that turn-of-the-century feel that was perfectly presented in the Klimt inspired set design.
The second act, 'Summer Share', jolts the show to modern day, in a summer house share (obviously) with two friends and their husband escaping the city for the weekend. An evening tinged in moonlight has friends Jeremy (Ryan Anderson) and Sam (Alex Lodge) questioning if they feel something more than just friendship. This felt far more natural as a gay relationship, with platonic relationships between gay men being as we all know a strange one to navigate. As second acts usually go, things become far more contemplative and less upbeat, marked distinctly by an ambiguous conclusion. The tightly choreographed lighting choices were sleeker in this second act, being effectively utilised to bring dimension to the beach-side cramped living room.
If you're looking for a thought-provoking evening of cutting edge theatre then this certainly isn't the show for you, but if it's a jolly night of show tunes and slapstick then this production is right up your alley. In a troubled world that's seemingly falling to crap all around us, the theatre is the perfect place to escape, and Romance Romance offers up a world to escape to that's inoffensive and merry.
Romance Romance is running at the Above the Stag Theatre, 2 Albert Embankment, Vauxhall SE1 7TP until the 6th of April. Tickets are available at AboveTheStag.com.