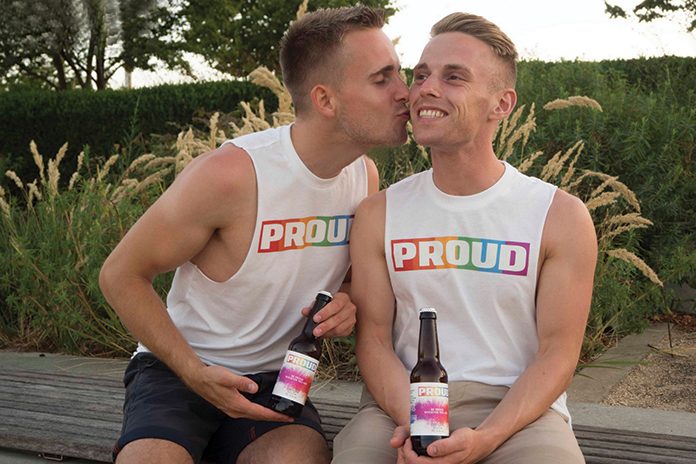 We catch up with one of the guys behind the gayest beers out there.
---
Proud Beer promotes good causes through beer – what's not to love?! It's the bubbling brainchild of fresh-faced couple Ethan and Soren, who were sick of all the mumbo jumbo big brands spewed out around donating to LGBT causes, and wanted something a bit more concrete.
Every time you buy a bottle of Proud, 20p goes to LGBT charities. It's THAT SIMPLE. They started the initatiave a year ago and have sold 20,000 bottles! That's…well, we're not good enough at maths to figure it out. But it's a lot.
We got Ethan (the blonde one) to tell us more.
---
Hey Ethan! PROUD Beer's been around for a year! Tell us all about it.
Well, it's the UK's first queer beer and it's our ambition to redefine how we support the LGBTQ+ community… through beer!
What's the response been like from people?
Actually quite incredible. I was really paranoid to be honest that it was a bit of a risk, but 20,000 bottles later and I feel like I've got a new life as a delivery driver! People connect with the message behind what we're trying to do. Sure, it's a great beer, crafty light pale ale, but we believe there's a whole lot of power in our little bottles.
What's been this year's BEST MOMENT?
Seeing the impact PROUD can have. Yes, it sends money to LGBTQ+ charities that we love but we also work with campaigners, sports groups and individuals trying to make our community a better place. We're an official sponsor of Rotherham Ladies RFU and it really does make me smile to know PROUD can have that impact.
Why is it important, in 2019, to be proud?
Because we can revolutionise support for our community, and do it through beer! It's never been more important for our community to come together, stand up for one another and support each other and that's exactly what we're here for.
Why are you, personally, proud?
Well, I'm proud of my boyfriend, who's the co-founder of PROUD. He firstly has to put up with me on a personal level but he's a business partner and truly incredible support.
It's given our relationship another way to share something we love together.
It's been a nasty couple of weeks in the news for LGBT issues – what do you think is the best way of combating hate?
Love. Support. Community. It's not difficult, we all deserve to be loved, respected and valued for who we are and who we love.
What are your plans for the year ahead?
MORE BEER! And even more collaborations with people doing great things in our community. I'm so excited for what we can do with PROUD, here's to year 2!
You can find out more about Proud Beer at www.proud.beer or follow them on Twitter @ProudBeerUK