In the last few years, Australia has been swept with a cookery craze. They're taking cuisine more seriously than ever, and are constantly finding new and innovative ways to use the myriad of delicacies at their disposal. A shining example of this sizzling wave of culinary talent is Brendan Pang.
A finalist in last year's MasterChef Australia and an out and proud gay man, he's a personification of how Australia's cooking world has hurled itself into the 21st century.
"The response I've received since coming out publicly has been incredible."
Since MasterChef, he's become known for his enigmatic, imaginative cooking – including rainbow and galaxy dumplings – which has gained him a loyal following of over 50,000 fans on Instagram.
Now Brendan's in London, in a month-long residency at legendary Chinatown eatery Dumpling's Legend. He's developed a special one-off menu, giving traditional Chinese dishes an Australian twist.
We caught up with him over Dim Sum to find out more.
Hey Brendan! Tell us a bit about yourself.
My name is Brendan Pang and I'm 26 years old. Prior to being a contestant on MasterChef Australia, I was a social worker working in the field of Child Protection. I'm now a cook and recent founder of Bumplings, a dumpling kitchen located in Perth, Western Australia. I grew up in a large Mauritian family where my Grandma taught me at an early age the art of making wontons from scratch. This is where my dumpling obsession began. I'd describe my style of cooking as honest in that I cook food I love to eat whilst using fresh local produce where possible.
You've been in London with your residency at Dumpling's Legend! What are your thoughts on the city?

Coming from a small city, I was quite overwhelmed by how busy London is. My accommodation was just off Oxford Street, so spent a lot of time on foot exploring the city. I love the diversity, particularly in relation to the food culture which, blew me away. I visited Dishoom, Bao and Dumpling Shack and ate some yummy meals.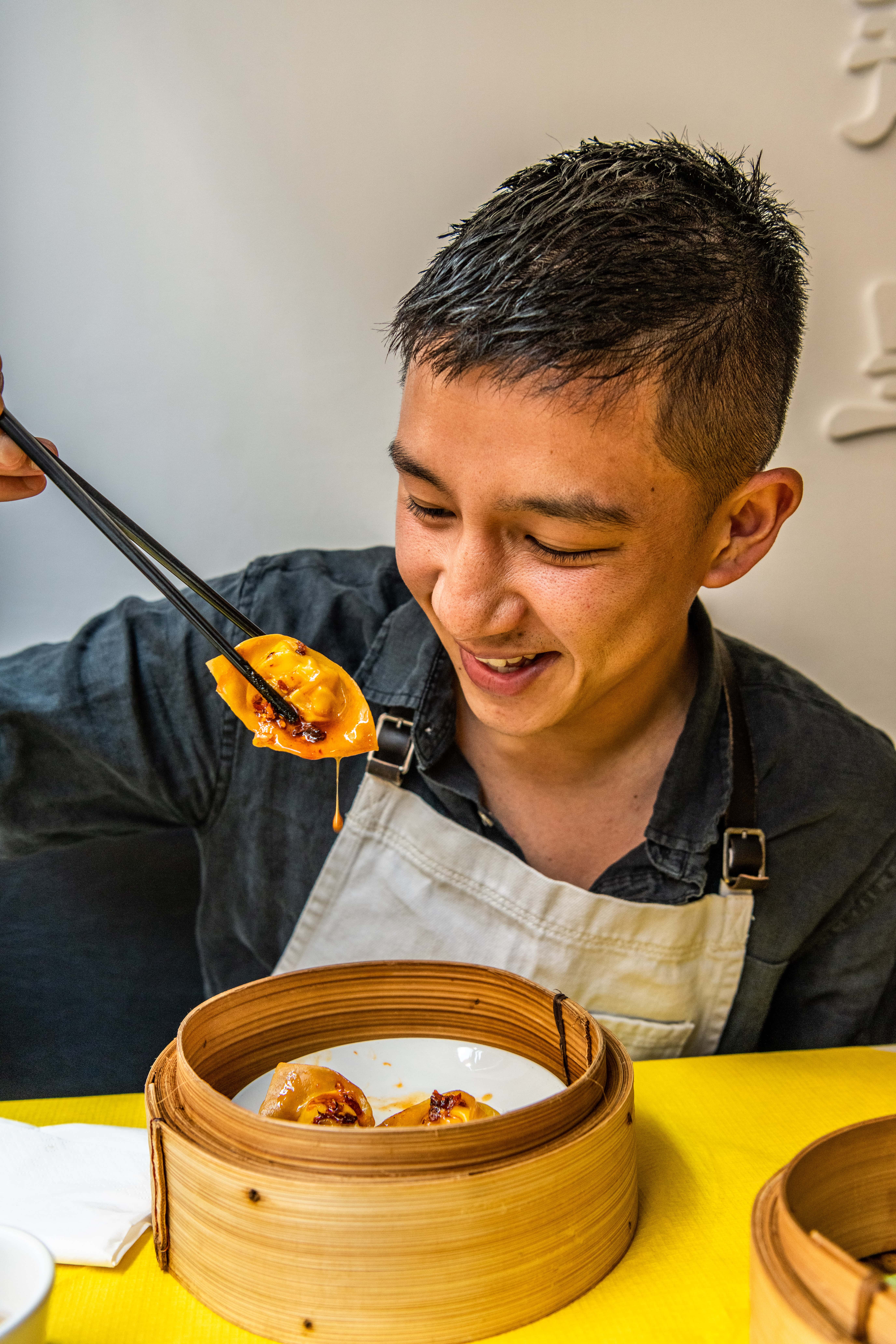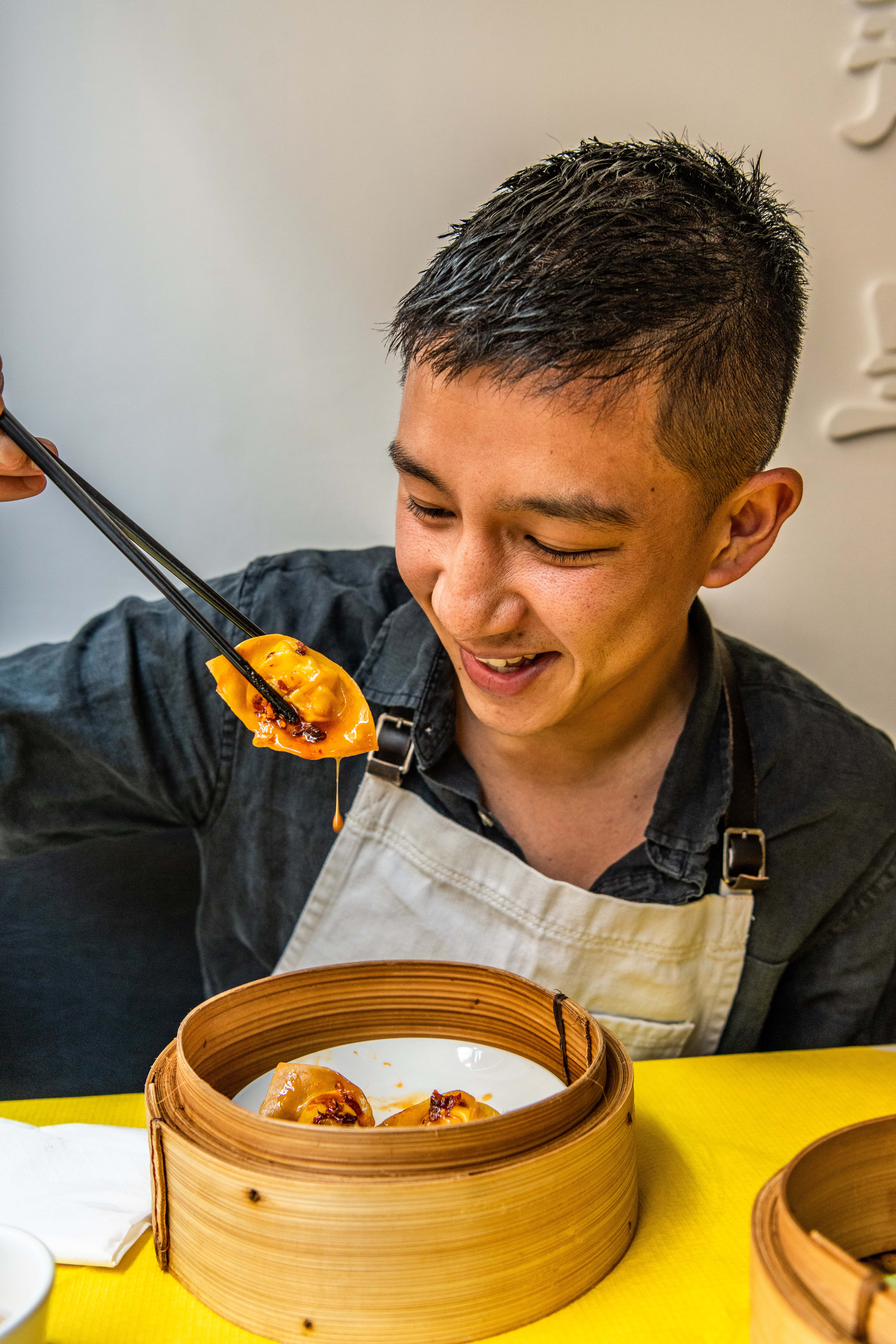 On your menu at Dumpling's Legend there's crocodile and kangaroo which is quite weird for us Brits…what's the weirdest thing you've ever eaten?

I would say the weirdest thing I've eaten is jellyfish considering its unappealing blubbery look. I would describe it as delicate and slightly salty. It is considered a delicacy in some Asian countries and prepared mostly in salads for its crunchy texture. I surprisingly enjoyed it.
Masterchef in Australia earned you quite a bit of media attention since then. What's your experience been like as an out gay man in the media?
The response I've received since coming out publicly has been incredible. As a result, I have also been able to support important causes such as child and adolescent mental health in relation to sexual identity.
You were with Nigella for a week on MasterChef. What was she like?!
Nigella was exactly as you would imagine – a highly articulate, respectful and down-to-earth human being. She is gorgeous too! Nigella has a way of describing food that makes your mouth water immediately and she caught me off guard plenty of times, especially with her mouthwatering trifle.
Describe your guilty pleasure – the sort of thing you'd eat on a hangover?
DIM SUM! One of everything please. I love dumplings all things associated with dumplings and I would eat them every day if I could.
What do you make of Australian cuisine right now?

I am in love with Australian cuisine right now. There is definitely a shift towards nose to tail, zero-wastage and usage of fresh local produce however, what I love most is the shift towards homely cooking. The kind of cooking where you can taste the love. This is the style of cooking I take on and love eating the most.
And finally…what have you got planned for the future?!

I have a few exciting projects up my sleeve – one is a cookbook which will be published around May 2020. The recipes are mostly dumplings but also other Asian dishes. A few secret family recipes too. I also plan on growing Bumplings and hopefully bringing it over to London this time next year.
Brendan Pang 's menu is available at Dumplings' Legend, Gerrard Street, Chinatown London until 26th October.
QX Readers´ Poll :
[poll id="7″]
[poll id="8″]
[poll id="9″]
[poll id="10″]
[poll id="11″]
READ MORE: