The eletro-pop darling talks New York, N SYNC and being naughty.
---
January: grey, dreary and, to some self-flagellating individuals, dry. You've spent the month bundled in thick knits, staying in on a Saturday night softly sobbing into a handkerchief to the sound of a listless Lana track. SNORE. Eternal electro-pop imp and Surrey sweetheart Hannah Jane Lewis is here to quench your dry Jan with a tall glass of sugar-sweet Lemonade. The blonde Brit has steadily been amassing a following, reaching twenty million streams across her platforms, a large portion of which can be ascribed to a big queer following. She's back to bust-up you winter blues with her tingling single that serves up all the excitement of a sun-drenched first kiss. Ahead of its release on Friday, we caught up with the zealous vocalist to talk New York, N SYNC and being naughty.
---
So tell us Hannah, where are we catching you this fine evening?
Just got home from the studio, eating Sour Patch Kids and counting down the days till dry January is OVER. Would not recommend.
You're a Surrey girl. What would you say is the most "Surrey" thing about you?
That I was really into Lacrosse.
Studying at Tisch must have been such a surreal experience. How did you find it?
I'd dreamt of going there since I was quite little, probably because of Gossip Girl, so when I actually ended up studying there it was a dream come true. I guess it was the first time that I'd been able to sing, dance and act every day, and have my life be about what I'd wanted for a long time. Living in NYC was great too, I lived with my best friends in this tiny apartment that had a mouse and cockroach problem – sounds awful, but we had a great time!
Okay, if you had to choose: London or New York?
I actually think I'd choose London. I loved NYC but the super-fast pace of it got a little exhausting after 4 years and I never really feel that way in London. I think London is the perfect balance. It's a fun city but its not too overwhelming and it's easy to get to parts of the city that don't feel so concrete. One thing that I do miss, that I wish London had, is the 'city that never sleeps' aspect, but then I guess that's what makes NYC so special.
You've supported some major names in the industry. Who would you say it's been particularly nice to work with?
I've looked up to Rita Ora for a while so supporting her was really great. Though, the weather that day was apocalyptic. Genuinely one of the worst rain and wind situations I've ever been in. It was touch and go as to whether the show would even happen but she went on stage and was an absolute pro. The rain was literally smacking her in the face at 60mph but she sang and danced as if it was nothing – I was fully in awe.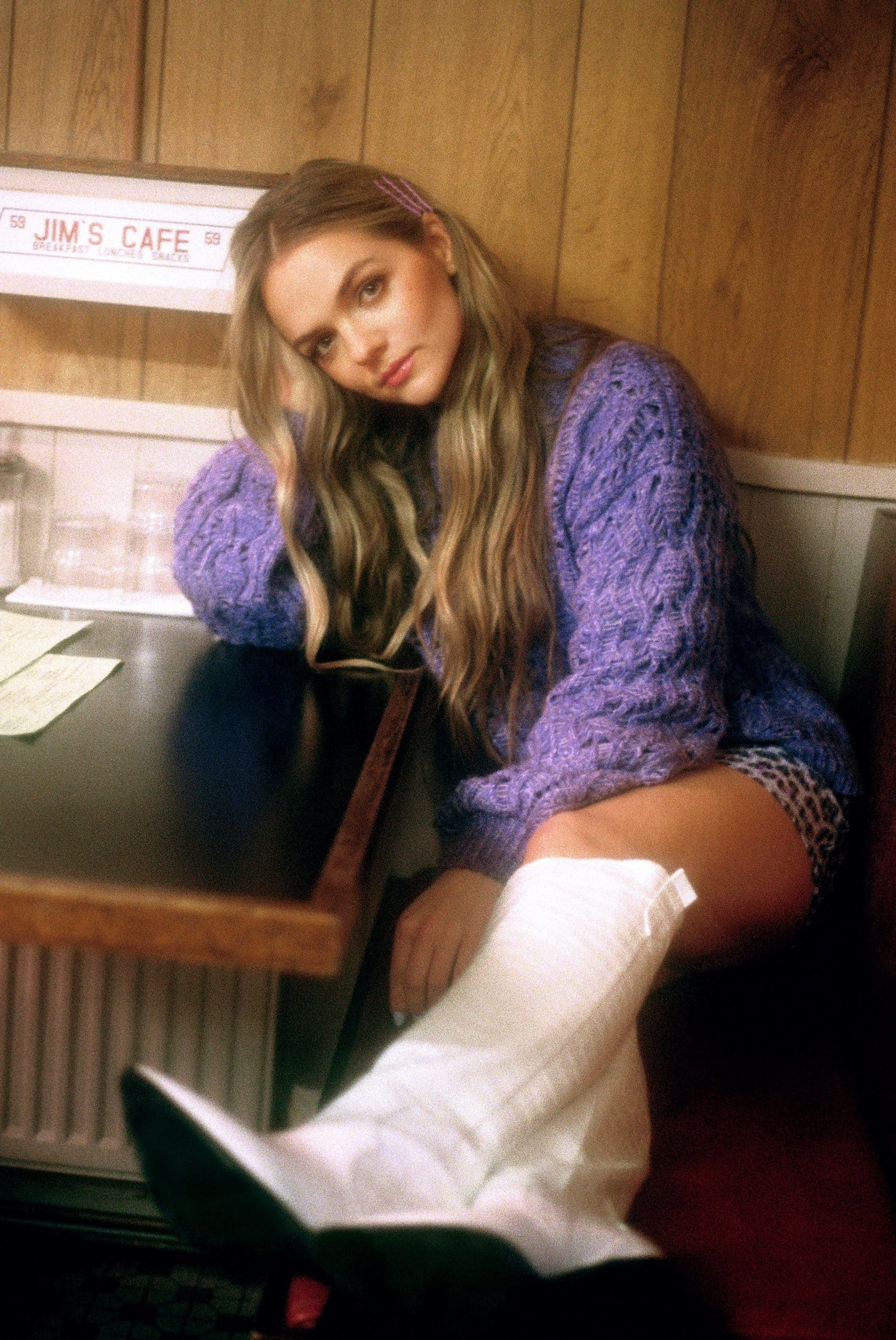 Your look is very cutesy good girl. What would you say is the naughtiest thing you've ever done?
Oh GOD, well a few that will not be named but, I guess, sneaking out of my house continually throughout high school maybe?
A few month ago you were featured in a delicious remix of Avril Lavigne's 'I'm With You'. Big Avril fan?
Literally the BIGGEST Avril fan. I loved her so much when I was younger that I dressed like her, learnt how to skateboard and tried to convince my parents to move to Canada. Her first album was, I think, one of the first catalyst to me writing songs myself, and I still go back and listen to that album now.
Okay, be honest. Do you think Avril's been kidnapped and replaced with a clone?
IF she is a clone then great news cause one Avril ain't enough. I just hope kidnapped Avril is safe and sound, writing banger after banger… and still has a severe middle parting.
If you had to release another throwback cover, which song would it be?
Maybe a Fleetwood Mac song, Stevie Nicks is my hero. I love her.
Is there someone you grew up listening to that's long overdue a renaissance?
N SYNC. N SYNC. N SYNC. N SYNC.
Who would you say is making exciting Pop music right now?
I'm a big fan of Fletcher. I love her songs and can't wait to hear what else she releases. I also like Georgia, Lennon Stella, Carlie Hanson, Conan Gray and Aboutagirl – I think it's an exciting time for Pop right now.
Let's talk 'Lemonade'. It really serves those summer vibes, but it's landing this January. Do people just needs some sunshine do you think?
Yes hundred per cent. January is so LONG and bleak and boring. I wanted to add a little sunshine into the mix. Plus, I literally couldn't wait any longer!
It really captures that euphoric feeling of a first kiss. What would you say inspired the track?
A literal first kiss inspired the whole thing. We were talking about all the electricity and tension that vibrates in that moment. I wanted to dedicate a song entirely to that amazing feeling. I also wrote it in the middle of the summer and I always find summer love inspiring in general. It's so dreamy and the heat makes everyone hyped up and excited, so those were all the things I was feeling while writing it.
Once 'Lemonade' is out there, what's next for HJL? Do I smell a studio album..?
Ah. Yes, eventually! But for now I think I've got a few more EP's under my belt before I get there. So lots of new songs this year, a few EP's and some more live performances!
---
Hannah Jane Lewis' new single 'Lemonade' is available to stream/buy on 31st January.