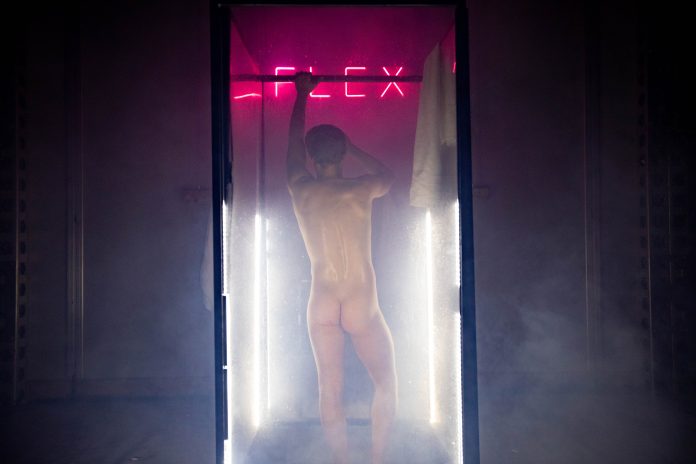 No Sweat at The Pleasance review ★★★★☆ by Ifan Llewelyn
The gay sauna is a unique social space that has fascinated writers, philosophers and even composers. A homosocial communal space that brings together strangers in the most intimate setting, in a sauna you're naked in an unfamiliar environment, eager to make a physical connection. Sex, intimacy and gratification come together in one small steamy space. Perhaps what's least known about them is that they're also a lifeline for gay homeless men. Vicky Moran's steam tale of queer homelessness does good work in bringing forward an issue that's desperately underrepresented. No Sweat is a compelling work that is informative and provocative.
Combining the real stories and verbatim interviews from young queer ex-homeless young people in London, this production sounds the horn on a forgotten generation. We hear the experiences of three men, each with their own experiences of homelessness. Sauna worker Charlie (Manish Gandhi) is staying on a friend's couch waiting to be granted asylum in the UK after fleeing his native Pakistan following threats from the Taliban and an abusive father. Escort Alf (James Haymer) is an embittered sauna regular who, after being thrown out of his family home in the Welsh valleys, has resigned himself to making ends meet any way he can. Then there's Tristan (Denholm Spurr), the well-spoken sauna novice who wasn't welcome home after graduating from university. These three stories, from three different stages of homelessness, display the varied spectrum of being a young gay man without a home to go to.
As Pakistani asylum seeker Charlie, trying to make ends meet by working cash-in-hand at the sauna, Gandhi gives a heartfelt performance. Keeping it light while still conveying the dark and twisted nature of his trauma, he embodies that spirit of just getting on with it in the face of anguish. His performance rings sincere and somehow manages not to buckle under the prodigious weight of the subject matter. Under Vicky Moran's direction, the trio of actors work well together to form an engaging tapestry of the gay homeless experience.
The stand out element of this production has to be Alex Berry's astute design. Walking into the space you are truly thrown into the club-meets-clinical world of the gay sauna. Under the garish hue of the 'FLEX' bright pink neon sign, this shrouded world comes to life. The lit-up glass panels are cunningly manoeuvred to create several different spaces. A locker room becomes a row of toilet stalls in one swift choreographed sequence.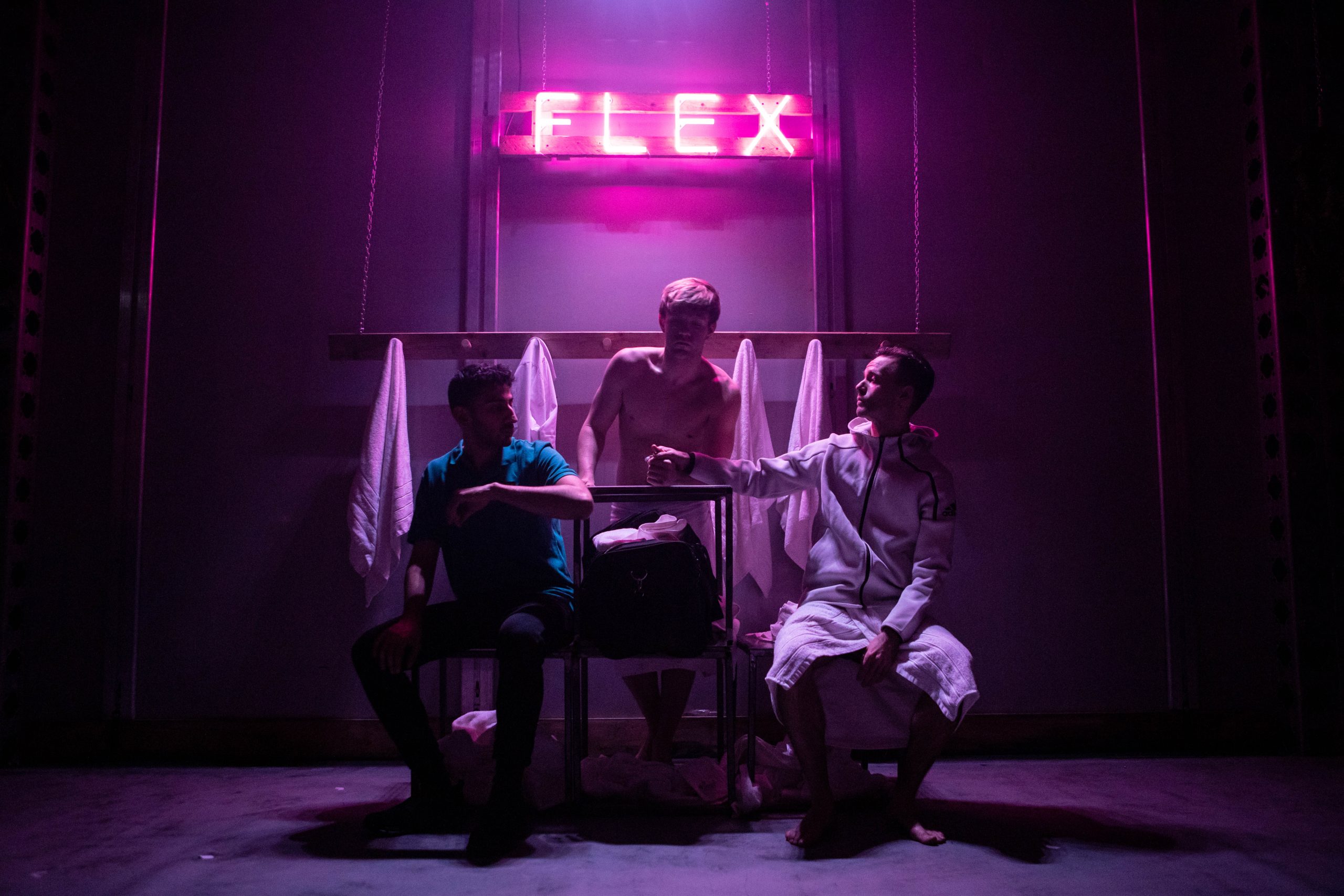 What is unfortunate about this production is that it will probably be playing to a majority queer audience. These three stories of queer experiences are important. They represent experiences that often fly under the radar since, as No Sweat illustrates, homeless gay men have the small privilege of gay saunas, hook up apps and survival sex that mean they aren't out on the streets sleeping rough. But at what cost do they enjoy that privilege? Vicky Moran's work effectively expresses this complicated politics of being both homeless and LGBT+.
No Sweat is running at The Pleasance, Carpenters Mews, North Road N7 9EF 'til 29th February. Tickets at qxtickets.com.
READ MORE related to No Sweat at The Pleasance review here:
Body Talk at VAULT Festival review – 'gay men and their body issues'