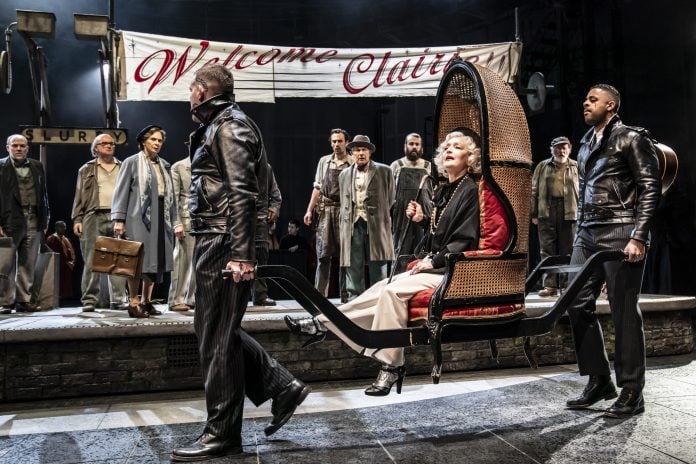 The Visit at the National Theatre review ★★★☆☆ by Ifan Llewelyn
What would you do for a billion dollars? That is the central dilemma of The Visit. The theatrical work of Swiss author and dramatist Friedrich Dürrenmatt is known for its avant-garde approach to epic theatre. His dedication to reflecting the lives of many licking their wounds after a second World War gained him international acclaim with The Visit. Having premiered in Zürich, the tragecomic play quickly made its way across Europe and only took two years to see an audience on Broadway. The story of a wealthy older woman returning to her poverty-stricken hometown seeking justice, offering a hefty amount of money in exchange of an immoral deed by the townspeople, encapsulated a post-war air of desperation, greed and trust in your fellow man. Known for his own works of epic proportions, Angels in America's Tony Kushner transports the story to a de-industrialised American town. With a whopping three hours and a half runtime, this is a bloated piece of theatre that, though giving us a handful of thrilling moments, fails to keep momentum. As the ludicrously wealthy Clarie Zachanassian, Lesley Manville shines bright from Kushner's tumescent work.
We meet the townspeople of Slurry, New York as they anxiously await the arrival of ex-patriot "little Clairie" who became the richest woman on earth. The run-down town has suffered the brunt of deindustrialisation; the factories have closed down and the trains due southwards just whizz on by. Town Mayor Nicholas Herckheimer (Nicholas Woodeson) is eager to make a lasting impression, dragging one of her old flames Alfred III (Hugo Weaving) into the welcome brigade. Arriving in a puff of train steam, Mrs Zachanassian (Lesley Manville) lands flanked by her seventh husband and a butler having pulled the emergency brake to stop where she pleased.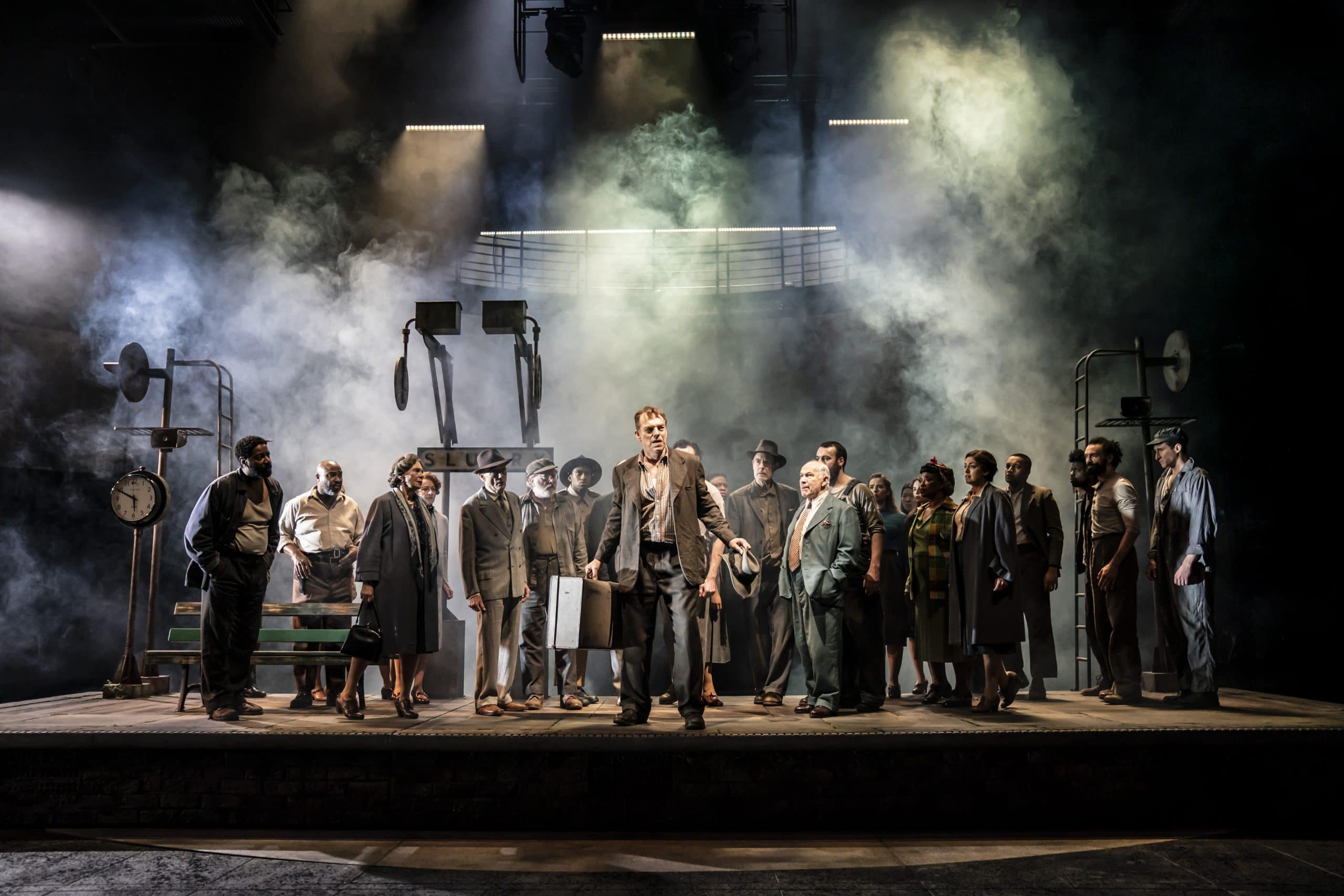 With her wealth wrapping her company around her little finger, Claire's affluence-fuelled flagrant attitude towards her fellow man soon becomes clear. She's fought long and hard to arrive where she has, losing a few limbs along the way. Her return turns the impoverished town on its head, leaving spectacle wherever she goes. As the viper-tongued billionairess, Lesley Manville takes to the stage with all the commanding presence of a woman who owns all that surrounds her. Through this mammoth work, she is the main component that keeps the audience engaged and hungry for her next scene. When she offers up a billion dollars in exchange for her old lover's murder, it's a moment that, though wickedly vengeful, still draws sympathy to her pursuit of justice.
If you were to carve out her scenes, you'd certainly have a gripping production. Unfortunately, we're often left with long moments of contemplation that, though beautifully written by Kushner, are rather tedious. The lives of these countryfolk doesn't sustain enough interest to keep us engaged in their moral quandaries, especially when they're up against the piece's more flamboyant absurdist elements. A welcome delight is blind, twisted comedy double act Koby and Loby (Simon Startin and Paul Gladwin) who never fail to amuse when they shuffle onstage.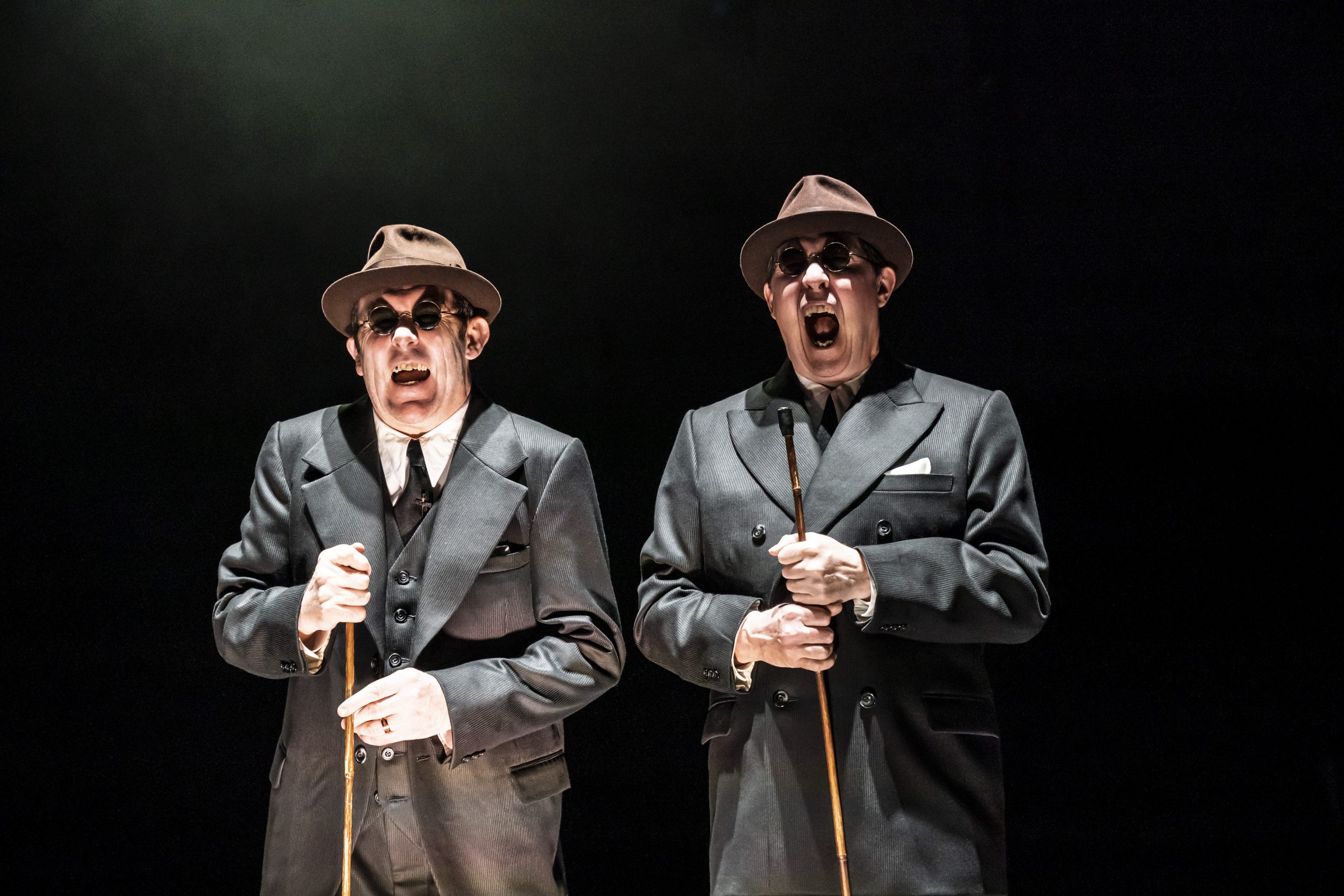 Under Jeremy Herrin's direction, this production is successful in bringing colossal scenes to the stage, doing so with ease. At Claire's welcome banquet, child gymnasts, a choir, an audience of the townspeople and our key players interact without the stage feeling too crowded. The play's more intimate scenes leave a little to be desired, not quite bringing forward the gravity of the situation. When our star-crossed older lovers meet for the last time, the scene falls flat.
Though there is a lot of sitting through overwrought scenes, there are moments of real magic throughout this production, from Vicki Mortimer's stage design to Mritz Junge's delicious costuming, not to mention schoolteacher Jemroetta (Sara Kestelman) and her drunken philosophical contemplation. If you were to condense that magic, we'd have a real winner on our hands.
The Visit (or The Old Lady Comes To Call) is running now at the Olivier Theatre, National Theatre, Southbank. NationalTheatre.org.uk
READ MORE related to The Visit (or The Old Lady Comes To Call) review here:
No Sweat at The Pleasance review – 'Steamy tale of queer homelessness'