Spring is approaching, and we are getting in the mood to show off some more flesh! Many of us here at the office have been hibernating this winter and are ready to be set free! You can feel the sexual tension in the office.
At esmale we are lucky enough to have some amazing customers that kept us entertained with their escapades during the winter. We get detailed breakdowns from big adult parties to people just enjoying our toys with some of their favourite poppers. For those that do not know what they are please have a read here, what are poppers? Not everybody loves them, but they feature in a lot of anecdotes.
Another thing that came up a lot is that many customers love a bit of kink! From BDSM to using fetish toys and testing where one's limits are. Showing off seems a popular activity as well. Snap yourself in some sexy gay underwear jockstrap, singlet or other kinky gear and share it on your go-to social app. A great way to show people what you are made of.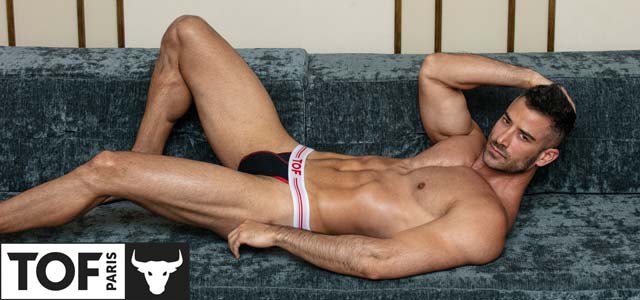 New hot gear to keep you busy!
With your winter habits in mind, we have spent a lot of time sourcing new products that you might enjoy strutting your stuff in. One of the brands people seem to love is TOF Paris. Their products have a definite edge to them, and they seem to find the perfect combination between comfort and sexy. The philosophy behind TOF Paris is based on clubbing and going out for fun times. Talking about having fun, we see a lot of harnesses out on the dancefloor these days and we are here for it. The non-leather ones from Addicted and Breedwell are particularly popular and easy to wear. For those of you that like to show off all your assets, we invested in some great jockstraps, bottomless underwear and sexy singlets. All of these will look great on you at fetish nights, adult parties, and cruising around in a sauna.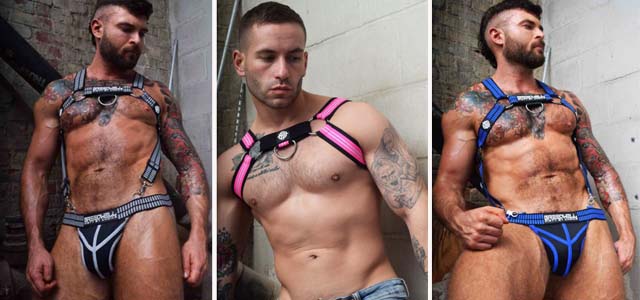 Taking the kink into the bedroom
As a result of you looking so sexy, you might just have pulled that hunky bit of man meat and brought him home for some extra adult fun. Not to worry, we have got you covered in the bedroom as well. With a huge new range of BDSM gear, pleasure tools, sex essentials and poppers we have covered all the basics. All you have to do is relax and have an amazing time. How about some under-the-bed restrains from Berlin XXX? You can tie him up and make sure he never leaves so you can have your wicked way with him for hours on end. Or maybe you like to be the one with your head on the pillow?
Spring in your step.
Of course, is it not just gay fetish gear that gets us into spring mode. Here at esmale HQ we just can't wait to spend some time outside of pubs and bars chilling with friends having a drink and a giggle. We love looking at the talent around us and getting a cheeky flirt here and there. Before we get out there some of us here have finally started doing some exercise again. We love all shapes and sizes but it does feel nice to have those extra winter pounds done with. Even if it is just so that I can fit into my spring/summer clothes again. You know, losing enough with so that my t-shirts have the normal amount of breathing space and don't make me feel like you can't sit down!
Enough talk! Let's get into action mode and have a look at all the gear that could become your new friend this spring. The timing is perfect as we have a sale at the moment, and you get big discounts on thousands of items, even on some of the new ranges. Not all the new products are in yet so keep an eye out as we will be dropping hot new stuff almost every week.
We hope you all have an amazing spring. To check out all the products on offer have a look at our stores here.
With Love
Team esmale!