3 months, 24 venues, over 300 contestants, 85 heats and heat finals across the UK, 4 national semi-finals, 1 wild card semi-final and it's all come down to this!
On Thursday, 22nd June, The Two Brewers in London hosts the Grand Final Drag Idol 2023. Celebrating its 18th birthday, the national competition shows no sign of slowing
down and has gifted the LGBT cabaret scene with some of our most well-known stars: Baga Chipz, Danny Beard, Louis Cyfer, Tanya Hyde, CK and last year's winner, Fatt Butcher, to name just a few. Not to mention Son Of A Tutu and Martha D'Arthur, the face and roving reporter of this year's contest, respectively!
And after a magnificent year which has seen acts of a calibre that may have won in previous years getting knocked out at the semi-finals this year…. We have our finalists. We've caught up with each of them before the big day to find out a little more.
How did you get into drag?
Gladys Duffy – Representing The Cockatoo Club in Manchester.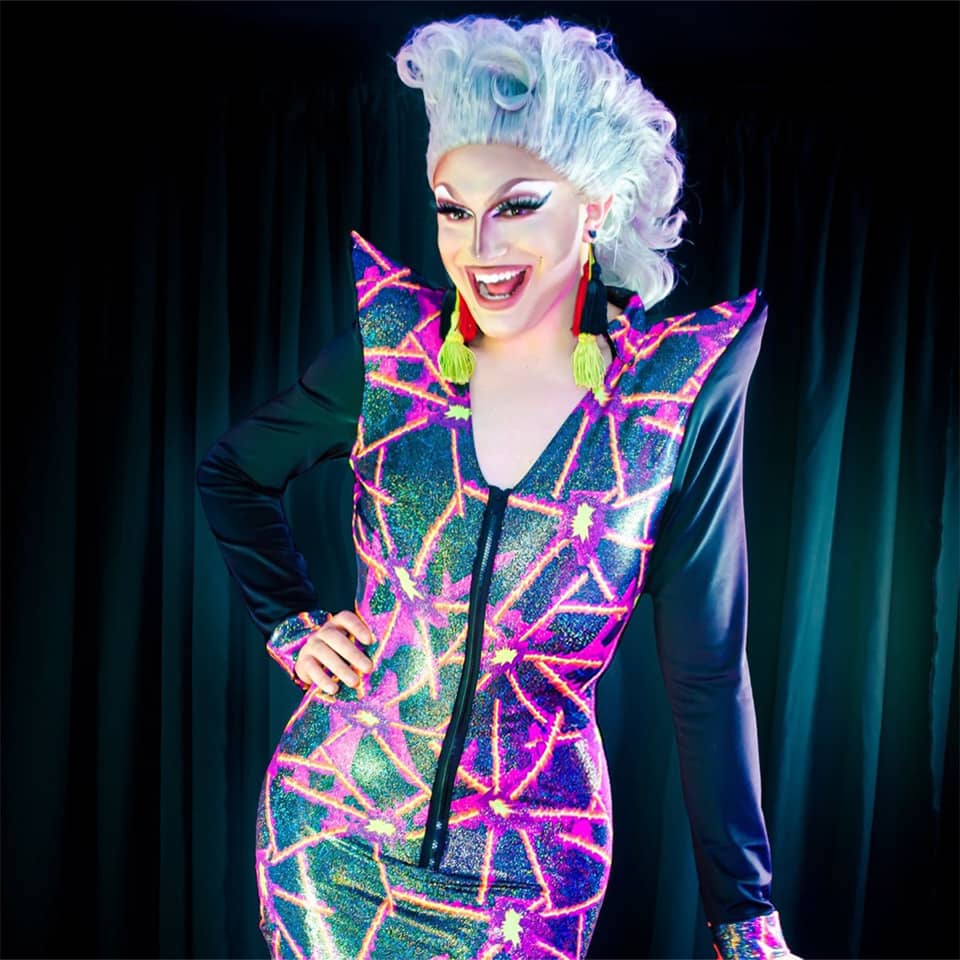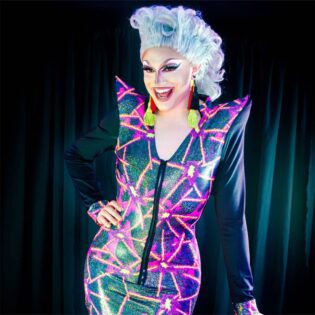 As a performer, even as young as 12, I'd stomp around performing my own imaginary sketch show for my own amusement. I had an array of characters, one of whom was an elderly cantankerous woman who would get up to mischief. 15 years and a master's degree in theatre later, I haven't entirely managed to stop performing as 'Gladys' yet.
The Tiny Gent – Representing Halfway II Heaven in London.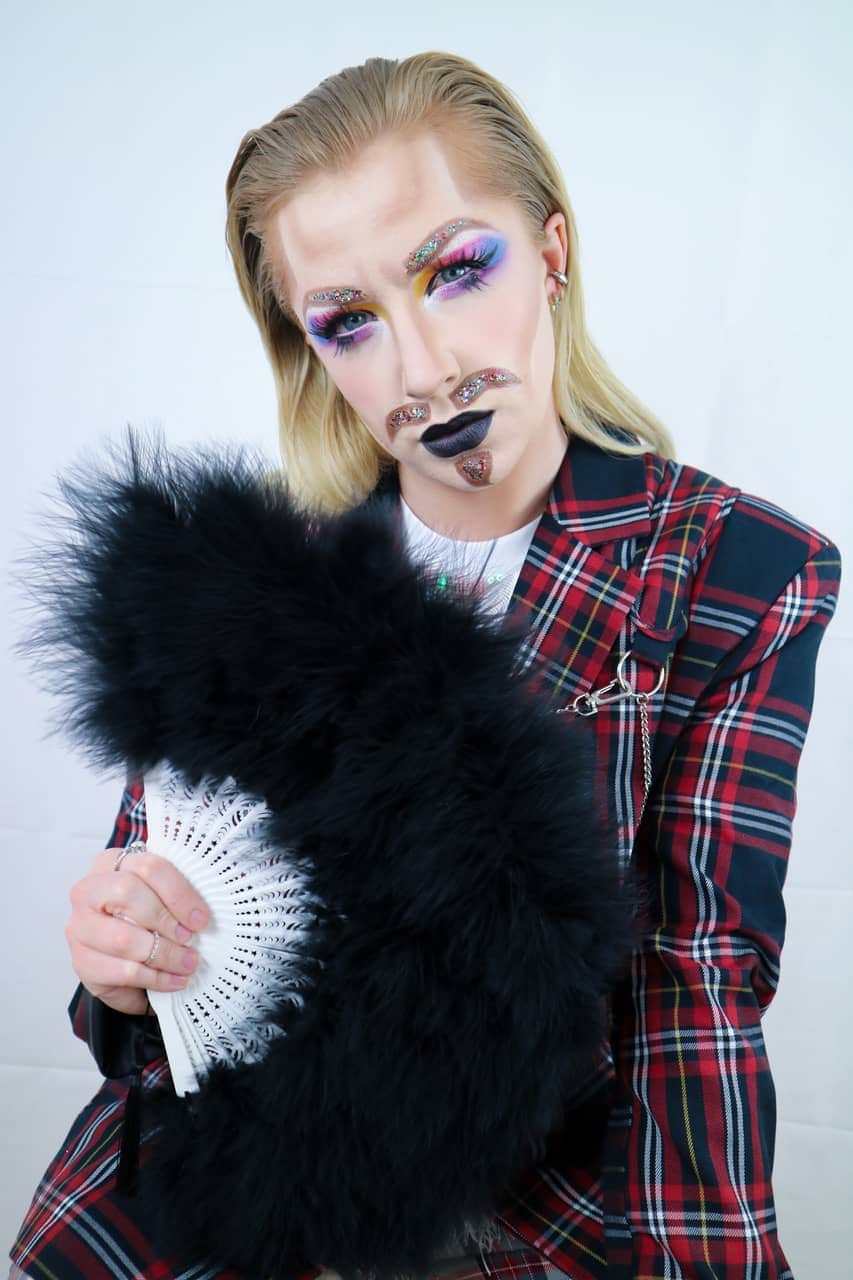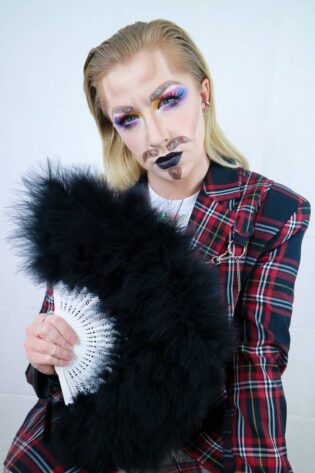 My journey started when I had to play the role of a villain in an adult panto named the "Twink Snatcher". From there, I was encouraged by friends and people who watched that I could actually be a drag king.
Glitzy Von Jagger – Representing Central Station in London.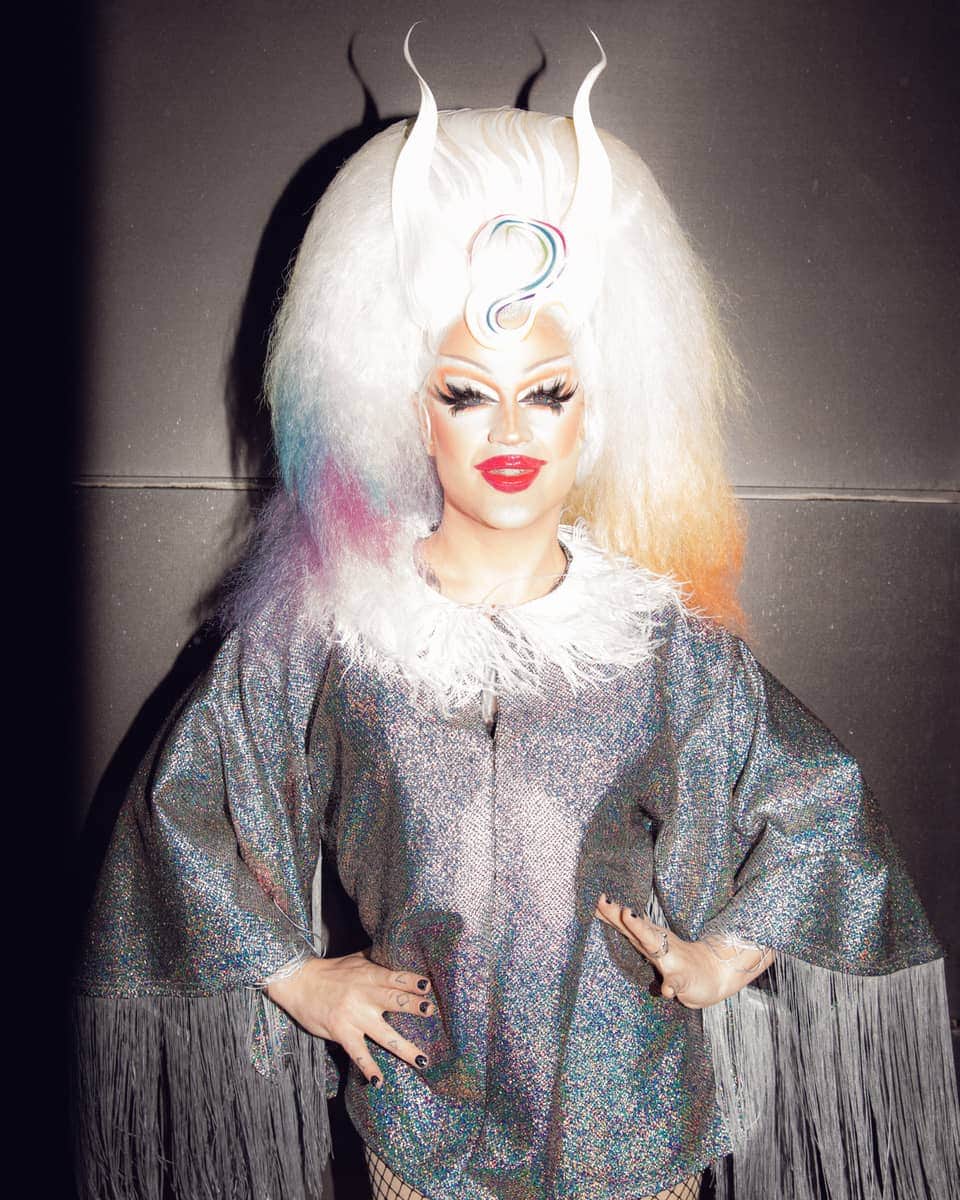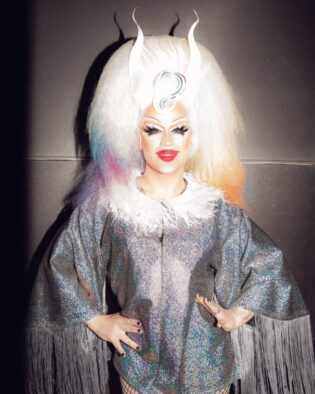 A tea towel wrapped around my head, my nanas lippy and her silky slip at 4 years old mincing around in the front room to Doris Day singing 'Que Sera Sera' in front of the fireplace for added backdrop drama. I felt the magic of transformation then. The family was shocked, awed, and entertained, and I was addicted. I started properly during lockdown, learning makeup and sewing skills and have absolutely found my calling. It's the perfect vehicle to integrate my skill sets.
Fruit N Fibre – Representing Mary's in Cardiff.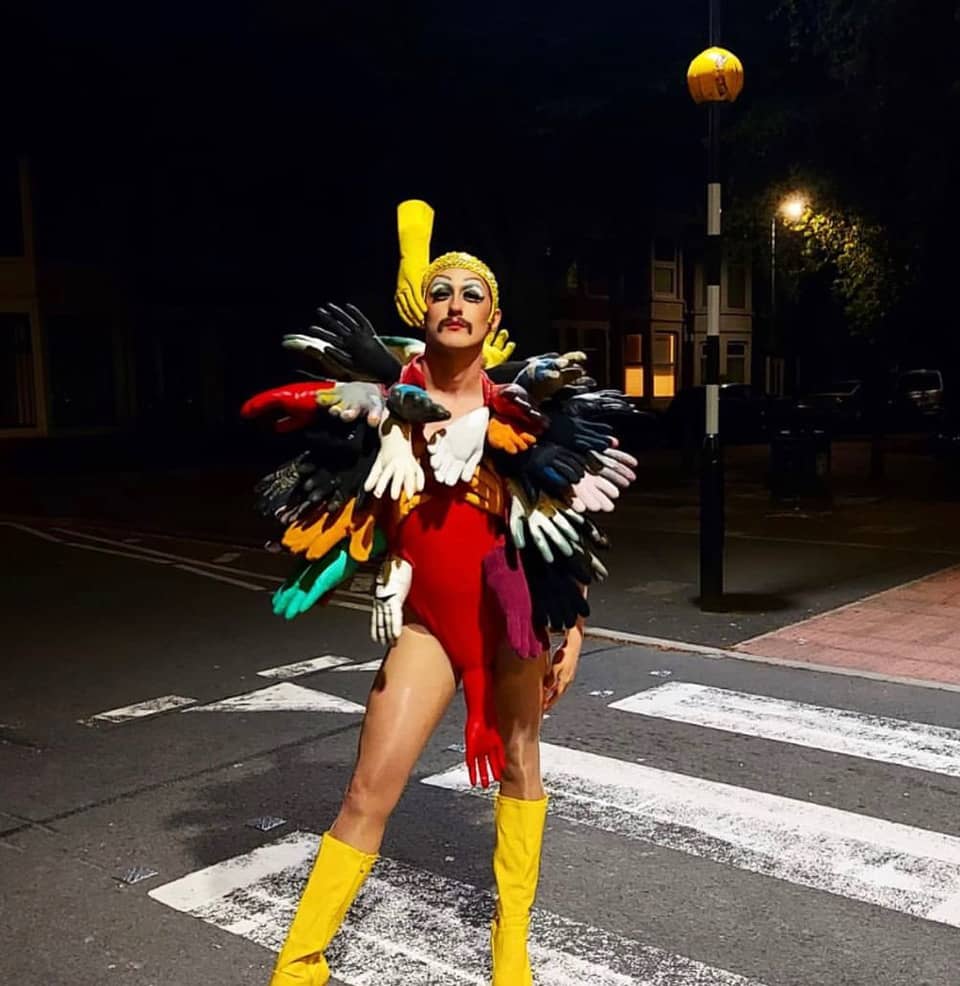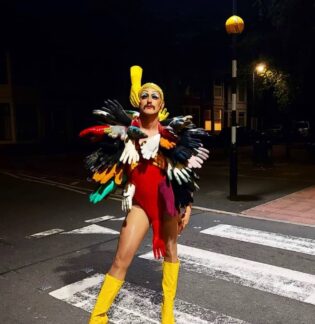 I'm relatively new to drag. I just turned 30 and wanted to do things that challenged/scared me. Drag was one of them. It's been something I've always wanted to try but resisted. I think I was worried about what people would think. But the reaction has been amazing, and I'm excited by how it's going. I'm enjoying discovering what drag means to me.
Blu Romantic – Representing The Eden Bar in Birmingham.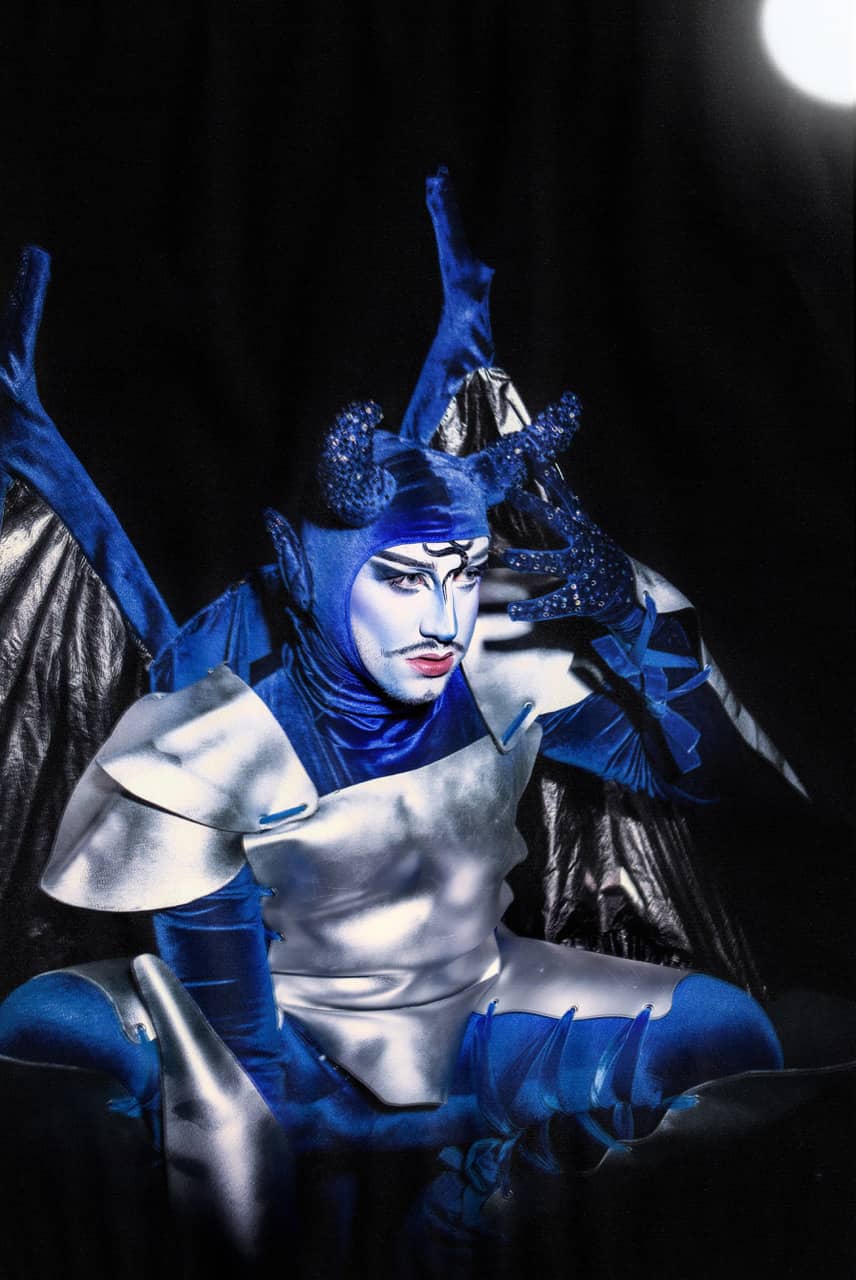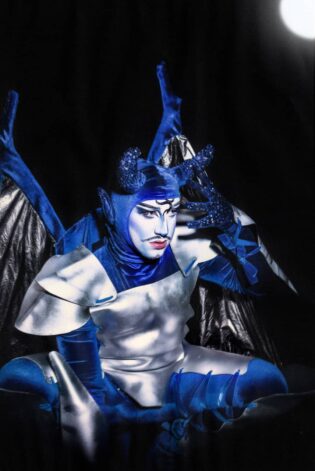 Many moons ago, an ex told me, "If you do drag, I'll break up with you…" so I didn't… and he still broke up with me. So I thought, "Well fuck this! Pass me that blue eyeshadow!". I was making looks and doing makeup for a little while with no intention of performing, and then, during the pandemic, it switched, and I've been invading stages ever since!
Tell us the inspiration behind your name.
Gladys: I love the names of old women. Edith, Gertrude, Muriel, Jean, Mildred etc. Gladys was just the one I landed on, and Duffy was the surname of my GCSE drama teacher that I pinched and added on later!
Tiny: My name was inspired by the fact that I wanted to be as campy as possible whilst also making fun of myself. And the fact that I'm just a little short had to feature somehow!
Glitzy: My boy's nickname is Dazzling, Dazzler, Dazzle etc., so Glitzy! I'm a showgirl and was never happy in the chorus line; I wanted to be upfront and centre in the spotlight, so there's your 'Von' – there's a long line of Von showgirls. Dita was an inspo, and I dabble in a touch of Burlesque. Jagger because I love The Stones and boys with big guitars!
Fruit: It's a homage to my favourite cereal. I lived on the stuff for, like, a year. I had to pick a drag name and looked at the box one morning and was like, "Yeah, that'll do for now", and it's just stuck. Plus, it's always reliable and delicious!
Blu: Blu Romantic is based on New Romantic! New-wave boys are prized for being total heartthrobs and for embracing and celebrating their femininity.
Describe your act in three words and give us your movie tagline.
Gladys: I've. Had. Enuffy. "You're here for a long time, not a good time!"
Tiny: Camp. Twink. Ridiculous. "The Tiny Gentleman – the campest twink in town!"
Glitzy: Sexy. Fabulous. Cuddle. "Good girls go to heaven, but bad girls go everywhere!"
Fruit: Fabulous. Fruit. Fun. "A little bit fruity and absolutely nuts!"
Blu: Turquoise. Lapis. Cerulean. "I am the daddy of drag, expect dad jokes, out-of-date songs and for me to make that pained sigh when I get out of a chair!"
What's been the highlight of the Drag Idol 2023 competition so far for you?
Gladys: The highlight of Drag Idol UK is getting to travel solo and meet new people, performers, punters and judges alike. I didn't actually tell anybody back in Newcastle when I snuck off to Manchester to compete in case I lost, but everyone was so kind and welcoming – it's been a delight so far. I don't want it to end!
Tiny: Progressing so much further than I did last year and having the opportunity to try out new things and see how that works with the audience and the judge's reactions. The wildcard final was also so much fun and had a really great atmosphere.
Glitzy: Obviously, winning my heats and my wonderful semi-final win in fabulous Cardiff. But the brothers and sisters I've made along the way, lifelong friends, we've had a right giggle! Also, everything I've learnt along the way, the feedback, the growth (personal and professional). The competition has made me a better drag queen, so thank you!
Fruit: Definitely meeting other artists and making connections within the community. I've felt very supported. I've also loved the challenge of putting together concepts and looks in such a short time frame. It's definitely pushed me creatively.
Blu: My personal highlight has been making Miss Penny cry with pride. I've finally been able to prove that big "girls" do, in fact, cry!
And finally, what would winning Drag Idol 2023 mean to you?
Gladys: It's not often that drag artists from my home region of Newcastle get out and about on the road, especially in the cabaret circuit. Winning would be an absolute victory and validation of my pursuit of this wacky career as a drag queen, but above all else, I think I'd wet myself with joy, and that would be proper funny to see, so get your cameras out just in case.
Tiny: I've learnt a lot about myself by doing drag and have gained so much confidence as a performer and as myself. Winning would be such an incredible achievement for myself and for the future of drag. It's not always been the easiest road. Being a king and winning would feel like I've really been accepted and people like what I do.
Glitzy: I grew up in the care system and did a paper round to pay for my dance lessons. I took a mega bus on my own at 16 to London to audition and get a scholarship to stage school. To have my own stage space for entertaining, healing, and transporting audiences is my lifelong goal and purpose. It would mean the commitment, hard work, tenacity and delusion have paid off! I'd be so grateful and would really make the most of it. I'd love to represent the UK as the Drag Idol winner, travelling up and down the country would be so exciting, and she'd be graceful, glamorous and a giggle of a Queen.
Fruit: Having the opportunity to perform across the UK and meet lots of amazing people would be great! And to continue the legacy of some of the most amazing drag artists in the UK who have been a part of Drag Idol.
Blu: Winning would mean everything! Drag Idol has produced so many iconic cabaret artistes, and I'm here to prove I can be that, all while looking like a glamorous demon Smurf!
The Drag Idol UK Grand Final 2023 takes place at The Two Brewers in Clapham from 8 pm on Thursday, 22nd June, with some very special guest judges!
Hosted by Son of a Tutu. Starting at 8 pm, free entry before 9 pm. DJ Amy LaQueefa until 2 am.
https://www.the2brewers.com/london/22-06-2023/drag-idol
The winner will receive a booking at each participating venue and will perform at the Two Brewers street party on Saturday, 24th June. We'll catch up with the winner next week!