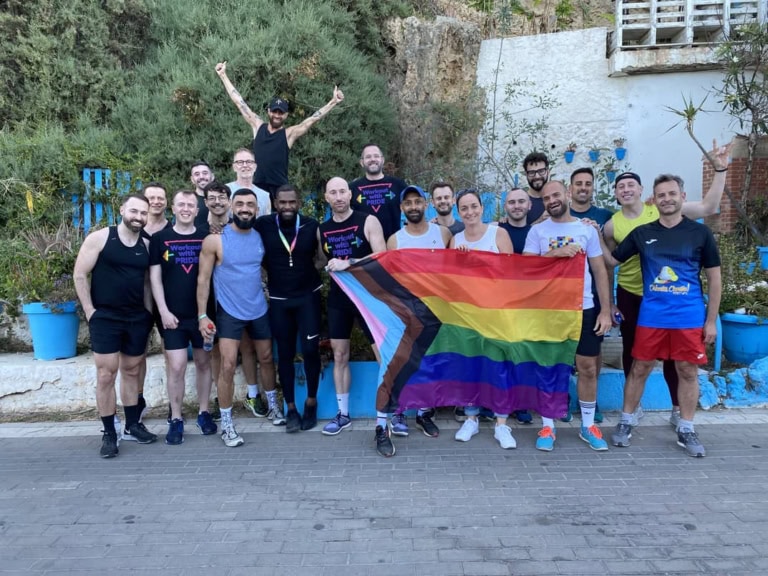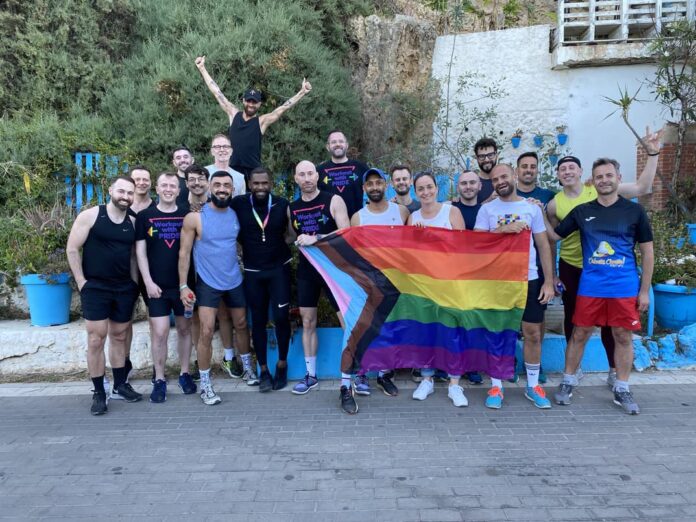 Hey Mark here, wellness warrior and founder of Workout with Pride, your go-to for everything wellbeing related. We offer everything from Spinning /Strength classes to personal training, event seminars and workshops. Want to check us out? Use the code QXfriend to try a class for FREE.
In last month's column, I wrote about being made redundant; I'm happy to announce that I took to my redundancy like Beyoncé to a microphone! I got straight to work and booked a gig delivering Workout with Pride classes at a queer wellness retreat on a Greek island. Lush.
The retreat gave me everything I needed: time to process, reflect and show off my passion for teaching!
That's one thing I love about teaching Workout with Pride classes. You get all the fitness but also plenty of knowledge and education. Our classes focus on form, mobility and setting up the body to move well at every age.
Now I'm back, rested, rejuvenated and ready! I feel like mark 2.0, and with that, I want to get back to basics with this column, so let's start from scratch. Here are my tips for overall well-being and training.
Lesson 1. Don't trust thumbnails.
Scrolling through YouTube, you'll find plenty of videos that claim to have the best workouts for muscle growth, fat loss or the best way to rid belly fat, and I'mI'm here to say it's all bull. Yep, you heard that right. Firstly, You cannot target fat loss! No amount of abdominal crunches will get you a 6-pack if you have excess body fat!
To gain muscle, you must be in a calorie surplus.
To lose weight? You need to be in a calorie deficit. It is that simple.
How do you start? I hear you cry.
Start by simply finding out your TDEE Total Daily Energy Expenditure! You can find many calculators online. Enter all your details, and it will give you an estimated number of calories you burn daily! Once you have your number and depending on your goals, eat 500 calories under the number for weight loss or 500 calories per day over it for weight gain. Sure, there are some variables, but don't overcomplicate it, that is, unless you're planning on competing in a bodybuilding competition.
Training.
Standing at the gym entrance, you suddenly feel more judging eyes on you than Rupauls met gala outfit.
You scuffle straight to the nearest piece of kit, maybe a cross trainer or the trusted treadmill, strutting along (not yet a jog), you nervously look around for what'swhat's next before deciding it's not for you and head to the exit and walk out, you fail to return yet keep paying for the membership.
The gym can be the most daunting and toxic place ever, especially for queer people. If you're anything like me, being in a gym brings back football pitch trauma, sporty people watching me and thinking, what is he doing? Remember, it's your place too, and the lore dominates it, the more comfortable it will be! On another note, even the intimidating people in the gym have yet to learn what they are doing. If you want a routine, check out workout with pride. We offer program design.
Fitter Confident You.
Another excellent Personal trainer who offers online coaching is Matt Boyles, who founded Fitter Confident You, which offers online Personal Training tailored for the GBTQ+ Community
Check out the link below and get confidence in your training.
https://www.fitterconfidentyou.net/onlinetraining

If you're looking for inclusive gyms, check out these fab spaces.
Strongher is a women's only strength gym in Bethnal Green.
Strongher's motto is, "More than just a fitness space, we are a community and sisterhood bringing women together from all walks of life!"
The LGBT centre in Southwark also offers several fitness classes.
https://londonlgbtqcentre.org/
And lastly, the biggest myth of all, I hear this more and more, and every time my eyes roll so far back in my head, I feel I can see behind me. "You need to switch up the routine to trick the body".
Honey, please! Don't!
You could keep the same routine for a lifetime. You only need to switch up the reps or the resistance (weights) every 8/12 weeks.
Professional bodybuilders keep the same routine for a lifetime: deadlift, squat lunge push, pull press, and that's that.
If you want more advice, Workout with Pride will run a series of events called the Knowledge, where we will dive deep into the myths around training and nutrition. You can check out our website and Instagram to keep updated.