'Camp' summer camp for LGBTQ+ adults celebrates 25th anniversary. 'Camp' is one of America's premier summer camps for LGBTQ+ adults and is hosting its milestone 25th Anniversary Season from August 20 – 27. Since 1997, queer travellers searching for a unique all-inclusive vacation have found relaxation, excitement, and a new life-long community at a week-long summer camp experience that many attendees have declared the "best time ever!" for over two decades.
Twenty-five years ago, few LGBTQ+ vacations existed, and those that did were cruises or resorts that largely revolved around the party scene. The intention was for 'Camp' Camp to be a place that would foster genuine connection and community-building among queer folks of all ages, sexual orientations and gender identities in a more "wholesome" setting – a summer camp in Maine.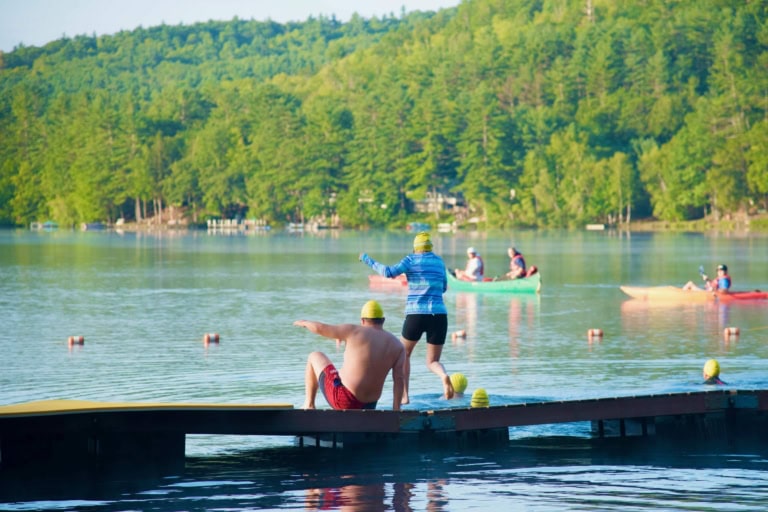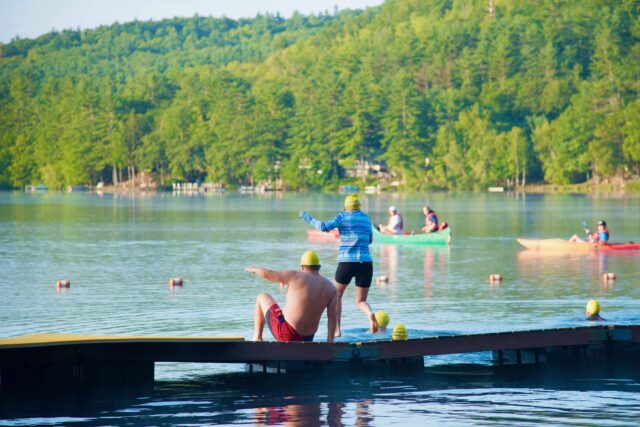 From its first summer, 'Camp' Camp has been structured like a traditional sleep-away camp with a robust activities schedule that offers everything from Canoeing to Stained Glass to Volleyball to an annual Talent/Talent Show. Campers can also relax by lying on the beach, strumming a guitar with fellow Campers, or finding a tree to lean back and finally dive into that book collecting dust on their bedside table.
Co-Owner Betsy Orr of Portland, Maine, adds, "After deciding between at least a few dozen activities each day, Campers enjoy a different social event each night. In between, they're served three fresh, delicious meals each day, prepared by a team of professional chefs – not at all the food most of us probably remember from summer camp when we were kids."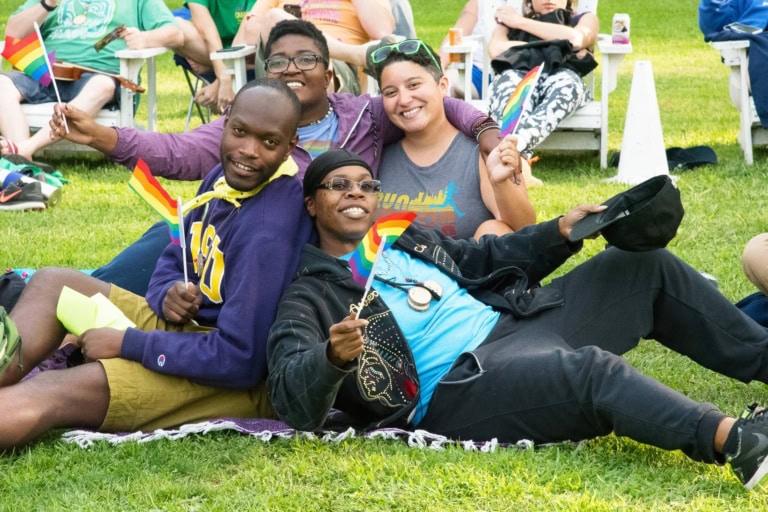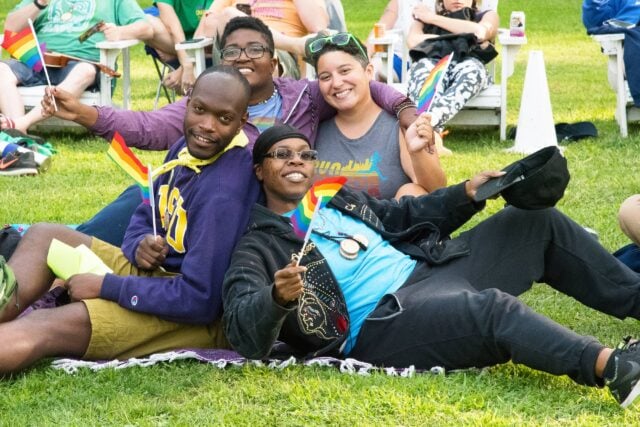 "I couldn't believe how many activities we had to choose from," remarks Doug Smith of Arleta, California, a Camper returning in 2023 for his third consecutive season. "If I spent a week paying individually for every activity I do at Camp, I bet I'd spend at least twice as much as I do on Camp's registration fees – especially when you consider the fees also include amazing food and fun events like dances, drag bingo, or a lip-sync contest every night of the week."
Though a rustic week in the Maine woods may not be everyone's idea of a vacation, the LGBTQ+ traveller searching for a distinctive escape that's also a great value will find 'Camp' Camp a perfect choice. For an all-inclusive price of $1825 for the week – less than $275 per day – Campers receive communal lodging in simple cabins; restaurant-quality meals; over 30 outdoor, athletic, and creative activities to choose from each day; a different social event each evening; beer & wine; and round-trip transportation from Portland, Maine to Camp. Reduced rates through Camp's unique Staff program start at just $400 for the week and are available on a limited basis.
For the past twenty-five years, 'Camp' Camp has enjoyed a return rate of over 50%. Returning Campers cite the fun and inclusive LGBTQ+ community of which they find themselves a part at Camp as the main reason they return, a validation of the unique community-building intent behind the Camp's founding over two decades ago.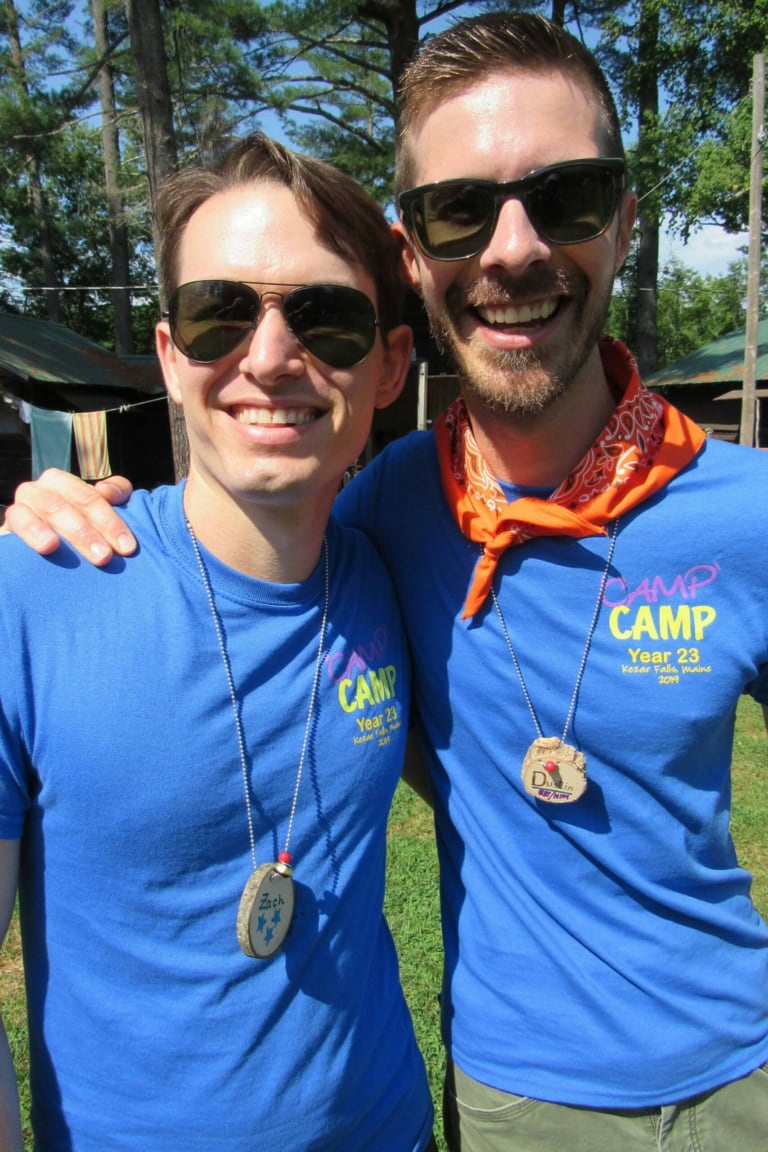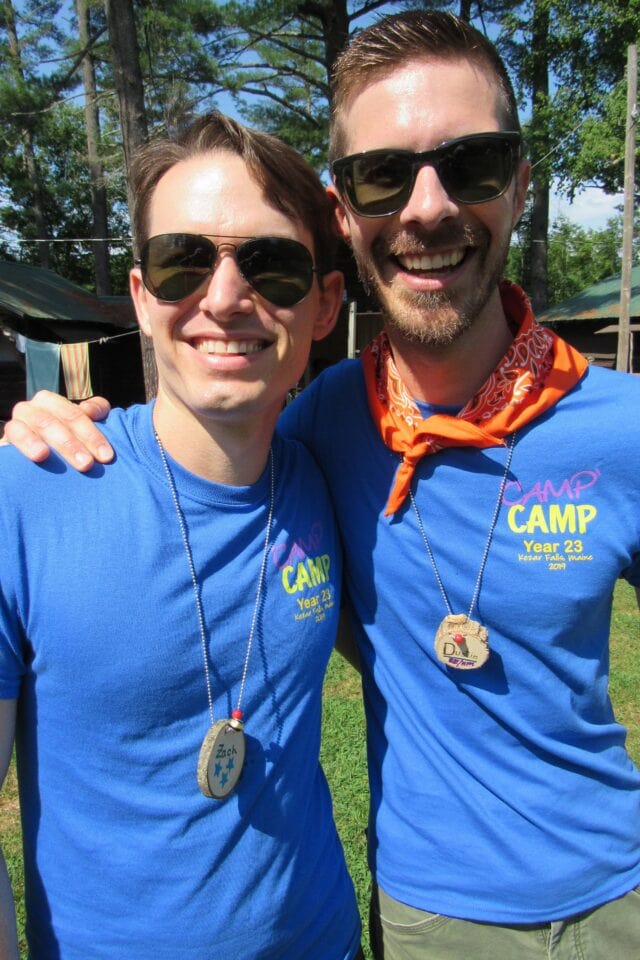 "The best thing is that "all-inclusive" doesn't just refer to our registration fees," says Assistant Director Michelle Rediker of Framingham, Massachusetts, a twelve-year 'Camp' Camp veteran. "The culture at Camp fosters one of the most welcoming and supportive intergenerational queer communities that I've ever encountered. Being a part of this LGBTQ+ community, you connect with others, and you're encouraged in every way. That's really the biggest value you get with a 'Camp' Camp vacation."
Kerry Riffle of Woodville, Ohio, has been a part of Camp every season since their inaugural year, 1997 and Camp's Owner/Director since 2006. "Our first year, we had around 90 attendees, and two-thirds of us were on Staff, so it's been exciting to see Camp grow to welcome as many as 250 folx a season over the past 15 or so years – and most years, around 40% of Campers have been with us for five years or more," he adds.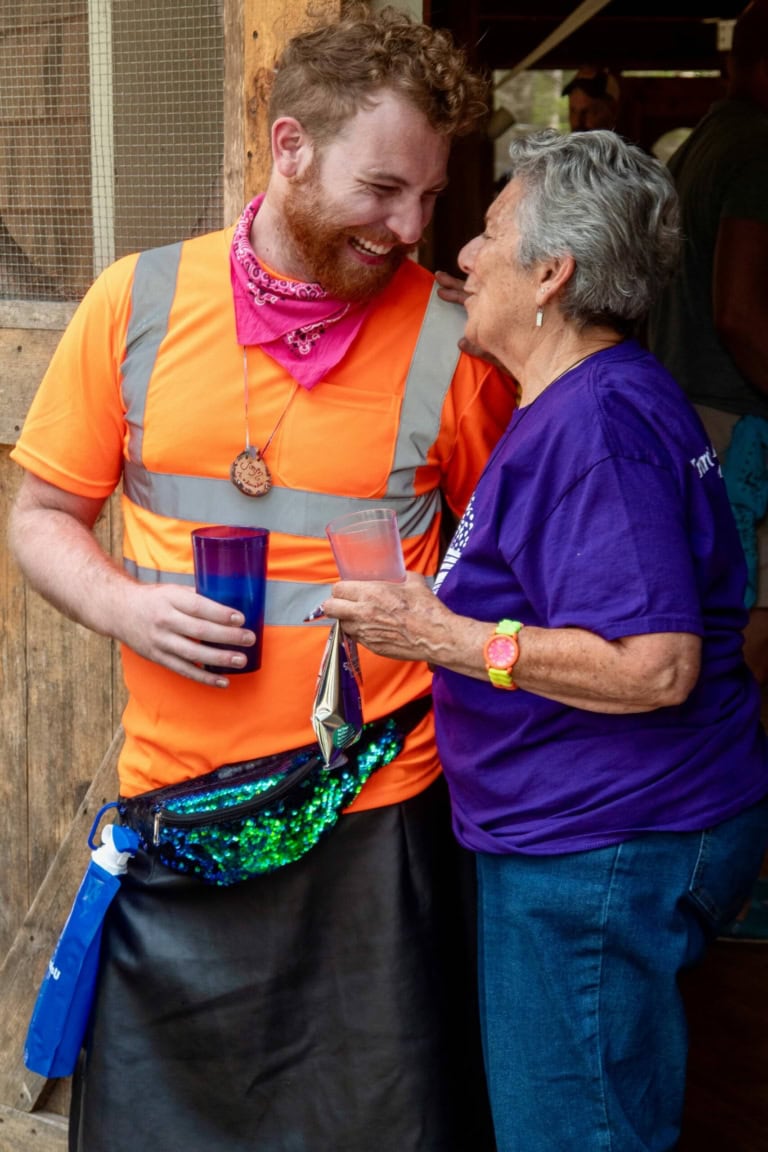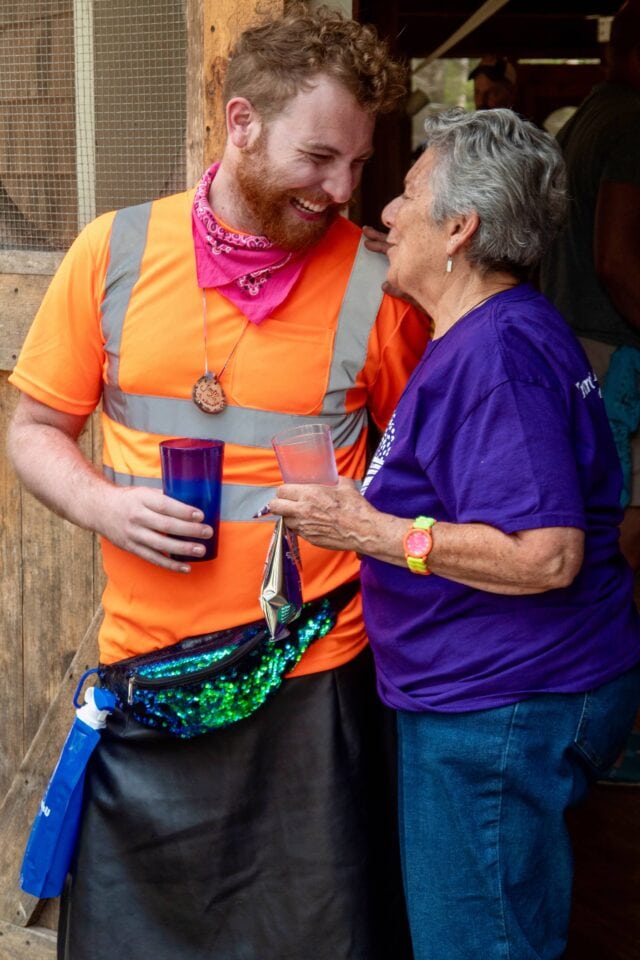 Riffle continues: "Spending a week in the Maine woods with all that fresh air, pretty much tech-free, can be inviting enough on its own. But when you combine that with this amazingly welcoming and supportive community of queer people who implicitly encourage you to just be yourself and try things that you might not be comfortable trying at home, it somehow transforms the week from another LGBTQ+ vacation into this near-magical, incredibly rejuvenating experience for most people. In today's stressful, politically-charged climate, such an experience feels especially necessary and life-affirming."
Space is still available for both Campers and Staff for Camp's 25th Anniversary Season this August 20-27. Registration and more information on 'Camp' Camp's Staff program can be found at campcamp.com.