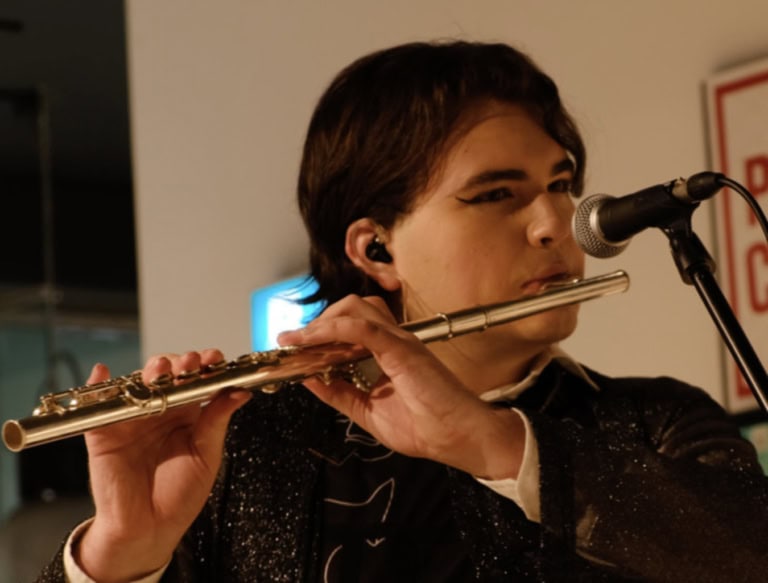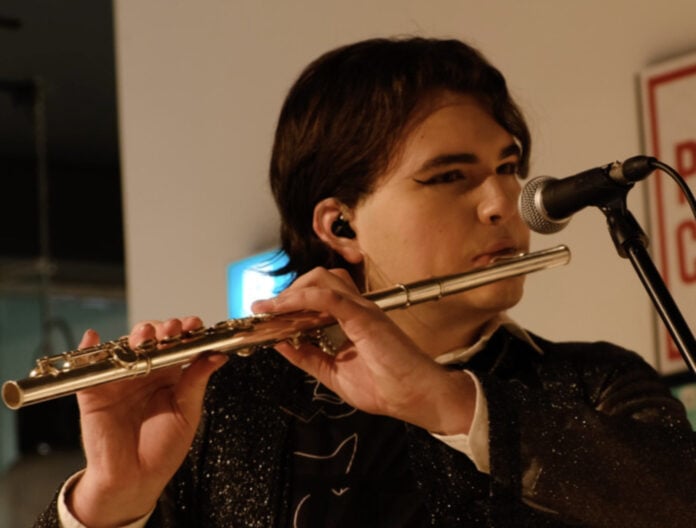 Liam J Edwards is a classical and popular singer, songwriter and musician based in Cardiff. Following the release of their latest single, 'Better Off', QX interviewed the non-binary artist about their source of inspiration as a queer creative.
What inspires you?
As a young queer creative, I am inspired by many aspects of my life. As an upcoming musician, my main source of inspiration comes from attending all manner of established and local concerts and watching the performers in their element. One core memory in a musical space was seeing Sam Smith perform at BBC Radio 1's Biggest Weekend in 2018. It was my first concert and first exposure to an out and proud queer musician on a massive stage.
Since then, every concert I have attended, such as Dua Lipa, Rina Sawayama and Tom Rasmussen, has ignited my drive to become the best artist I can be.
It would be amiss of me not to mention the rich and plentiful array of inspiration that exists in queer spaces. The art, the expression and the diversity of queer talent is nothing short of phenomenal. From drag performers, musicians and poets, small business owners and activists, I am forever in awe of the passion within our community. Especially when we come together to demand change following the example of those who came before us, like Marsha P. Johnson, Sylvia Rivera, Lisa Power MBE and Barbara Gittings, to name a few who paved the way for us to be our authentic selves and inspire us to keep fighting for the next generation of Queer Youth.
What gets you down?
While I consider myself blessed to be surrounded by so much inspiration and beauty, there has been and still is a considerable amount of pain.
Since coming out at age 14, I, like many of my LGBTQIA+ siblings, experienced challenges in the form of bullying from classmates, relatives and other authoritative figures such as teachers, religious people and work colleagues. This has kept me down for a while, especially when I began questioning my gender identity.
I had always known that I never fit into one specific label, but the information and resources weren't accessible growing up. For most of my childhood, I called myself a "tom-girl", which was the closest thing to making sense of my feelings. While scrolling through social media, I read the term "non-binary", and it felt like every lightbulb in my brain clicked. However, I knew it would be another coming out, which meant even more challenges, so I had to suppress it.
I tried forgetting about it until moving to Cardiff for university, where I began to meet like-minded people. I started looking to join more spaces for gender-marginalised communities. I stumbled upon an application for a project called "Resonant Cymru", dedicated to supporting gender-marginalised individuals in their journey in the music industry. I applied, thinking, "Another rejection", but when I received the email accepting my application, it was euphoric.
Being surrounded and working with successful musicians who overcame prejudice was so inspiring. To learn from icons like DJ Luna Tunes and producer Millie Blooms was eye-opening. I am so thankful to Resonant and the leaders Yas and Stacy for providing this space. It was so much more than a project; it was a pivotal moment in my journey. When I was down, they were there and gave me everything I needed to learn and accept myself. Since then, I am proud to say that I have officially changed my pronouns to they/them. Challenges like prejudice and misgendering are a continuous problem, but I am learning to be brave and stand my ground.
How is your art a response to events around me?
My art is a response to every aspect of life; the only way I've ever been able to express myself is through songwriting. It's incredibly therapeutic and the perfect creative outlet to express the emotions I would otherwise conceal.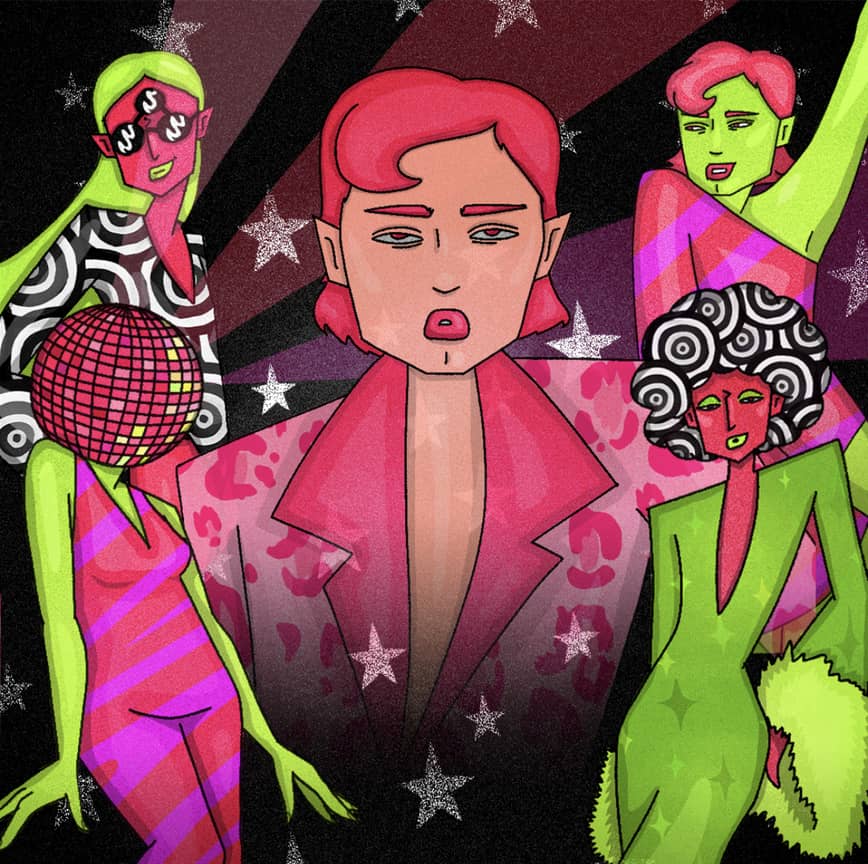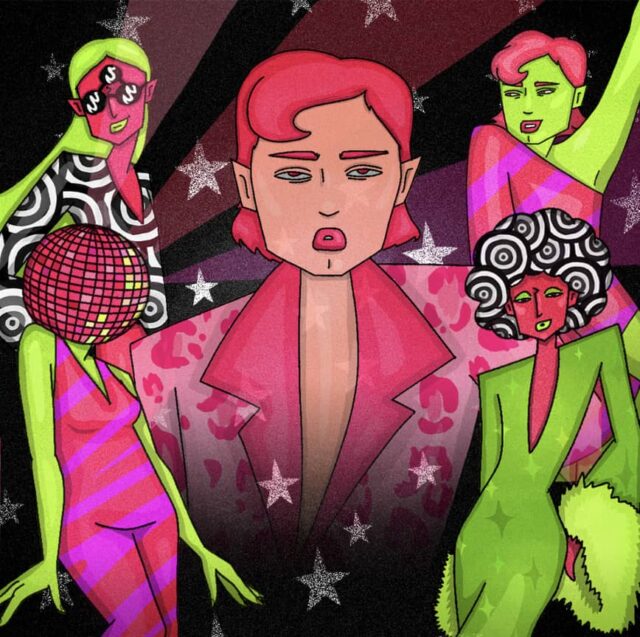 The world we live in can be extremely overwhelming and stressful, especially trying to navigate a career in the music industry; at times, I have found it all too much and have contemplated quitting. The second I even consider such a thing, a new idea for a melody, lyric, beat pops into my brain, and it reminds me why I started music in the first place. That feeling when you hear a completed song for the first time or when you perform and the audience goes wild, it means the world to me.
When the art I make as a response to the pain I felt receives a positive response from the audience, it's like no other feeling. For example, my recent single, 'Better Off,' was created as a response to letting go of toxic people in your life who only cause pain. The reaction to this song brought a community of people together who had experienced similar events, which was when I realised the power of music and art to change and bring people together. Furthermore, I recognised how creativity can help find a light that we can inevitably use as a beacon of hope for others, even in the darkest times.
How do you see the future?
The future is a scary, nerve-racking, but also an exciting topic to discuss. I hope my music reaches the audience of listeners who will connect with the art and its overall message that you're strong, beautiful and belong. I want to continue to grow into the performer I've always wanted to be and show that no matter where you come from, how you look or how you identify, there is a place for you where your authentic self is accepted and celebrated.