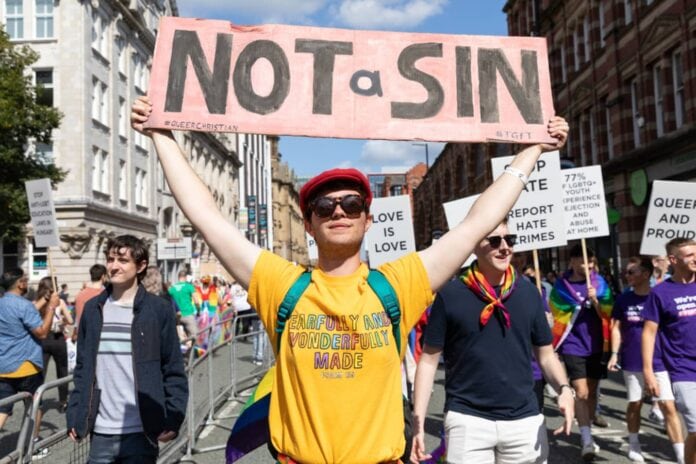 Manchester Pride Festival, winner of 'Best Large Festival' at the UK Festival Awards 2022, is set to transform the city into a vibrant celebration this weekend (Friday 25th – Monday 28th August). In partnership with Booking.com, Manchester Pride charity's festival invites everyone to celebrate and advocate LGBTQ+ equality with an exciting line-up of local and international artists.
The Manchester Pride Festival 2023 events are free to attend, except the Gay Village Party.
Tickets: Weekend and day tickets are still available from Ticketmaster. All VIP and low-income tickets are sold out.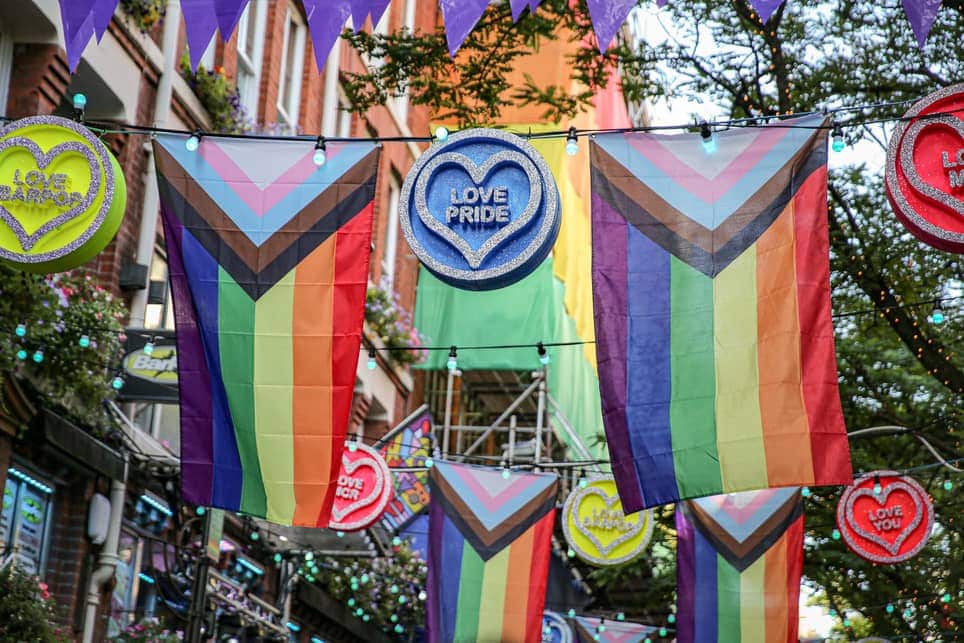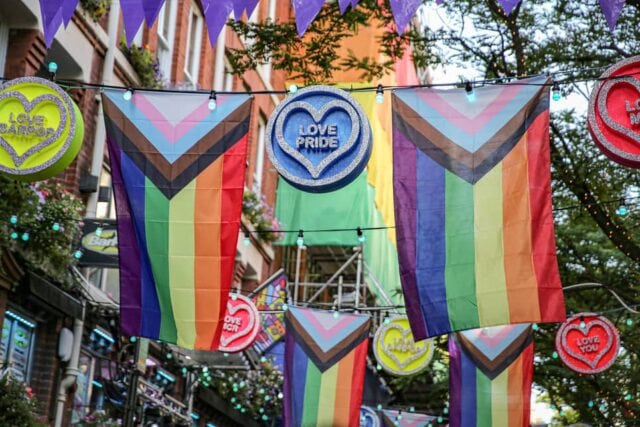 The Manchester Gay Village Party.
Co-created by Manchester Pride charity and Manchester's queer communities, the event is at the heart of the festival. The line-up is the festival's most diverse yet, with 96% queer performers, 54% women, 51% people of colour and over 42% from trans and non-binary communities.
There are performances across three stages: The Village Stage, MancUnity, and the Alan Turing Stage.
Manchester Pride 2023 Festival Map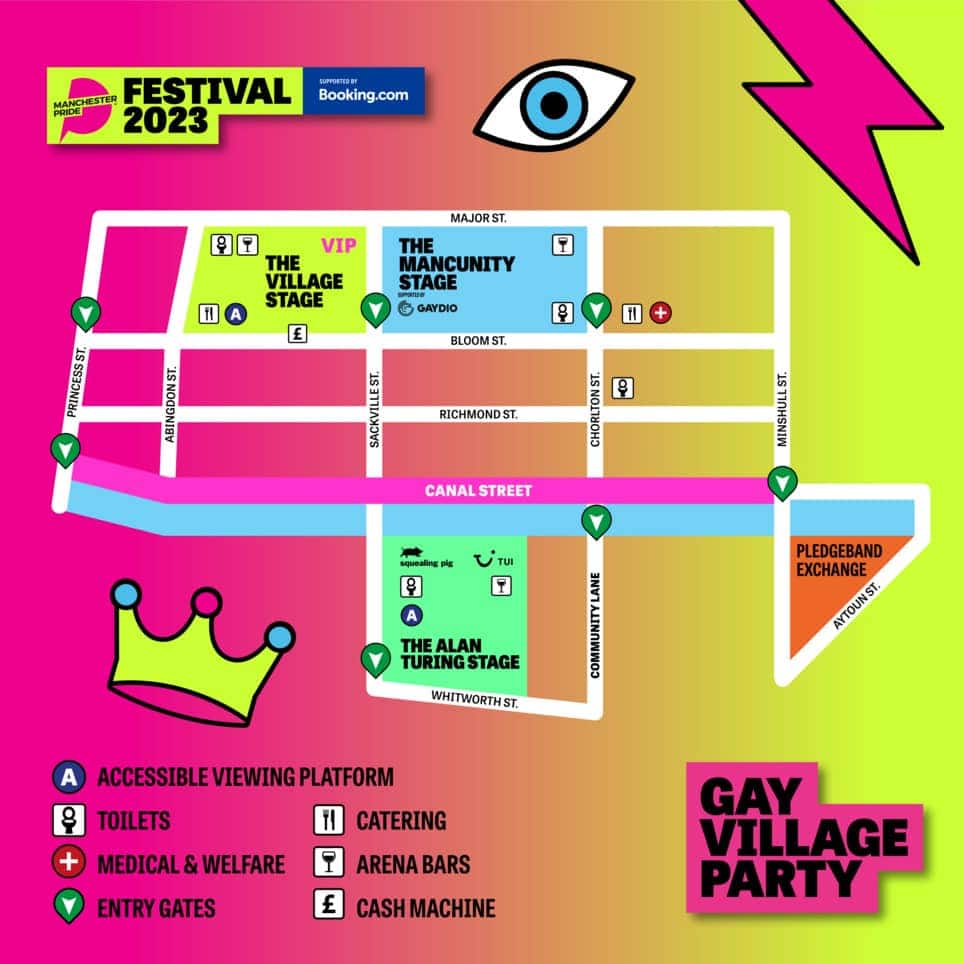 Manchester Gay Village Bar Map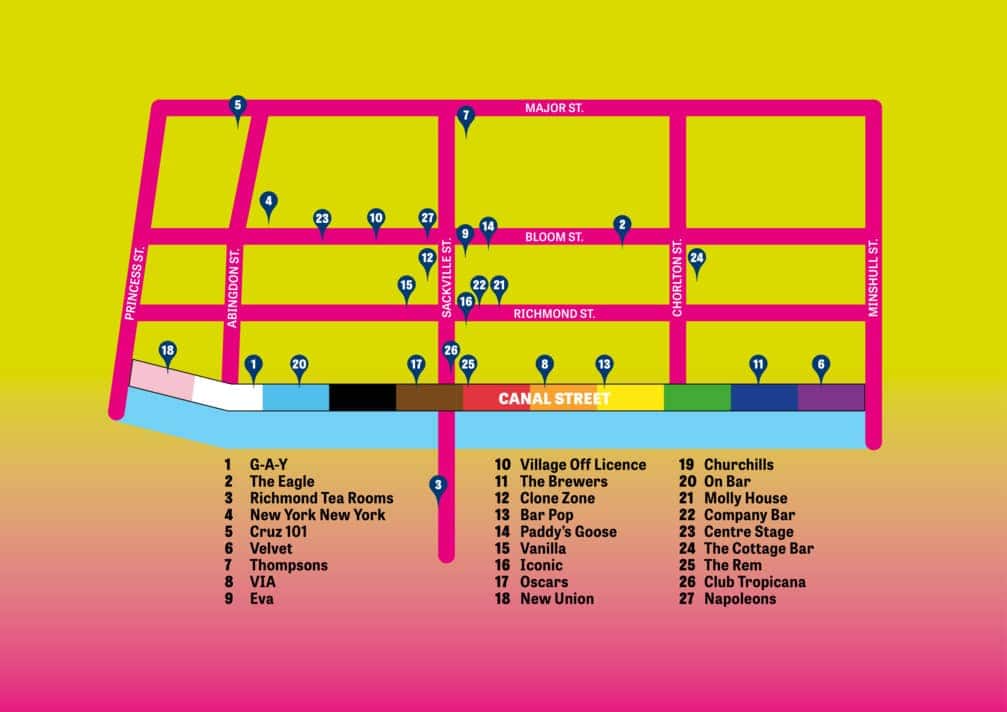 FRIDAY At The Manchester Gay Village Party.
The Village Stage: Trans Filth & Joy, hosted by Milk Presents and Trans Creative. With BIMINI, Tito Bone, Cyro, The BollyWitch, and more. 6:30 pm – 11 pm.
MancUnity: Celebrate Fat Pride, in partnership with Gaydio, with artists including The Niallist, Ivy Profemme, The Fat Britney, and Miss Lei-Lei. 6:30 pm – midnight.
The Alan Turing Stage: Hosted by Donna Trump and includes the Human Rights Forum, La Discothèque Orchestra, Queeriosity Cabaret, and more. 5 pm – 11 pm.
SATURDAY At The Manchester Gay Village Party.
The Village Stage: With Alison Goldfrapp, Pabllo Vitar, Jodie Harsh, and more. The stage opens from mid-day with a Parade screening. The main acts are from 4:30 pm – 11 pm.
MancUnity: Black Pride MCR / Swagga, and headlined by Raven Mandella. 1:30 pm – midnight.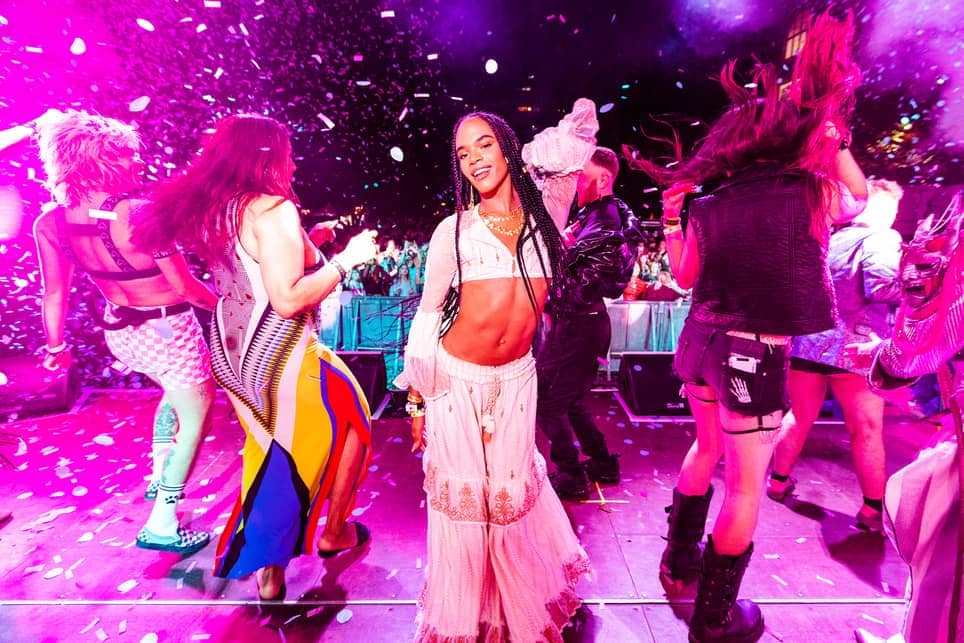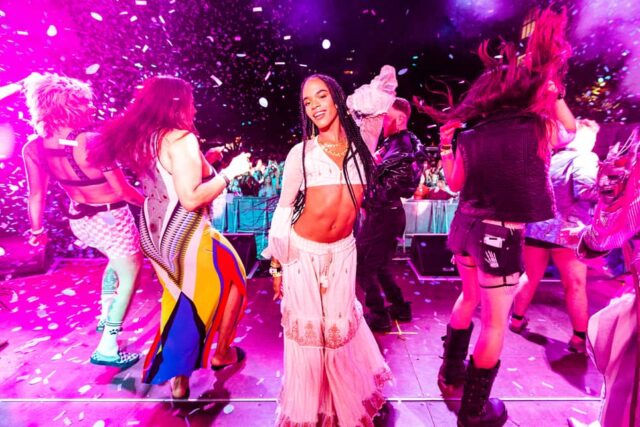 The Alan Turing Stage: Queer Asian Takeover, hosted by Lucky Roy Singh, with Gracie T, Gok Wan, and more. Midday – 11 pm.
SUNDAY At The Manchester Gay Village Party.
The Village Stage: Join Danny Beard and Friends, Jake Shears, Natasha Bedingfield, Lisa Scott-Lee, and more. Noon – 11 pm.
MancUnity: Queer Women's Takeover, with Monki, Blasha and Allatt, Mix-Stress and Friends, and more. 1 pm – midnight.
The Alan Turing Stage: Cutie-poc Cabaret, hosted by Rikki Beadle-Blair, with Oneda, Angie Brown, and more. Noon – 11 pm.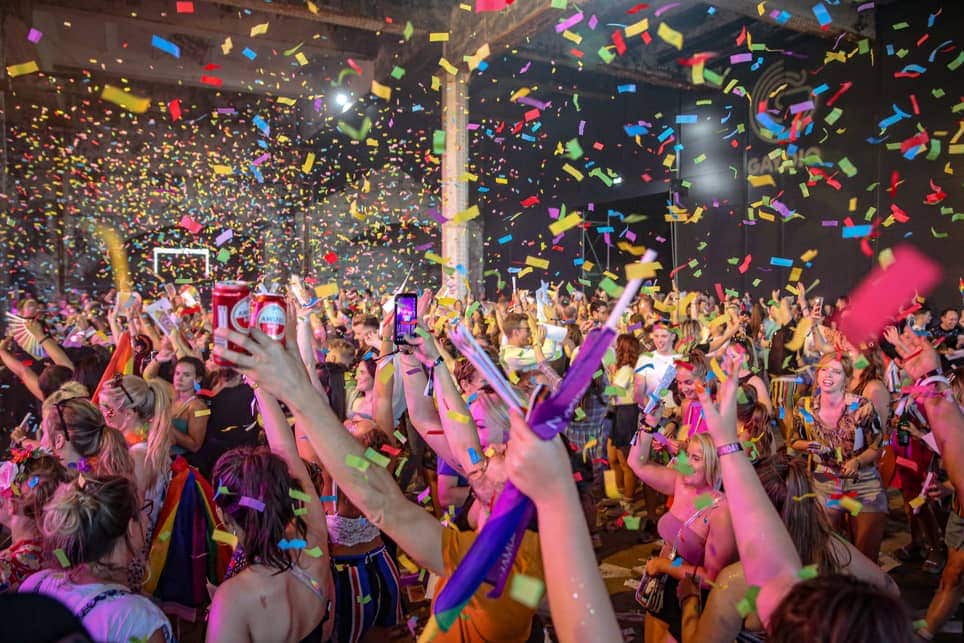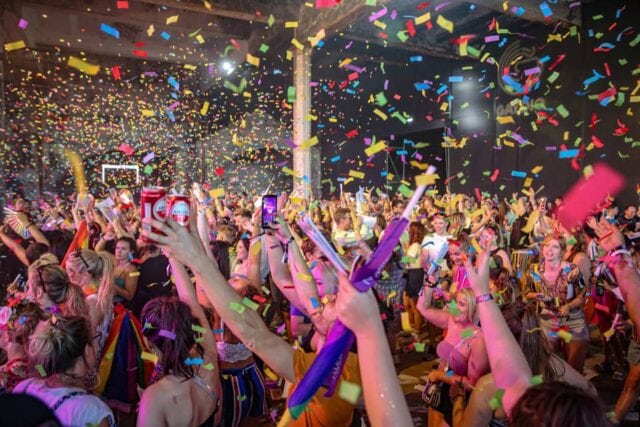 MONDAY At The Manchester Gay Village Party.
The Village Stage: Revel in community collaboration and enjoy performances from George the Dragon Disabled Queer Joy Cabaret and Cuppa T. Noon – 6 pm.
MancUnity: The Runway by Manchester's 7ft drag artist Banksie. 2 pm – 5 pm.
The Alan Turing Stage: Enjoy the melodies of the Disney Orchestra. Noon – 4:30 pm.
The full lineup and day splits can be found on the website.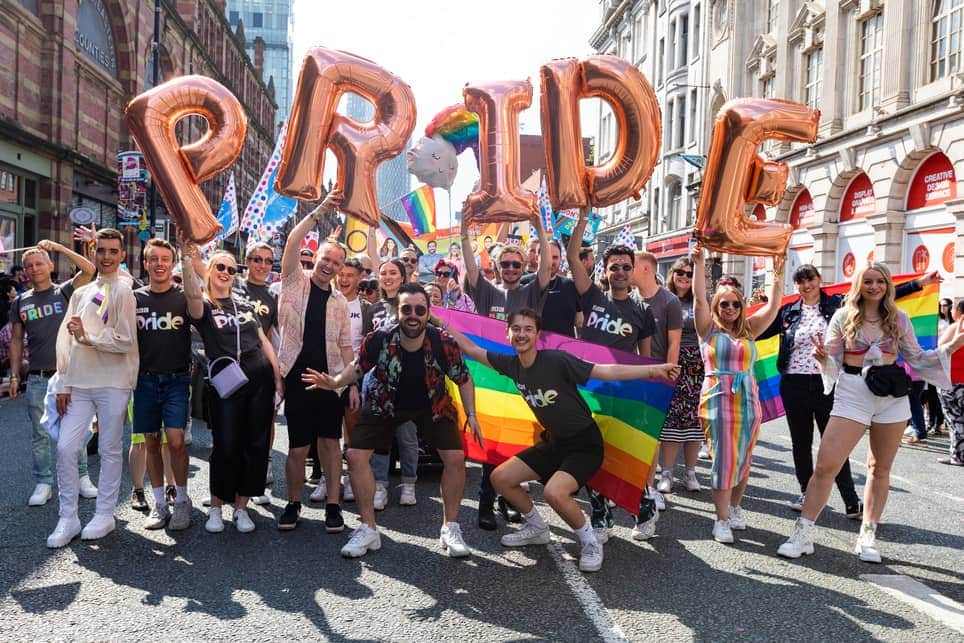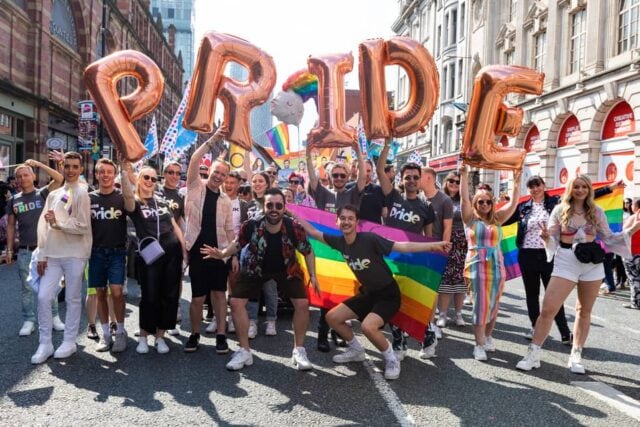 Manchester Pride Parade
'Queerly Beloved', Manchester Pride Festival's Parade theme for 2023, reflects ten years of marriage equality in the UK. On Saturday, 26th August, through the city centre, the parade commences at noon from Liverpool Road via Deansgate, Peter Street, Oxford Road, Portland Street, Princess Street, and Whitworth Street and concludes on Fairfield Street around 15:00.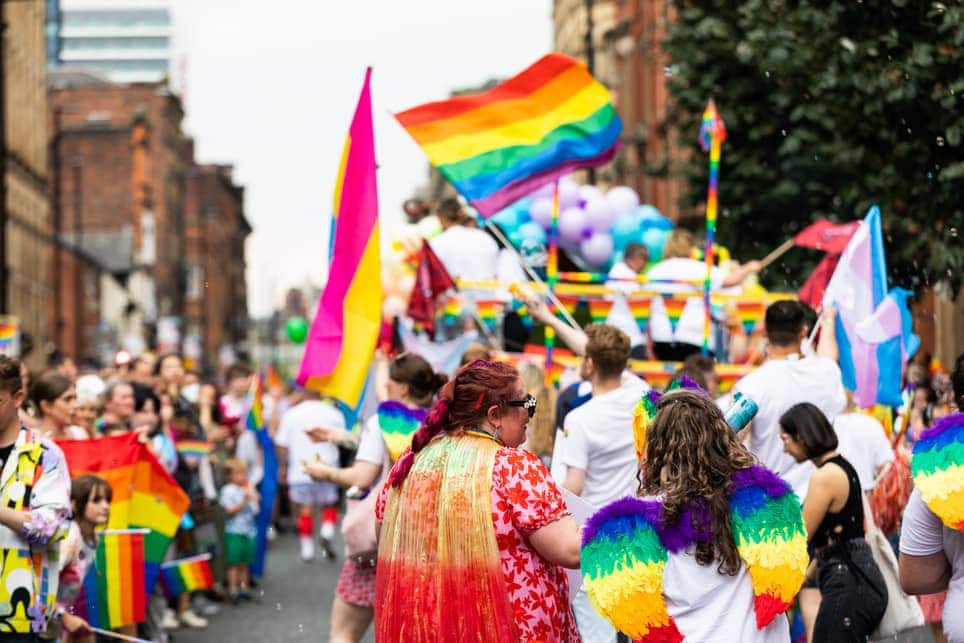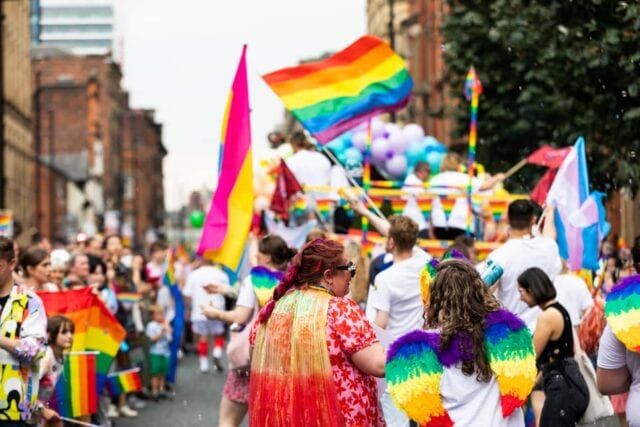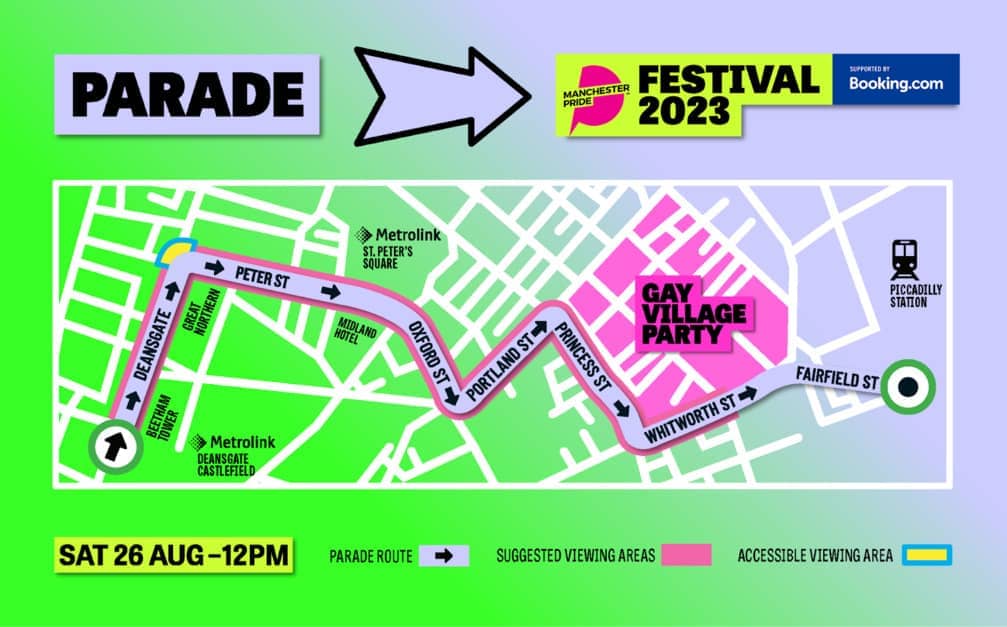 An accessible viewing area is located at the junction of Deansgate and Peter Street, and a screen viewing will be shown at the Village Stage.
Family Pride MCR
Sat 26th August, noon – 6 pm, at Great Northern Square, Amphitheatre, and inside Great Northern Warehouse.
Ensuring a safe and welcoming environment for all ages, Family Pride MCR, co-designed by Manchester Pride charity with Fatt Projects, promises a day packed with festivities, including engaging play areas, captivating performances, music, crafting, party games, sing-a-longs, and rainbow disco.
Supported by TUI and in partnership with Proud 2 b Parents, Family Pride MCR accentuates the importance of LGBTQ+ families and allies.
YOUTH PRIDE MCR
Sun 27th August, noon – 7 pm, at Circle Square, Symphony Park.
Designed for youth aged 14-18, in partnership with AKT and The Proud Trust, Youth Pride MCR provides a safe space for young LGBTQ+ people to discover themselves, form lasting bonds, and authentically express themselves.
Highlights include a performance from Danny Beard, Being Your Authentic Self with Ben Pechey, Tutorials and performances from Ghetto Fabulous, Crafts including screen printing and placard making and a Wellbeing Zone.
More information on Youth Pride MCR at www.manchesterpride.com/youth-guide-to-pride
Superbia Weekend
Wed 23rd August – Mon 28th August at various locations.
This year, Superbia Weekend is celebrated by showcasing a calendar of fantastic queer events across the city, from events designed to help prepare for Pride to celebrations of queer love and life and opportunities to connect with your community. There is something for everyone. Events will take place across the city to showcase some of Manchester's fantastic queer talent. Many events in the programme have been funded through Manchester Pride's Superbia fund.
Superbia Weekend events details: https://www.manchesterpride.com/superbia-guide-to-pride
Manchester Pride Human Rights Forum
Fri 25th August, 6 pm – 7 pm at the Alan Turing Stage.
This event serves as a reminder of Pride's roots: a protest, a demonstration against systemic issues, and a catalyst for change.
The 2023 theme, "Stop the Hate," commemorates the 20th anniversary of the repeal of Section 28. The Forum intends to spotlight ongoing LGBTQ+ struggles, particularly spotlighting the rights of the trans community.
After the event, attendees can head to the Activism Hub, found on Community Lane, throughout the weekend. There, people can find practical resources to help take action and write to MPs to ask for them to advocate for the Equality and Human Rights Commission to implement an independent panel of trans and non-binary people. The 'nothing about us without us' principle ensures policies are crafted with a deep understanding of trans identities and issues.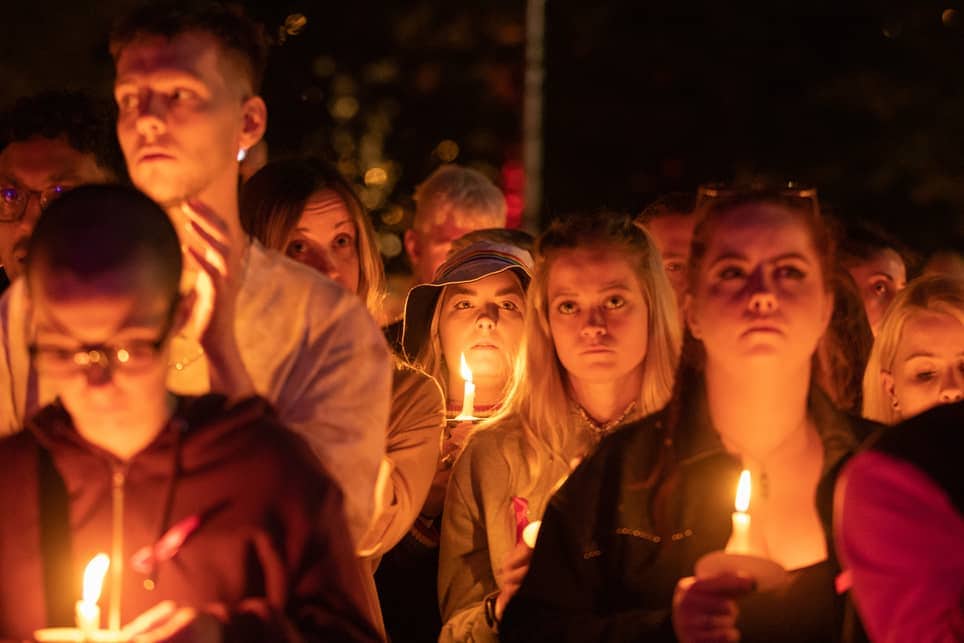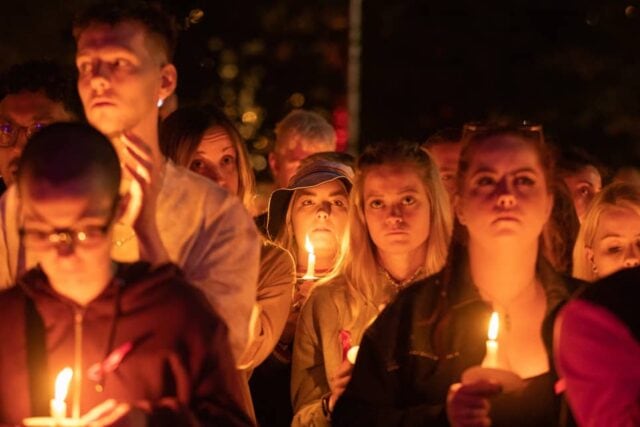 Candlelit Vigil
Mon 28th August, 9 pm – 10 pm at the Alana Turing Stage.
In partnership with George House Trust, the festival concludes on a contemplative note. The gardens will be illuminated with candles, honouring those we've lost to HIV and standing in solidarity with those living with it.
Mark Fletcher, CEO of Manchester Pride, told QX: "This year's Manchester Pride Festival is not just a celebration, but a reflection of our journey over the decades. We honour our past, celebrate our present, and look forward to a future of unity and equality."
A weekend of celebration and reflection at the Manchester Pride Festival.