A Trans Arrangement of The Painted Space is Erin Holly's solo exhibition at Mayfair's JD Malat Gallery from 16 November to 9 December. The exhibition unveils Erin's new series of oil paintings depicting colourful and semi-fictional fabrications of interior spaces. As we celebrate Trans Awareness Week (13 – 19 November), the exhibition offers a critical exploration of interior environments, their connection with the politics of space and inclusion, contemporary social categorisations, and most pertinently, Erin's journey with her identity and understanding of embodiment. QX had the good fortune to talk to Erin to find out more about the artist and the work that they create.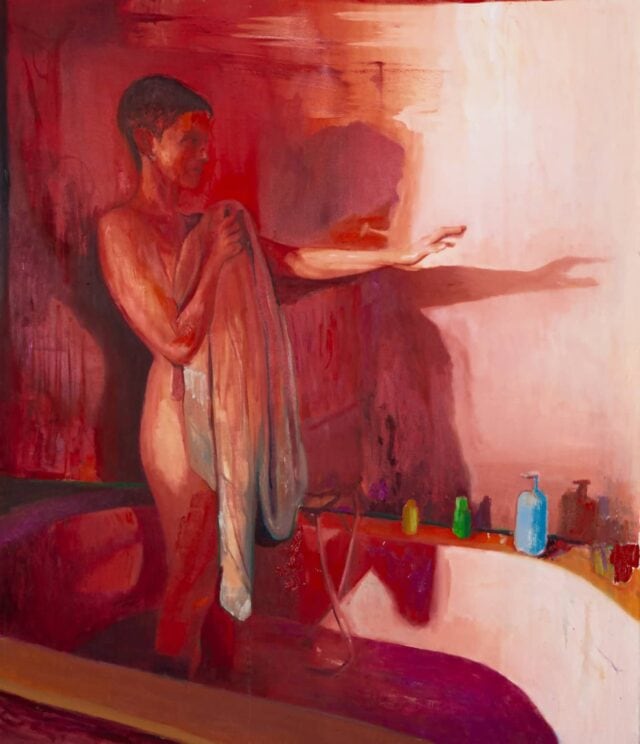 Hello Erin. Thank you for taking the time to chat with us. By way of an introduction to your work, can you describe your artistic style and its evolution over time?
I paint depictions of colourful interiors and contemplative figurative works. My work serves as a documentation of lived experience through the medium of oil paint and language. During my time painting murals, I learnt a lot about how to work within the context of the environments I was painting. For example, trying to complement existing architectural and geographic lines and the surrounding colours and environment.
Experience, existence and embodiment are all linked. Referencing the video Reasons for Knocking at an Empty House (1980), artist Bill Viola writes in his book, which is a collection of his personal notebooks, about existence as something continuous and ongoing.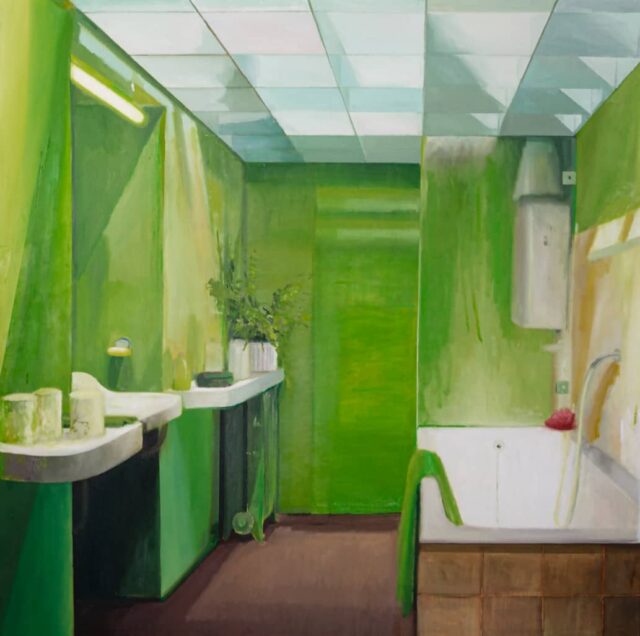 This is similar to Joselit's claim that the painting is a continuous on-air impression, which is also seen in the writings of Viola – although not specifically about paintings, but about people and media. He says about existence, "It is an unbroken thread – we have been living the same moment ever since we were conceived. It is in memory, and to some extent sleep, that gives us the impression of a life in discrete parts; periods, or sections, of certain times or 'highlights'." Hollywood movies and the media reinforce this perception, and Viola goes on to say that if things are perceived as discrete parts or elements, they can be rearranged.
I apply this idea to the way I try to construct my paintings, by looking at the oil paint as malleable and spacious.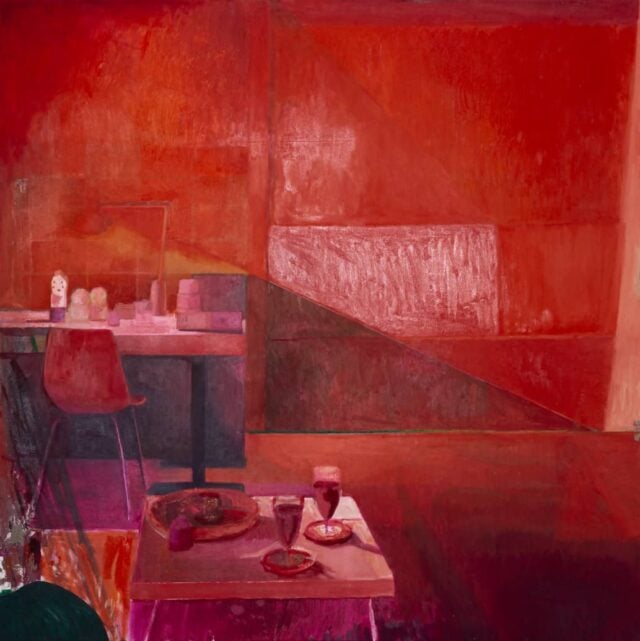 Are there any artists who have inspired or influenced your work?
I'm inspired by my friends Jesse Glazzard, Rubie, and Lulu Bennett.
How does your identity as a trans person influence the artwork in your forthcoming show?
I was looking at old phrases that were used to describe being trans to gatekeepers, like 'I don't feel at home in this body' or phrases like 'the body is a temple.'
My aim is to try and think about the body as a home, a dwelling place away, and how identity connects with that.
When I unlearned gender and was able to then 'do' gender the way I wanted to, it was the greatest liberation I had ever experienced. I use this as the basis of everything I try to do, both for myself and for others.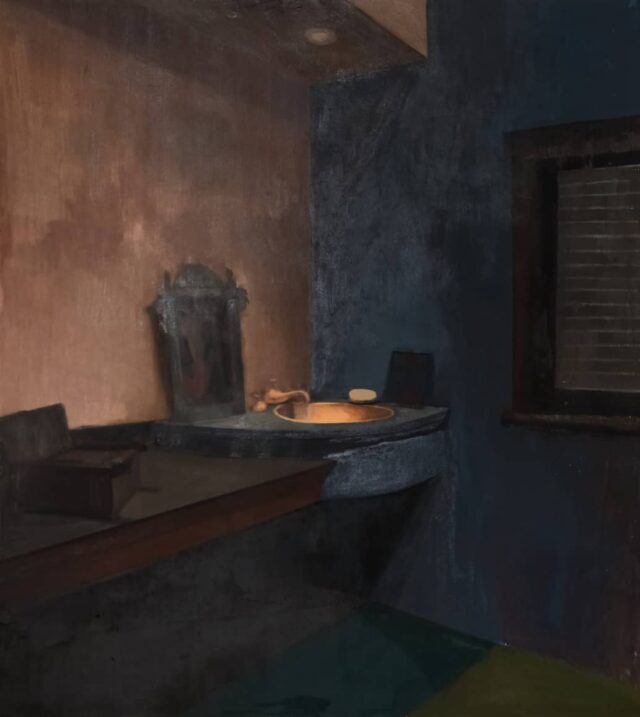 Your paintings are described as restructurings of space, much like a musical arrangement. How does this restructuring impact the viewer's perspective and understanding of their surroundings?
"Transgender is a type of identity; architecture is an aesthetic production. Architecture excludes and divides: transgender encompasses, includes, and bends boundaries and binaries. Transgender demands a voice, agency, and subject; Architecture is usually anonymous, institutional, and seemingly without agency" – Jack Halberstam.
The socio-political issue around gendered bathrooms is one such space that, as a trans woman, I have difficulty navigating. I use painting as a key way to process the effects of cultural and architectural trauma.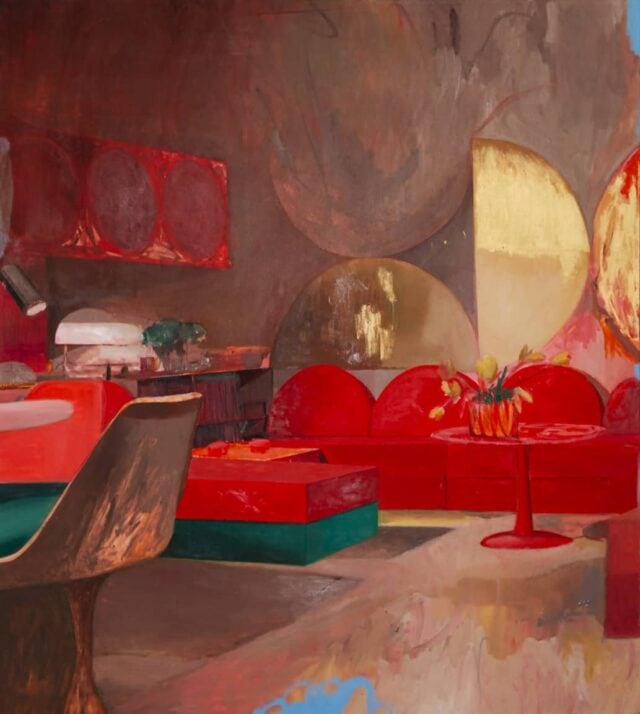 What advice would you give to other emerging trans artists?
I like Nan Goldin's advice about getting off your phones. And also, just to keep making and turning up to the practices of making art, in whatever way suits you.
How do you envision the future of your artistic career, and what goals do you hope to achieve?
I would like to have my work in museums. I also used to run a gallery, so I'd like to curate some exhibitions in the future.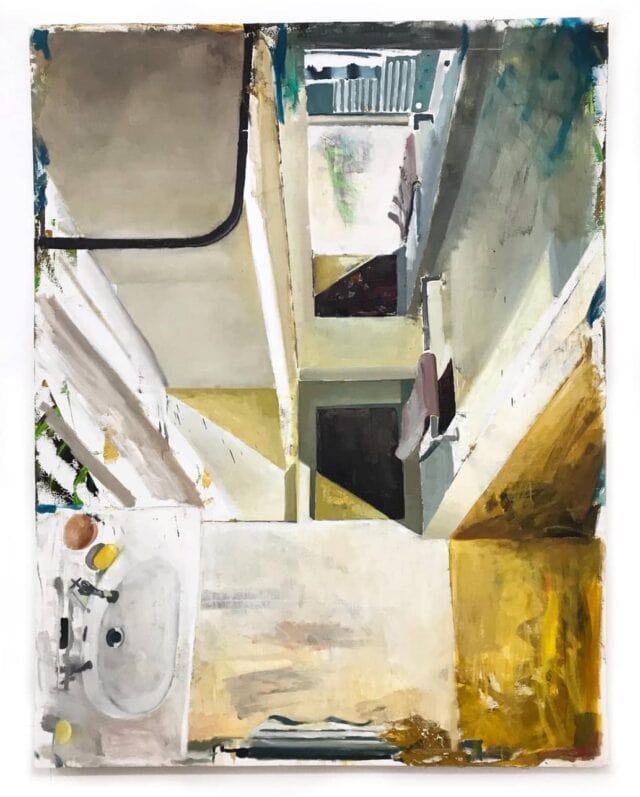 A Trans Arrangement of The Painted Space from 16 November to 12 December at JD Malat Gallery, 30 Davies Street, Mayfair, London W1K 4NB, United Kingdom.
Opening hours: Monday – Friday: 10 am – 6 pm; Saturday: 12 pm – 6 pm.