Gay South London – Head south to Vauxhall where the once industrial area has transformed itself into London's hub of activity – both day and nighttime. Late night after-hours gay clubs meet legendary establishments to create a vibrant scene. Plus, just a few tube stops away from Vauxhall is Clapham. Clapham is a popular south London destination/mini gay village in its own right.
PLEASE GO TO THE PAGE Gay Bars in London open COVID 2020 guide FOR THE LATEST UPDATED GUIDE TO WHAT GAY BARS ARE OPEN IN LONDON DURING COVID-19. WE KEEP THE PAGE VERY UP TO DATE. LOTS OF USEFUL INFO. CLUBS & SAUNAS ARE STILL CLOSED.
Gay bars in London open COVID 2020 guide
Updated July 2020
Many LGBTQ+ venues are now open after lockdown because of the COVID-19 pandemic. Social distancing is being practiced in all venues. Clubs are still closed, but some have reopened as bars (such as Heaven and Circa Embankment). Entertainment is still not allowed (apart from quizzes), customers must sit at tables and be waited on, many bars require pre-booking. Because of the limited capacity you are advised to book in advance. The underlined names of venues in the body of the text links to updated and useful information. Please also note that Saunas are still closed.
CLICK HERE TO DOWNLOAD OUR SOUTH LONDON MAP (Please check the list below to see what is currently open or temporarily closed)
Gay South London Bars
The Bridge – 8 Voltaire Road, London, SW4 6DH (Temporarily closed)
The Bridge is the newest swanky bar to swoop into Clapham that offers a beautiful ambience in which to share a drink with a date, or sexy beats by big name DJs!
Map What's On Reviews & More About This Venue
George & Dragon – Blackheath Hill, Greenwich, London, SE10 8DE (Open)
Outrageous cabaret pub and community-favoured drinking hole nestled near historic Greenwich. Perfect for a post-work work pint or a messy drag-fueled Saturday night.
Map What's On Reviews & More About This Venue
The long-running, legendary cabaret venue in Clapham has played host to scores of talented acts and big names over the years – and still does. Not only that, but there's a good dose of camp clubbage and great value bar goodness with scores of fun and friendly local lovelies. Be wowed by drag deliciousness and then dance 'til the early hours in the club at the back. The Two Brewer´s is one of south London's finest.
Map What's On Reviews & More About This Venue
The Cock Tavern – 340 Kennington Road, London, SE11 4LD (Temporarily closed)
First established as the Cock Tavern, this Georgian era pub was transformed into a tiki bar in 2003 and known as the London South Pacific bar until it was taken over in 2018. Now it's the best of both with a warm welcome and great service, serving up cocktails and drag bafoonery.
The Chateau – 29 – 33 Camberwell Church Street, London, SE5 8RT (CLOSED)
This pop-up cultural hub and bar has been turning the party since mid-July, 2018. Hosting a weekly roster of queer events, drag debauchery and a dash of karaoke. Giving you all the queer goodness you've come to expect from this underground bar where a dance is mandatory.
Gay South London Clubs
Eagle London – 349 Kennington Lane, Vauxhall, London, SE11 5QY (Re-opening 1st August as members lounge)
Eagle London is Vauxhall's insanely sociable venue. With a mix of nights and hot club nights, it's the ultimate melting pot of blokes, beats and good times. Sundays feature the monumental Horse Meat Disco, which has brought disco right up to date with a massive nod to past legends.
Map What's On Reviews & More About This Venue
Fire – 40 Parry Street, London, SW8 1RT (Temporarily closed)
If you don't know Fire, you don't know clubbing. It's synonymous in the brain of many a homoxial Londoner with hardcore good times. Featuring multiple rooms of turbo-boosted dancefloor action, there's a whole roster of top club nights to get you going!
Map What's On Reviews & More About This Venue
Lightbox – 6a South Lambeth Place, London, SW8 1SP (Temporarily closed)
One of super club Fire's annexes, the Lightbox venue offers sexy late night clubbing, brilliant DJs as well as a hot and mostly topless muscle crowd.
Map What's On Reviews & More About This Venue
Pulse – 1 Invicta Plaza, London, SE1 9UF
London's superclub in the heart of the Southbank, home to clubbing leviathan, XXL, has NOW CLOSED!
Protocol – 6 South Lambeth Place, Vauxhall, London SW8 1QX
(Temporarily closed)
One of the Orange group's nightclubs – you know what to expect: hot boys, pumping beats and DJs lifting you higher.
Map What's On Reviews & More About This Venue
The fabulous and eclectic RVT packs them in every day of the week with their variety of club nights, cabaret, theatre, comedy, live music, discussions and much more. Plus, there's a rotating schedule of nights featuring a smorgasbord of star names, fresh talent and an attitude-free, friendly crowd of up-for-it funsters from all over the gay community.
Map What's On Reviews & More About This Venue
(Temporarily closed)
Booze, choons and cruise is the order of the day at this venue, with a variety of naughty nights.
Map What's On Reviews & More About This Venue
Gay South London Saunas
(Temporarily closed)
Popular with the buffed-up, post-clubbing crowd and open until the early hours to accommodate those hotties with the horn. The Vauxhall venue features two saunas, two steam rooms, video screens, spa pool, chill-out lounge and endless private rooms in a labyrinth of cruisy mazes, it's a veritable playground of naughtiness.
Website: Chariots
Locker Room – 8 Cleaver Street, London, SE11 4DP
(Temporarily closed)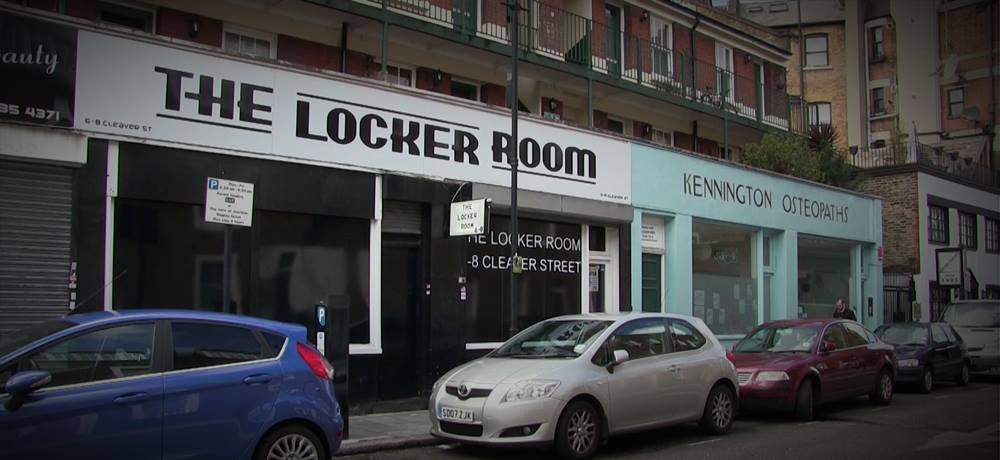 Open 24 hours at the weekend, this scorching sauna situated on the Vauxhall borders has a sauna, steam room, 30 man cinema and mirrored rooms!
Website: Locker Room
(Temporarily closed)
This luxurious sauna boasts gorgeous decor, buff men, state of the art facilities and a laid-back atmosphere. There's two spacious dry saunas, two steam rooms, a sun bed, stainless steel spa pool, cafe, deluxe private rooms, dark rooms and a raft of stunning fellas. The best part is it's open 24 hours a day, 7 days a week, so there's always an opportunity for some fun and a freshen' up.
Website: Pleasuredrome
Gay South London Shops
Fetish Freak – 76 Bolton Crescent, Oval, London, SE5 0SE (OPEN)
The Fetish Freak store is brand new and totally independent – bringing you an extensive range of fetish gear. They stock all the essentials such as aromas, condoms and lubes, but made-to-measure items are their specialty, offering you a choice of hides and different grades of rubber. So don't be shy to ask for them!
Esmale – 23 Zennor Road, London, SW12 0PS
The esmale store is online only but customers can collect their orders from their premises. You can find their store here and we offer a massive range of gay sex toys, lubes, sex essentials, underwear and fetish Gear. Basically everything you need for some adult play and good times. Great prices and plenty of promotions.
Website: Esmale
Gay South London Theatre
(Temporarily closed)
Nestled in the arches of Vauxhall is the UK's only full-time LGBT theatre – producing the latest in LGBT+ writing, musicals and revivals.
Website: Above The Stag
Map Reviews & More About This Venue