QX magazine got all greasy and oiled up with The Gay Bikers Motorcycle Club.
---
We love a biker. It's something about the smell of petroleum and burning rubber. The sound of revving exhaust pipes and squeaking leather jackets. The sight of burly bandana-headed men. The prospect of illicit encounters in dusky motels.
So it's no surprise that some of us have thrown cars and commitments to the winds, and taken up biking for ourselves. There's nothing more liberating than two wheels, the roar of an engine and that old whiskey-stained, Lana Del Rey-lauded cliché: the open road.
"I've always loved it; there's just something freeing and joyous about you and a good well-matched motorbike," says Chris Townsend, a 48-year-old from South London. "Plus let's face it, there's just something sexy about a bike, and they can give you massive grins. Big kid, I know, but I'm a petrol head. What can I say?"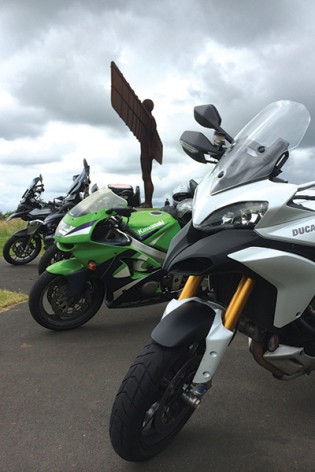 Townsend has been whizzing around since he was 17 (over 30 years), with his current bike of choice a Triumph Tiger. While most of this was functional riding around London and along motorways, he's also had experience riding for pleasure in large groups. Though he enjoyed these trips, it wasn't until he realised that he wanted somewhere that he could truly fit in that he discovered the Gay Bikers Motorcycle Club (GBMCC).
"I've ridden before with straight guys and it can be a different atmosphere," says Townsend. "I'd been looking for a good biking organisation for a while and then found GBMCC through a couple of mates. I was delighted and after looking into it further I joined straightaway. My first event was pride and everyone was very welcoming and friendly so I knew I was into a winner."
GBMCC began in 1977 as a club for gay men and women bikers. With its current membership of around 350, the UK-based group are now the biggest gay biking club in Europe. And even though many of its members are at an advanced riding ability, many join as complete novices.
"I've always had an interest in bikes, but never thought about getting one seriously," says 37-year-old Craig Shavez, an IT consultant in South London. "I guess I must have had a mid life crisis, as I woke up one morning last summer and decided to bite the bullet and learn to ride.
"Now I find being on two wheels is exhilarating. I use the bike to commute and de-stress most days. My friends say I'm slightly bike obsessed at the moment, as I seem to eat, sleep and breath riding. It helps keep me focused. Being up at 7am on a Sunday morning is different for me, as that the time I would normally be getting home from a night out."
Shavez, who describes himself as the 'fresh meat' of the group, came across GBMCC when he was browsing the gay social media app ('the orange one' apparently) and got talking to one of their current members. After a bit of persuasion, he popped into the Prince of Wales for the monthly social.
"With the overwhelmingly warm welcome on the club night in the pub, I signed up to the bike run on the weekend," he says. "I was instantly hooked. We stopped off for lunch by a lake and I started to hear about previous club trips, as well as ones pending. I knew the club would be my thing. I've actually just come back from my first trip, which was our birthday bash. 56 men dressed in leather riding around Northamptonshire for a weekend was good fun."
The trips aren't just confined to the UK either. Oded Shomroni, the club secretary, had been riding for seven years before coming across GBMCC. This year alone he's travelled with friends from the group on a ten-day trip in Spain, as well as six days motoring through France to reach the hills above Nice.
"Almost every year since I joined GBMCC I have travelled with them twice a year to Europe and to weekends for our whole club and day rides throughout the summer," says Shomroni. "To share the personal experiences that happened during that part of the ride and the riding itself is fun, but also intense when you choose an interesting route as you work in your mind to make the ride as safe, smooth but at the same time progressive."
While some joined for the camaraderie and chance to take the journey with those with shared experiences, others joined for the opportunity to travel internationally and complete runs all over Europe, whether they're in North Wales or the Netherlands, France or Italy. For some, just the sense of liberation is enough.
"I love the sense of freedom and – when I'm riding well – the feeling of being at one with the bike," says David Jennings, who rides a Yamaha Fazer. "It's been compared to the closest you can get to flying. It's incredibly relaxing too, you have to really concentrate and let go of other thoughts."
Scott Walker 42,
East London
Drives a Yamaha YZF600R
My partner Mark and I found out about the club through our Friend Craig who was going to the Prince of Wales pub social. Upon arrival we were made to feel so welcome by the charming Stephen Blurton. The camaraderie and also the social events were spoken about at the meeting in the pub, we came home that evening feeling we belonged already and signed up that night. The highlight this year was riding along with Oded who is a massive character who also looks out for you, we rode along to Dave's summer social BBQ and met a great group of bikers and spent the afternoon exchanging tales. Riding a motorcycle bring the roads alive and we have explored more of the English countryside and tea rooms than ever before, I just love the routes chosen and before long would like to take the lead on my own run someday.