The history behind one of the UK's most iconic fetish brands!
---
This issue of QX is not only a Pride special, but a Clonezone special! And the two are actually linked rather well.
Clonezone, as an inventive and unapologetic fetish brand, and as a well-known store on Old Compton Street, represents an especially nuanced side of gay liberation.
Since it first opened thirty-five years ago, they've seen an LGBT story in flux, from the AIDs crisis, to Section 28, to the legalization of gay marriage, right up to today as we celebrate Pride in London more defiantly and with more rights than ever before.
So what's the REAL story behind Clonezone? How did one of the UK's biggest fetish brands come into being, and how has the fetish scene changed with the introduction of factors like Grindr and club closures?
We spoke to Company Operations & Purchasing Manager Mark Lawrence, to find out.

---
SO Mark…tell us about the history of Clonezone. How did it start out?
Believe it or not, we actually began with a wheelbarrow that was being carted through the gay clubs of Earls Court in the early 80s. That really is no exaggeration; we were a wheelbarrow full of naughty gear. Four friends; Mike, David, Paul and John, frustrated at the lack of quality gear available to gay men in the UK, began to import American tees, tanks, leather and more overseas so the UK scene could access the 'Castro Clone' look. Our official launch was on 5th March 1982, at Subway Nightclub in Leicester Square.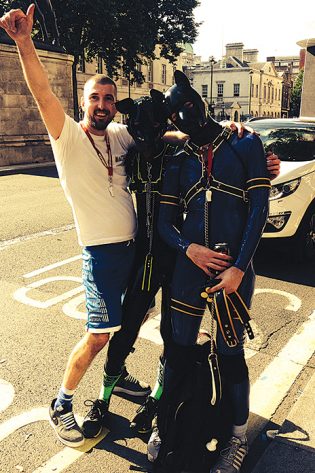 Why are brands like Clonezone important?
We're a gay company, founded by gay men and have always worked in and around the community to ensure that we stay true to its heart. We have a sincere dedication to the scene, to making sure our product is relevant to our customers. We represent gay success. We haven't been without struggles, of course…we were raided every five minutes back in the 80s, but we persevered. Over the years we've worked with icons such as Lily Savage, Kenny Everett, we've been featured in museums and have had countless appearances in the media. It's so important that we keep going from strength to strength.
The fetish product industry is still flourishing…why do you think that is?
It's still flourishing because it's extremely diverse and it's constantly evolving. We are a prime example of this, as we began as a fetish shop. The 'clone' look was ultimately a fetish. Men used to dress a certain way, not only to stay discreet, but to turn each other on. And it worked… very well. Right through to today where the PUPPY scene is exploding! We have people coming to us daily for their Pup gear.
We have rubber, leather and sports gear, which has all been selected to appeal to certain fetishes. We want to give as many guys as possible affordable access to gear that satisfies them. As a team, we enjoy getting to know the scenes and sometimes taking part ourselves. But we'll save that for another conversation. You can never stop learning.
What would you say is the best thing about being part of this industry?
It's the look on people's faces, after they've walked into a Clonezone store intimidated, almost scared and THEN they leave happy. Nothing tops that. And, it's not just the gay community; we have people coming in who are bisexual, straight and even a-sexual. We have people from all walks of life and that's what makes us special.
You must have seen lots of change over the last 35 years.
We have! We've seen enormous change, even over the past few years. When we began, being openly gay was still dangerous and our stores provided a safe haven for men to shop and sometimes meet likeminded men. We've seen huge change but we also look forward to seeing more and doing whatever we can to help.
Tell us a bit about Clonezone's influence on popular culture and fashion.
We've influenced popular culture and fashion in many different ways over the years. Originally, we were the first to bring the 'clone' look to the UK and we were actually the first ever UK business to import Levi 501's. The iconic look evolved into the leather scene, which we also styled and worked on with our friend Alan Selby – who would then go onto launch Mr S Leather in San Francisco. That within itself was enormous.
Do you remember the bright red thongs from The Full Monty? We made those. And as soon as the film hit cinemas, we completely sold out. Who'd have thought a red PVC thong would have such a huge effect? We dressed Daffyd (aka 'The Only Gay in the Village') in his skin-tight latex costumes for Little Britain. Even back in 2002, the V&A museum featured our famous Leather Kilt in their 'Men in Skirts' exhibit.
What's the most rewarding thing about Clonezone?
The most rewarding thing is being at the heart of the scene, at the cutting edge and constantly pushing ourselves forward. We have the luxury of seeing our customers grow with us. We get to discuss their most personal and intimate desires with them, and find ways to assure they're happy and quenched. It feels good.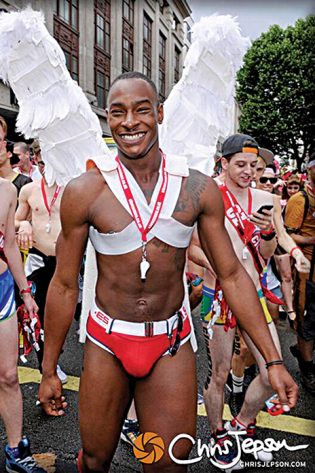 What's your best memory from over the years?
There's too many to list. There have been enormous highs and there have, of course, been lows.
Due to one of the worst recessions in history in 2009, like many other high street chains, we struggled. However, our iconic brand was recognised and saved. But as with all good things, you often have to struggle and go through pain to achieve them. We came out the other side stronger and more astute. That's how we look at it.
A highlight for the team was Pride in London in 2015. Nigel, Topher and I worked incredibly hard to make sure our appearance in the parade was a crowd stopper… and it was. The reaction we got was incredible, I remember walking down Oxford Street with goosebumps and just feeling so proud. People were pleading to walk with us. We were marching with a 10 foot high rig fitted with a full sound system blasting music across London. The theme was heroes, so we flew war hero and underwear model Alex Minsky over for the parade. Topher had also invited lots of different scenes to join us for the parade, as that represents who we are as a business. We are for everyone.
Why is it important for gay men to feel sexually liberated?
It's important for all men to feel sexually liberated. Every man should feel free and open to be themselves sexually. We believe that no man should ever need to hide part of who they are. Life is just too short.
As gay men, it's particularly important for us as we've experienced such hardship over the years and in many ways, we still do.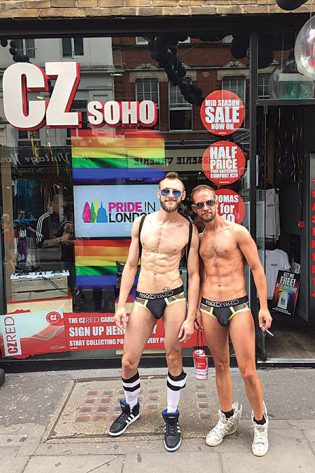 Finally…talk us through your plans for pride and for the future.
I'm already tired thinking about it! We are throwing a special 35th Birthday party at the Clonezone SOHO shop, beginning at the crack of dawn until close. What time are we closing during Pride? That remains to be seen. We've got a BIG balloon drop lined up, an in-store DJ, as well as a tonne of freebies and giveaways. Our location on Old Compton Street is perfect for Pride, as we're in the heart of everything.
I want to take this opportunity to invite anyone reading this to come and visit us. It doesn't matter who you are, or where you come from, you're always welcome to come and celebrate your PRIDE with Clonezone. See you at 35 Old Compton Street.
And for our future? Two words: World domination. We have some huge plans in the pipeline to bring the CZ experience to more and more people, just watch this space.
Find Clonezone's products online at clonezonedirect.co.uk or in store at their branches in Soho and Earl's Court.