You'd be forgiven for thinking a gay football film would just be a mish-mash of clumsy clichés – lingering homoerotic locker room scenes, introspective dribbling (of the ball, not of anything else) and sexually charged sports scenes.
Mario, the latest release from Peccadillo, succeeds in avoiding these tropes, managing to be touching, candid and startlingly sexy. Set in Switzerland, it follows two promising young footballers enjoying a simultaneous rise to promising professional heights – but things get complicated when they move in together, and begin to fall in love.
What sets the film apart from the many other movies of the same ilk, is director Marcel Gisler's meticulous and affectionate attention to detail. It makes the film magical and sensory, with every thread of fabric picked out.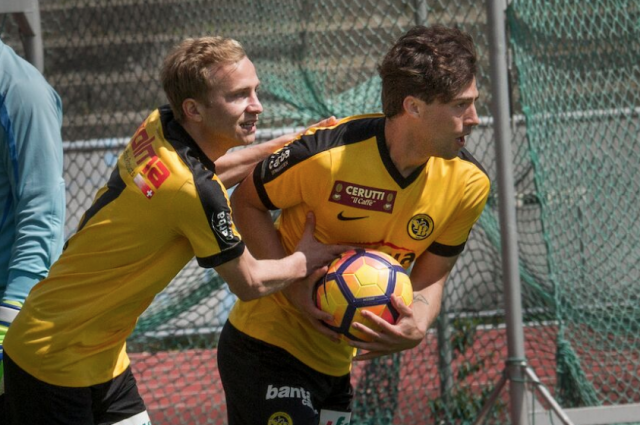 The titular Mario is played by Max Hubacher wonderfully, putting across a heartbreaking pain and shyness. His initial competitor, then love interest, Leon is played by Aaron Altaras – now, we're not ones to objectify but…he might be the most gorgeous man we've ever seen, with the most gorgeous bum we've ever seen. Great actor too.
Our own superficial interests aside, Mario deals with some timely issues – namely, the insidious homophobia that still stalks the football business. It doesn't shy away from pointing fingers, and saying things need to change, and fast.
Aesthetically pleasing, well-acted and well-scripted, Mario is certainly worth a watch!
Mario is out tomorrow. Trailer below: