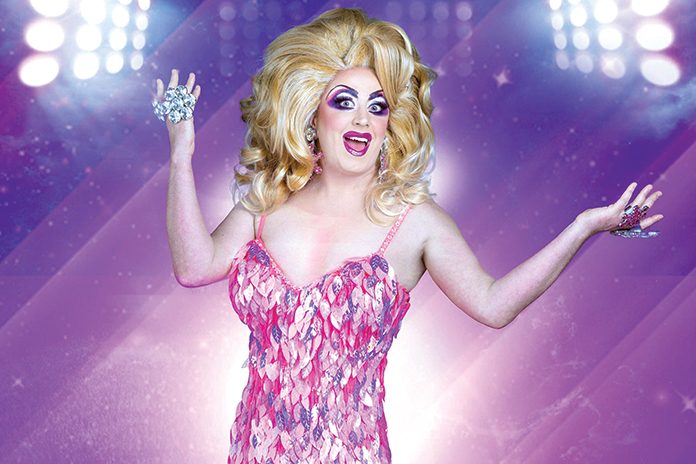 The London drag sensation on glitz and glamour!
---
Wisecracking cabaret artiste Cosmic is a musical theatre devotee who proudly flies the flag for bawdy traditional drag.
This week, QX Cabaret Editor Jason Reid got to know more about the sequinned sassy mouth from the south…
---
Tell me how you got into into drag.
I've always been theatrical. My mum has a picture of me in drag at 5 years old. I've got to be really careful I don't give my age away here. I was about 18 when I first started out. It was when people actually left the house to meet people and be entertained. There was no Grindr or sissy'd walks. I can remember watching legends like Dave Lynn and Maisie Trollette in Brighton and just loving their energy and showmanship. I wanted a piece of the fabulousness.
So how did you learn to do your face back then?
Trial and error. There's been loads of errors. There still is. There's one right now, actually. Some people contour for the back row. I usually look like I've contoured for death row. I blame bad lighting off stage. And pray for bad lighting on stage.
What's your typical audience like?
Anyone who likes a sing-along and a bit of camp. It varies so much. I play rough working men's clubs in navy towns and soho restaurants with live music. I do prefer chavs and slags though.
Fave current joke?
How do you confuse an archaeologist? Give them a used tampon and ask them what period it's from.
Do you think there should be any boundaries in comedy? If so, where's the line?
That's a really difficult one. Shall we cross it and find out? There's nothing quite like the sound of an audible gasp, I must say. But if I cross the line I'll bring everyone with me. It's like Hackshaw Ridge; I won't leave anyone behind. Didn't Hackshaw Ridge win Drag Idol one year?
I think that was Tanya Hyde. Who are your idols and influences?
Too many to mention. And I'm only bound to leave someone out. There's genuinely so much about so many of the acts out there that I love. I adore Dave Lynn and his charisma. He's always had time for me. I loved Regina Fong and comedians like Kenny Everett. The legendary Phil Starr had a captivating ability to tell wonderful and hysterical stories. I absolutely loved Lady La Rue, and miss her, R.I.P. So warm and naturally funny. She believed in me.
What haven't you done yet that you'd like to do?
My residencies are my bread and butter. The Adonis show in Brighton is incredible. My Thursdays at the Compton Cross are awesome, and I can't get enough of the Admiral Duncan and Halfway II Heaven. I'd like to do more up north as I'm well received there and I'm sure the south would like rid of me. Would also like to do something camp at the Two Brewers in the future, and possibly something outrageous at the RVT with my band.
What's the drag dream?
I've already lived it. I used to do Croydon every Wednesday.
RuPaul or Lily Savage?
Lily, obviously.
Lola Lasagne or Miss Jason?
Sandra.
Oh they will be pleased [laughs]. What's your opinion of RuPaul's Drag Race?
It's made a lot of people rich, hasn't it? I don't really watch it, but I've seen clips and everyone is jumping about having a nice time. I've worked with quite a few of them and they're always very sweet.
Would you go on a UK version?
Of course. I'm skint! Although I can't sew for shit; all my costumes would be made of cornflakes boxes, toilet rolls and old rags.
If you hadn't become a drag queen, what would you have done?
Probably ended up in The Vixens.
Tell me what qualities you think are essential for succeeding as a professional drag artist.
Drag artiste or act? Anyone can paint themselves and 'do drag', and everyone should. But it's about doing something with it. What makes you stand out? What risks have you taken? It's about being able to hold an audience for an hour. Being able to sing, tell a story, interact, make yourself vulnerable but also untouchable; be edgy, cutting, fearless and fabulous. And yes – none of that applies to me.
What's the best piece of advice you've been given?
Laughing at bad things doesn't make you a bad person. If we can laugh in the face of adversity, we're bulletproof.