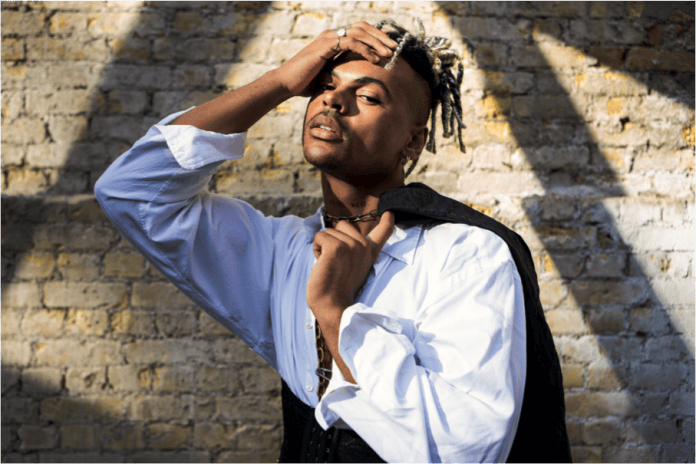 Having toiled away inconspicuously on his music, Porter finally releases his debut single 'BOY', which was met with instant praise online. QX caught up with him to talk social suppression, style and that pesky toxic masculinity.
Hey there Aaron, we're sure you're so glad to finally get your music out there! How has this week been for you?
The reception BOY has got has been incredible, had some really lovely feedback which is really nice! It's so amazing when people you don't know reach out. This week has honestly just made me so much more determined to make this work. This is just the beginning of the journey and I'm loving it!
So tell us, what's 'BOY' all about? What inspired the track?
It's about the internal struggle I was having in regards to feeling socially suppressed. On the night BOY was written I had plans to go on a night out and had in my mind what I wanted to wear, but knew that me in my crop and choker may not come across "masculine" enough for the boys I wanted to attract. BOY stems from that and gave me the strength to go out in what I wanted. I just want to be myself, you know?
You're uber-stylish. Has fashion always played an important role in your life?
Always! Fashion is another big passion of mine I love to indulge in a good editorial magazine. The key for me in fashion though is to just always do what feels right to you. I've always challenged what people asked me to wear, my clothes represent my mood massively.
Having grown up in East Grinstead, not the most bustling cultural capital, how did you get into music?
Music I feel was in me before I was even able to speak. I could have been anywhere in the universe and music still would be what I'm doing! But my first musical opportunity came from primary school – year 6 I played Danny in Grease, ha. I think it was very clear to everyone around me I'd always be on stage, maybe partly because I forced them to watch me all day everyday.
Who would you say are your three key musical influences?
George Michael, Prince and Christine & The Queens. They all embody what it is to be a true artist. I admire George Michael not only for his iconic music but also his strength in being openly gay and his contribution to the LGBTQ+ family. Prince's insane work ethic, stand out performances and wild dress sense. Christine has me captivated at the moment, she has a real theatre edge to her stage shows. I love that I haven't got a clue what she's saying but I'm able to create a story in my mind through her performances.
You started out on the West End, how come you found that wasn't really for you?
I think it was the first time in my creative career I had to do the same thing for that length of time. It's very disciplined in regards to the fact you have to do it precisely how you're directed. I really struggled with that. I still love the theatre though, most my friends are in the theatre industry so I regularly go and watch them.
With the rise of Trump and misogyny being more prominent than ever, why do you think men are facing this crisis of masculinity?
Trumps rise is just still so wild to me, I can't get my head around it and it absolutely won't be helping in regards to the crisis that is "masculinity". But the problem began in society long before Trump. All we can do now is push self promotion of being your true authentic self. I feel like that is also really on the rise and I'm so happy my career begins at a time I believe society is ready for it.
Men seem to find it hard to communicate with each other, and open up, why do you think that is?
Because men in society are mocked when they are emotional. The whole "man up" saying I think is a lead example for why men feel they can't show emotion, and that's ingrained in us from when we're children.
Why was it important for you to be so forthright with your queerness as you released his first track?
Because it's a huge part of who I am! I'm making a career in music for myself so I can do just that. I spent a long time playing someone else and trying to tick so many boxes that aren't essentially me. Now I'm finding so much strength in not trying to please anyone by being what they want me to be, but pleasing them by being my complete self.
Finally, what do we have to look forward to from you following this debut?
There's a few things in the pipeline for BOY, potentially an acoustic set and hopefully a remix or two. Any producers out there wanting to remix BOY get in contact ha! Other than that I'm already getting my second single ready for the new year which I'm really excited about also!
Amazing. Thanks for taking the time to talk to us Aaron, we can't wait to see what's in store.
To Listen to 'BOY' by Aaron Porter HERE:
Be sure to keep up to date with him on Instagram (@aaronportermusic).