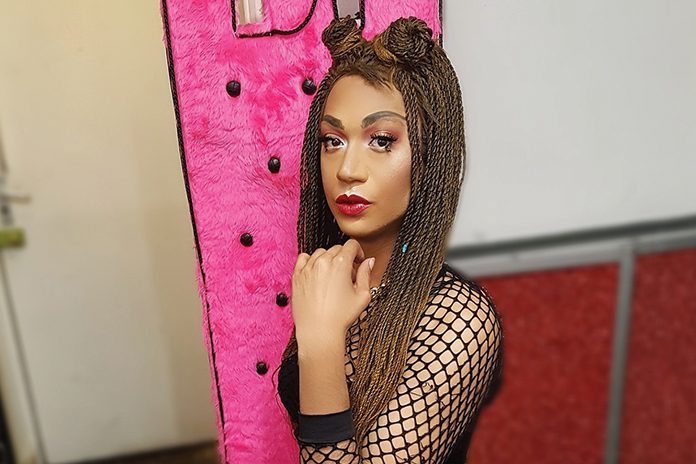 We chat to the London drag star about…well, drag.
---
HAPPY NEW YEAR! To start us off as we mean to go on, this week Jason Reid gets to know more about accomplished drag artist, writer and producer, Tia Kofi… 
---
Who is Tia Kofi?
Tia Kofi is one third of drag supergroup The Vixens. Named after two inspirational PoCs: Kofi Annan and, of course, Tia from Sister Sister. Tia is a glamorous geek, which means I like to combine comedy references into my drag. Sometimes in the look, sometimes in a show I've written, and sometimes I just like to drop in some super nerdy facts.
Describe your performance style in three words.
Never the same.
What are you listening to?
Six the Musical soundtrack – on repeat. It's my favourite show at the moment. I love a good girl band too, so I've been listening to Little Mix's new album a lot. Oh, and obvs Ariana Grande.
Are The Vixens really as untidy as 'people' say?
Absolutely not! We don't keep anything in dressing rooms. We have a well- organised garage full of costumes. Who said we were untidy? I want names!
RuPaul or Lily Savage?
I feel like I'm supposed to say Lily Savage, but I'm going for RuPaul. I fully call bullshit on anyone who claims they don't watch Drag Race. I think we all know by now that a lot of audiences love the show, so why wouldn't we as performers want to keep up to date and relevant? It's important to understand history and what the drag world has been built upon, but I think it's also very important to understand where it's going.
Would you enter a drag competition again… as a solo artist?
It depends. I would love to do a competition against some of the established queens because I think it would be lots of fun. Maybe a special edition of Bette Rinse's It's A Knockout against Tanya Hyde, Mrs Moore and Miss Penny.
Most embarrassing moment onstage?
The entire first year of me trying to do my own makeup. Please don't dig out the photos!
What makes you happy?
Friends, family and good health. I sometimes struggle to see the positives in situations, whether that's because of anxiety or just because it's been a bad day. I think it's good to remember that you're allowed to be unhappy sometimes. It makes the good moments even better.
Apart from yourself, who would you like to see on Drag Race UK?
Sum Ting Wong because she would have some fabulous looks and also if she wins, I'd probably get all her old drag. Crayola is a lot of fun both visually and as a person. Sandra would be hilarious. Son Of a Tutu is a big inspiration to me, so I would love to see them on there representing our African heritage. Eileen Bothways would be fab, as they have some absolutely mind-blowing looks and also represent something the show hasn't seen or included before. If drag kings were allowed, Zayn Phallic would be amazing. I'd round my dream cast off with Vivienne Lynsey, Shae G'Day, Vinegar Strokes and Meth.
In 2019 the UK drag scene needs to be more…
Inclusive, diverse and friendly.
What's your best asset?
It's definitely the legs.
Who are the people that have shaped you as an artist, and what do they mean to you?
I think doing a lot of performance and theatre-based things as a student really shaped who I am today. My friends had to deal with me coming up with an idea out of nowhere and fighting to make it happen. They supported and helped me create many things, including my theatre company, TwoBox Productions. I really appreciate all of them and without them, I wouldn't be performing today. Also performers like Son Of a Tutu, Rose Garden, Mrs Moore and Miss Penny have always been there to give me good advice.
The world would be a much better place without?
Racism. It's pretty constant and ridiculous having to deal with subtle things on a daily basis. The other day I was outside the Co-Op with Woe Addams and a woman stopped and asked if she could buy some weed from me. Not from the white person next to me. Just from me. Not so subtle, but pretty exhausting.
What advice would you give to new artists?
There's no point in being cruel to others. Make smart choices about who you really trust. Don't take competitions too seriously, they should be fun. And message me if someone's being a dick to you and I'll tell them off.
Tia Kofi performs with The Vixens every Saturday at Halfway to Heaven, 7 Duncannon St, London WC2N 4JF