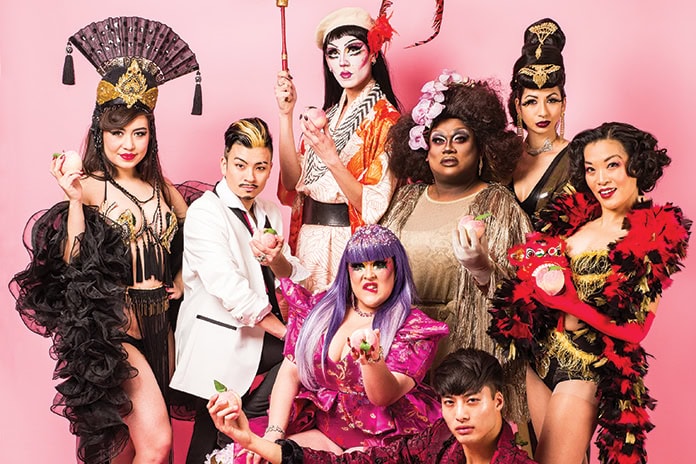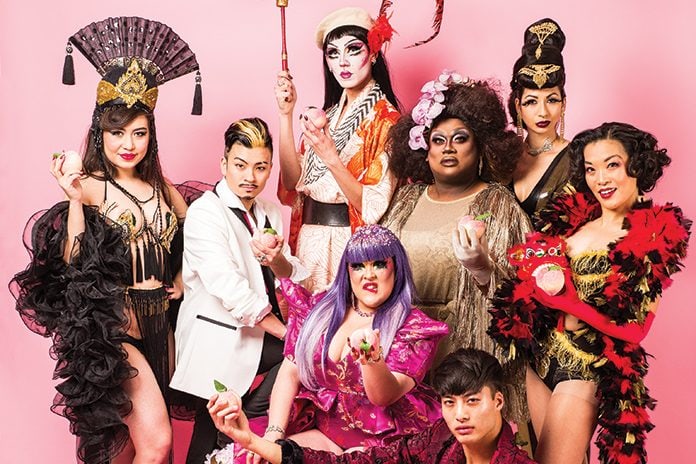 We meet London's pan-Asian cabaret collectiv
---
We always go on about why we love London, but…THIS IS WHY WE LOVE LONDON! It's fairly exceptional in its diverse range of stuff on offer for its kaleidoscopic LGBT community, and our cover stars this week are the perfect example of this.
The Bitten Peach is a sparkling collection of drag/cabaret/burlesque nights by and for the queer Pan-Asian community (but everyone is of course welcome).
They're blustering into a host of venues in the coming weeks. We chatted to the beautiful creatures involved to find out more!
---
ShayShay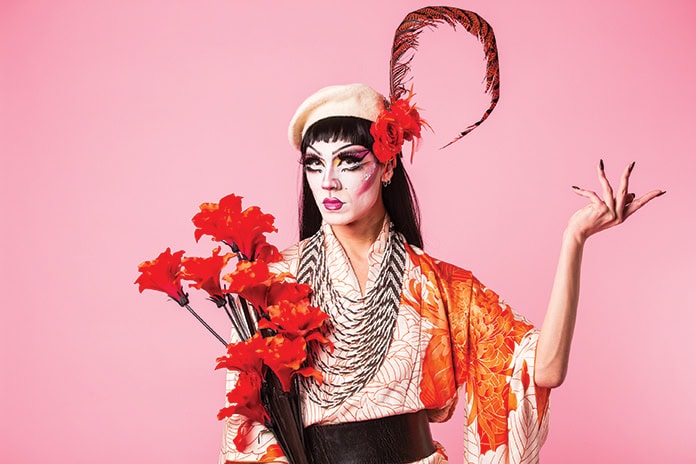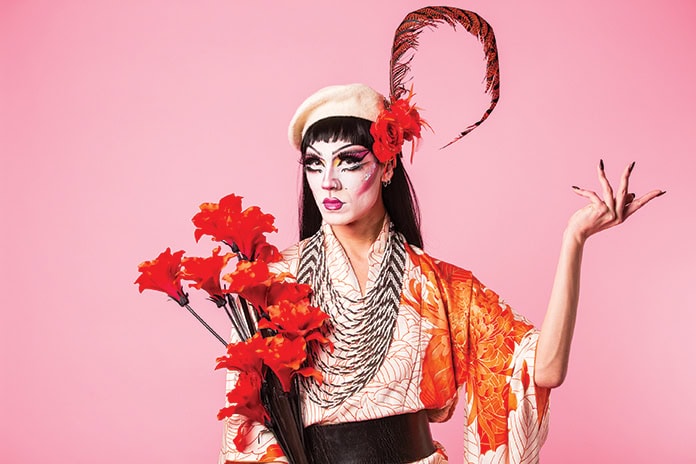 The Bittean Peach takes its name from an ancient tale from China's Zhou dynasty (1000-500 BC) and means homosexual. One would refer to a homosexual as "enjoying the pleasure of the bitten peach."
People of colour are disproportionately underrepresented on the performance scene, and this is even more pronounced for Asians. Line-ups that want try to appear racially diverse rarely include Asian performers, and even at POC focused events Asians are still massively underrepresented. We are tired of being stereotyped and tokenised, so we've created our own platform to tell our own stories and show off our multitude of talents.
@theshayshayshow
---
Jason Kwan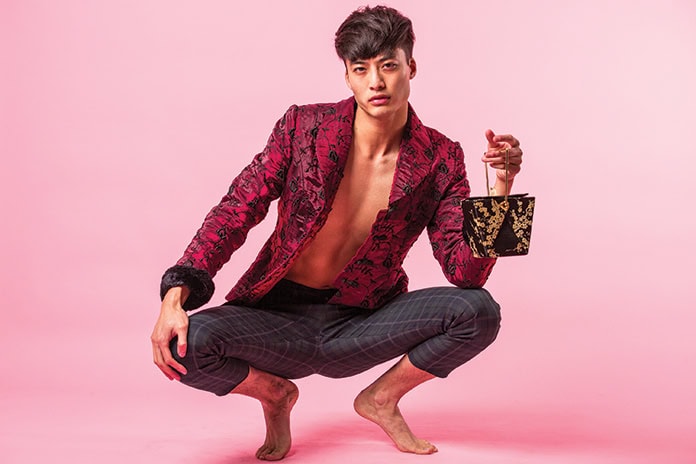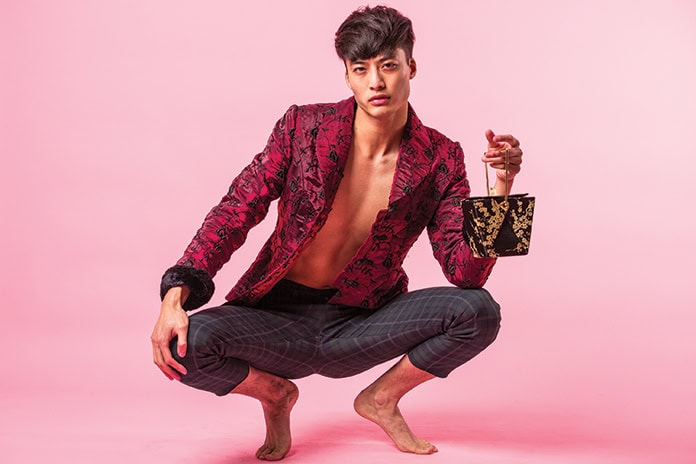 I will be performing songs from my debut EP, which narrates my experiences as a queer Chinese kid. My style is theatrical, late 70s/early 80s inspired, and operatically loud!
In a time where people in power are forging false narratives, false stigmas, and suppressing voices, we must challenge those narratives and tell our untold and mis-told stories. I'm here to tell those stories.
@jasonkwanmusic
---
Evelyn Carnate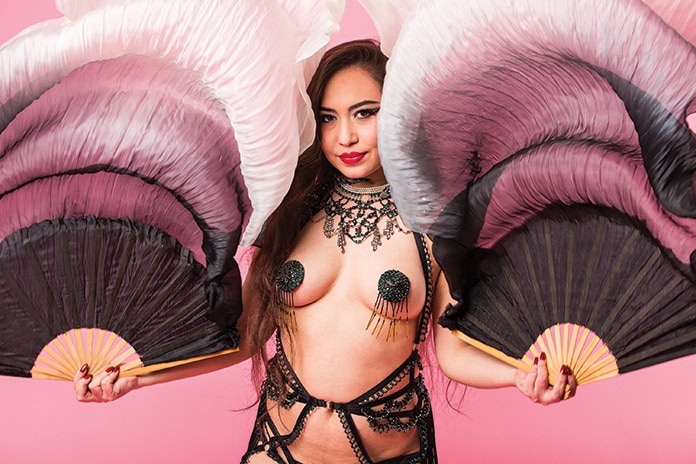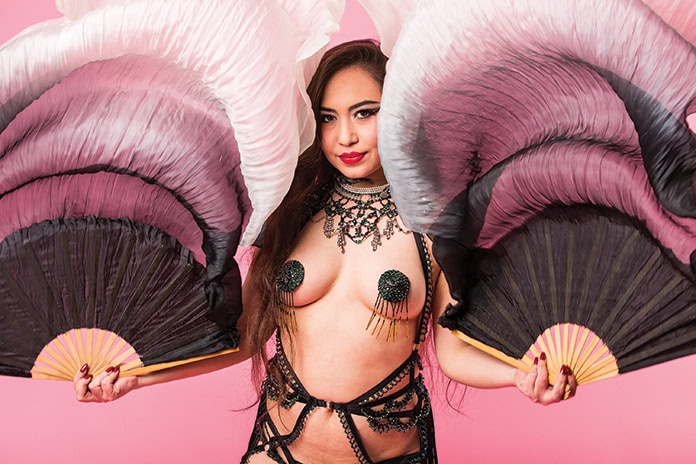 The Bitten Peach is a variety of fabulous, fierce & fun shows featuring stars of the UK's cabaret scene & special guests. The cast of The Bitten Peach shows includes incredible drag, dance, music, burlesque artists and beyond so each of the events has its own unique flavour – from alternative glam drag to vintage speakeasy showgirl.
Representation is important, because seeing the same people/same type of work/same style of art/same anything over and over again is not interesting! Many people are missing out on all this exciting, diverse work happening around them because it's not highlighted enough.
@evelynlovesjacob
---
Marianne Cheesecake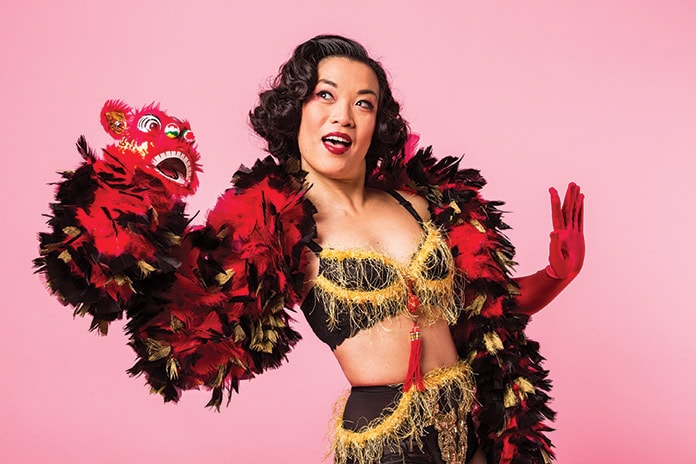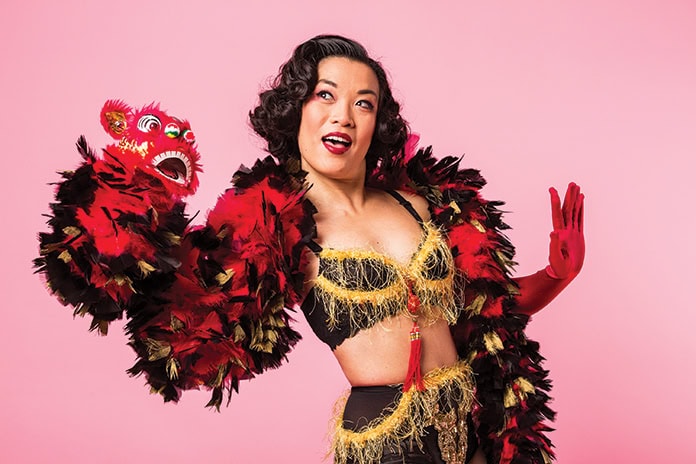 I'll be telling stories from history, educating audience members about Asian culture and its nuances through something beautiful, visual and provocative, and with wit and humour.
Things that are important are visibility, expression and creating new types of narratives for the different Asian communities that exist within the UK (and globally). As well as having a voice and platform that we create for ourselves, how we want to be portrayed and the unique identities within
@mariannecheesecake
---
Mahatma Khandi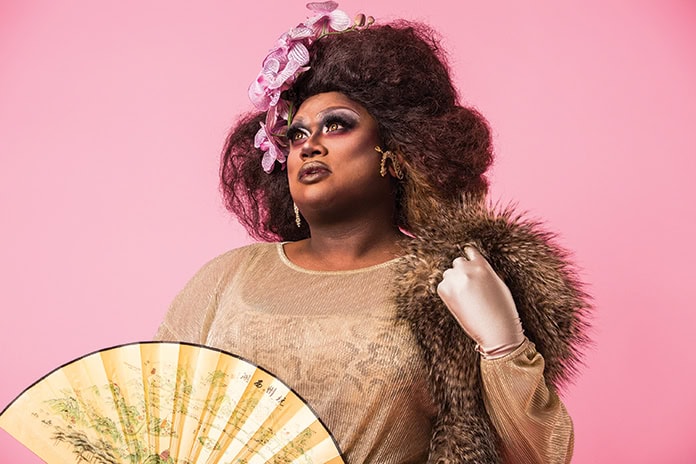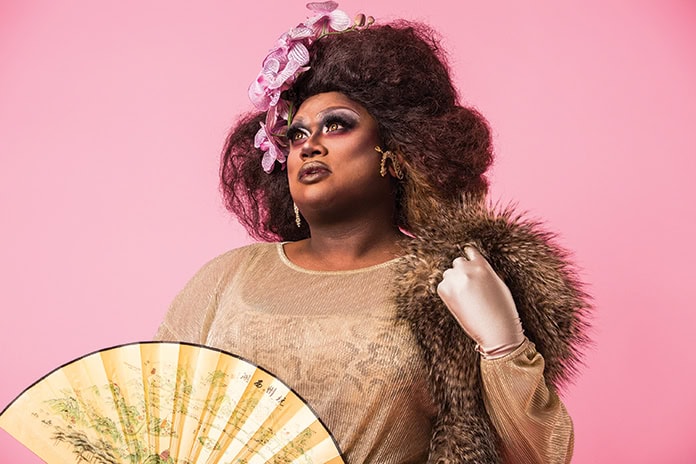 Bitten Peach is a place where we showcase Asian talent and beauty. A collective from all corners of the Asian continent will transport and educate through the means of burlesque, music, dance and other performances
Within society, even queer society, Asian representation is rarely seen. There is so much beauty out there and it's only fair that we see diversity in that beauty. We live in a world that is full of amazing stories and it's only fair that we see that representation everywhere, Asians are make up about 60% of the world population yet there is barely any representation.
@mahatmakhandi
---
Sigi Moonlight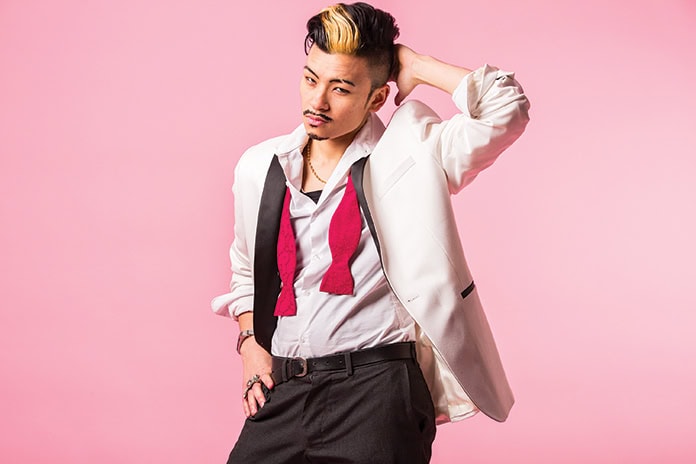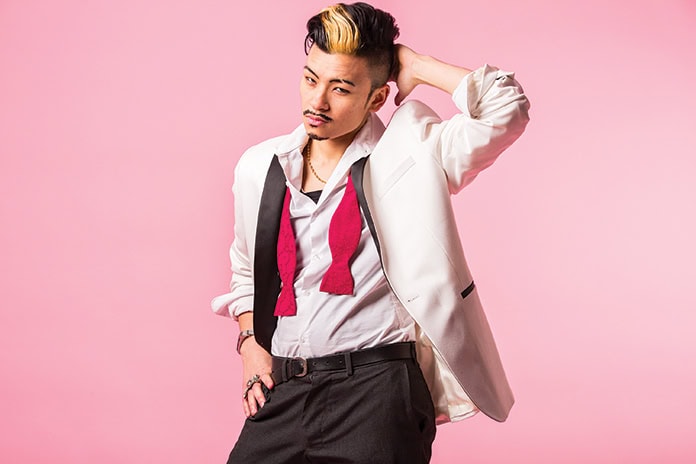 A platform to showcase your talent as a Pan-Asian performer does not come by often! It's made possible by three inspirational talents, Lilly, ShayShay and Evelyn and I'm really delighted to be a part of it.
Growing up both queer and mixed race means a load of identity issues to deal with and zero role models! It's so important to make everyone, in particular younger people, realise it's okay to be proud of who you are, regardless of gender identity, sexuality or race.
@sigimoonlight
---
Aurora Starr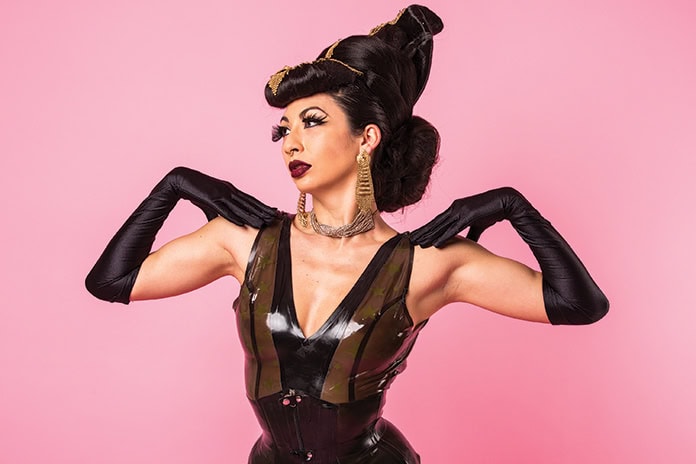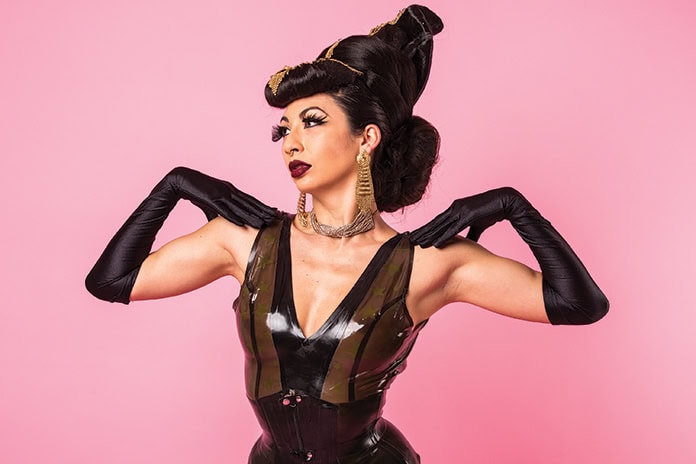 When I started performing it was rare that I ever got to share the stage with anyone from outside of Europe and it made me feel excluded in a way I could not understand at the time. I found it hard to find my place in the scene and couldn't shake off the constant comments and jokes about my heritage. Representation is so important in 2019 because every small step we make today will pave the way towards equal representation of all performers in the future, regardless of heritage, culture and sexuality. Performers play a part in the public eye and just by being seen and showcasing more diversity we can help to educate our audiences to become more accepting. As wonderful and inclusive as the performer scene is today, we still have a very long way to go in making everyone feels equal and introducing more of a mélange of influences and cultures.
@auroralovefire
---
Lilly SnatchDragon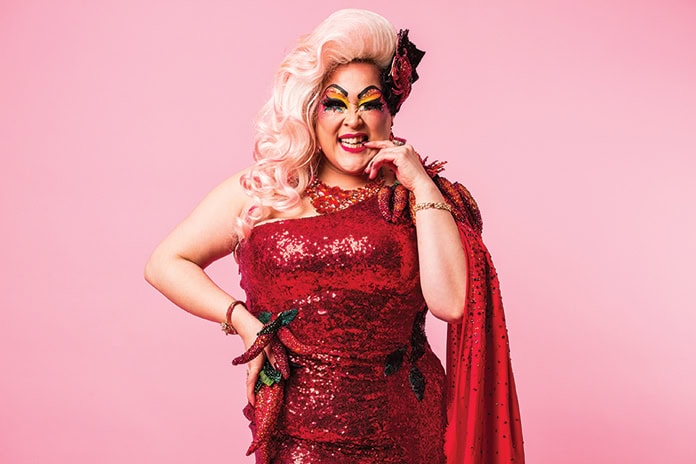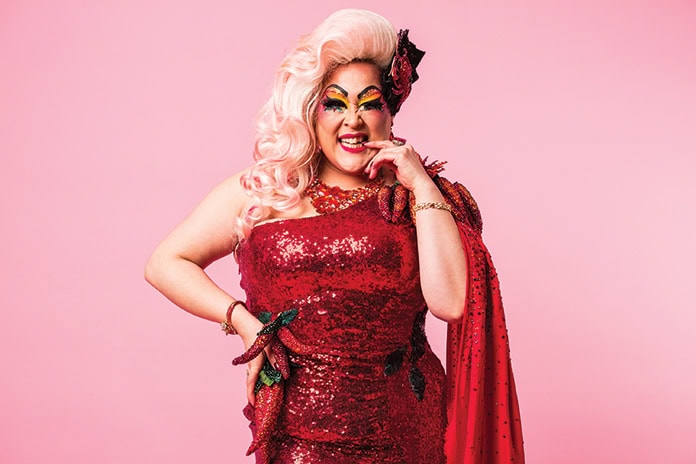 Launching in February 2019 for 'Lunar New Year' The Bitten Peach will permit you to catch 'Yellow Fever" in a series of your favourite queer venues – The Glory, The Apple Tree in Clerkenwell and the ever famous Royal Vauxhall Tavern. 'The Bitten Peach' nights will showcase some of the best Pan Asian's cabaret has to offer London.
Representation is important for every group and some have struggled to gain visibility; now is a positive time for people to stand up and speak and show themselves and be heard!
@lillysnatch
---
List of Bitten Peach events
Date: Thursday, February 7th
Name: Diaspora Disco x Phantom Limb x Eastern Margins: Lunar New Year Party
Time: 8PM-1:30AM
Venue:

The Yard (Unit 2a Queen's Yard, Hackney Wick, London E9 5EN)

Tickets: eventbrite
Date: Sat, February 9th
Name: The ShayShay Show – Lunar New Queer
Time: 7pm-10pm
Venue: The Glory, 281 Kingsland Rd, London E2 8AS
Tickets: £5-8 advanced on Outsavvy, £10 on the door
Date: Sat, February 9th
Name: The Bitten Peach – Year of the Pig Party
Time: 10pm-3am
Venue: The Glory, 281 Kingsland Rd, London E2 8AS
Tickets: £8 on the door
Date: Fri, February 15th
Name: The Bitten Peach – Crouching Tiger, Hidden Drag Show
Time: 8pm
Venue: The Apple Tree, 45 Mount Pleasant, London WC1X 0AE
Tickets: £5-7 advanced on Outsavvy, £10 on the door
Date: Wed, February 27th
Name: The Bitten Peach – Eastern Legends
Time: 7:30pm-11pm
Venue: The Royal Vauxhall Tavern, 372 Kennington Ln, Lambeth, London SE11 5HY
Tickets: £6-8 advanced on Outsavvy, £10 on the door
Date: Fri, March 1st
Name: The Kawaii Hole
Time: 7pm-2:30am
Venue: The Karaoke Hole, 95 Kingsland High St, London E8 2PB
Tickets: Free before 10, then £5 on the door
Date: Thursday, March 7th
Name: The Forbidden Peach
Time: 7:30pm-10:30pm
Venue: Looking Glass Cocktail Club, 49 Hackney Rd, London E2 7NX
Tickets: £10 on Designmynight