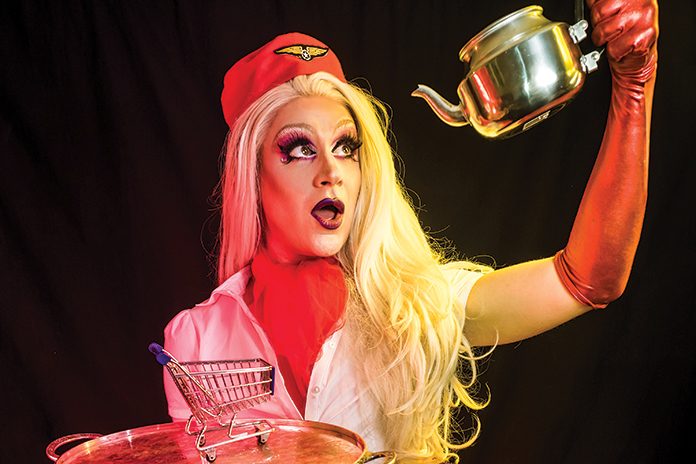 The exits are here, here and here!
---
Recently there have been enough hollow thoughts and prayers to last a lifetime, so we've decided to switch it up and serve up some delish thoughts and overshares courtesy of our fave cabaret personalities.
This week, bouncy burlesque artist-cum-drag queen Dolly Trolley gave Jason Reid their instant thoughts on subjects of his choosing…
---
Burlesque in 2019
I LOVE mixing together drag and burlesque, and I've learned a lot by working in both scenes. Burlesque benefits from diversity, benefitting both audience enjoyment and progression of the art form, and that's what we need moving forward. I saw a lot of diverse burlesque in 2018, which was GREAT, and I think that using interdisciplinary performance styles is certainly very strong at the moment. I hope to see performer diversity rising – there is no reason why the cast of a show should be of the same shape, size, identity and colour.
Yorkshire
I'm been living outside of my homeland for six years now, but will still greet you with "Ey up!" or "Y'orite duck", which confuses the chuff out of some of these southern saps. One must always take coats off indoors (otherwise you won't feel the benefit); everyone's favourite story is that time they went to the set of Emmerdale; and if you haven't sat on Scarborough seafront with a tray of whelks then you haven't lived, love.
Dating
Finding time alongside performing, rhinestoning, practising taking my clothes off and learning Dolly Parton lyrics, all while being a domestic goddess with another full time job, is not an easy task. I have however been on a few dates recently. I've discovered that if you take me to Pizza Express with a voucher for a second date, I will not be impressed, no matter how cute the pictures of your dog are. Also, if the guy who took me for dinner in Chinatown last week is reading this: Hello… I quite like you.
Greggs
I'm not even vegan and I am so behind the vegan sausage roll revolution and I bow to their social media team. The lack of Greggs in my university town was a serious con for me when it came to making my choices as an indecisive and flaky pastry-loving 18 year old. When in need of light entertainment, I enjoy going into Greggs and asking for a "sneeze & bunion pasty" or a "snake bake" and seeing what happens. It's often met with zero reaction.
Haus of Royalz
We are an explosive drag family of eight performers – who individually are cabaret forces to be reckoned with in their own right – with a quarterly residency at the RVT. Audience hazards may include, but are not limited to, loss of voice from screaming "yiiiis" (we reject yaaas), being exhausted just from watching, confetti, bearing witness to Veronica Montenegro's cheeseburger titties and having to dodge Rhys' Pieces as they leap between stage and audience. Past performances of mine have included my audition to be one of Asia O'Hara's butterflies, the thug life of a kitten, Liza Minnelli's evolution into Angela Merkel, and the hand can-can. It's art darlings, ART! I can't wait to return to the RVT stage with my family and my new Dolly Parton inspired performance.
Insta Stories
I LIVE for a high production value Instagram story and my #DollyDiaries have become somewhat of a phenomenon. My pro-tip is that the kitchen is a great place for an insta story. An impromptu kitchen dance in my pyjamas to "Absolutely Everybody" by Vanessa Amorosi was a recent favourite, but I don't think I will ever top the saga of "the tart", which I closely documented.
I was baking a chocolate-orange tart for an office bake off competition. I don't bake. The pastry making was like brain surgery gone wrong. It was too dry. Then it was too wet. I'd made a case with holes in it. I was bare-cheeked, wearing nothing but an apron and simple glittery stilettos. I did what any respectable drag queen would do and filled the tart with booze and edible glitter. A day later, I won the office bake off. The insta story viewers went wild.
Drag Etiquette
Don't take yourself too seriously; don't be a dick, and remember how many people's time is being spent watching you when you step out on stage – effort and thought before, during, and after will bring you good things.
Haus of Royalz: The Royalz Variety Show is on Thurs 24th January at The Royal Vauxhall Tavern, 372 Kennington Lane, London SE11 5HY.