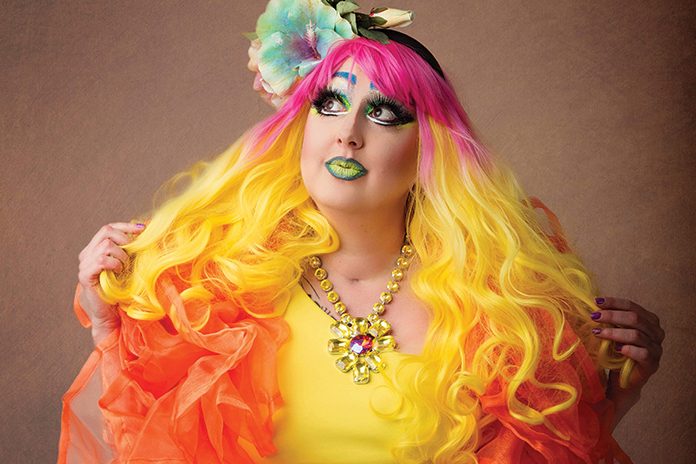 Jason Reid chats to the inspiring drag queen putting her double longue transplant to good use on the cabaret stage
---
Originally a neo-burlesque performer, L'amour Le Monde has always loved drag and, like many of her contemporaries in recent years, she has been able to combine these disciplines and hone her skills at specialist drag/cabaret courses devised by Rubyyy Jones and Michael Twaits respectively.
This week, Jason Reid gets to know more about L'amour and her inspiring journey and subsequent outlook on life…
---
Who is L'amour Le Monde?
I would say a survivor first and foremost; one with a zest of energy to live and breathe each day thanks to a double lung transplant. I'm also part of the United Shapes of Drag collective. Aside from my drag, I have a signature 'Breath of Life' routine that tells part of my real life journey – this won me the 'Most Emotional Act' prize in the Croatian Burlesque Cabaret Festival 2018.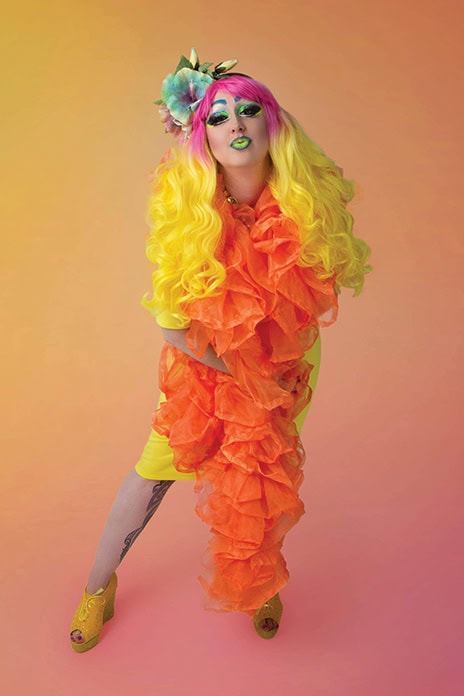 Describe your performance style in three words.
Camp, saucy, creative.
What's your aesthetic?
Like a kid in a candy shop, I am attracted to anything bright and colourful. However, sometimes I can be very ladylike as opposed to in-your-face obscene. Lately, the retro and vintage vibe has got me. I guess it depends on my mood. Generally speaking if it shines and sparkles, it's on me.
What makes you happy?
Simple things, like fresh air and spending quality time with my family and friends. After a show, nothing beats a leek and potato cup-a -soup. I'm so hardcore, right?
Three performers who inspire you?
Betty Fvck, Jeff Van Phil and Ronnie Rowdy
What are you listening to?
I am loving Rita Ora's Phoenix Deluxe album at the moment. It's so uplifting and dreamy!
The world would be a better place without?
OMG there are so many things, but violence definitely! And a world where we could all get along regardless of religion, gender and sexuality. Equality for all! Oh and Twiglets, because they are just wrong.
What does success look like to you?
It's not about money or getting to the top of my trade. I would rather be happy and have fulfillment in all that I do. Obviously my health plays a part in this. To be the longest living survivor of a double lung transplant and to become a blue rinse granny; that would be my success. Anything else around this is a bonus.
Fave new performers right now?
Well I'm going to be a bit biased as I'm part of United Shapes of Drag, and I think each individual of the collective is my favourite. I love them all dearly and they all offer something different. Such talent!
What would your autobiography be called?
Always Smiling and Always Will. It is a motto I have stood by since my transplant: that no matter what life throws at me, I will continue to smile. Even after fifteen lung collapses, being diagnosed with a rare condition, being oxygen/wheelchair dependent, time in a coma, and learning to walk again (prior transplant). Each new day is a bonus; I have no reason NOT to smile.
What haven't you done yet that you'd really like to do?
I would like to host a show (which IS on the horizon for this year), produce my own show, finish writing my life storybook, continue tap dancing and pick up some magic skills again. So, as they say… watch this space
If you were PM for a day, what new law would you introduce?
I'd make the organ donation system opt out instead of opt in. This would save so many lives in the future.
Turn on your music shuffle; what are the first three songs to play?
Tiesto – Adagio For Strings
Paloma Faith – Only Love Can Hurt Like This
Coldplay – Viva La Vida
Tell us something about yourself that not many people know?
I used to be a bedroom DJ and loved mixing trance back in the days when I worked at Heaven. I was asked to play out, but was too scared so it was just me and my tunes bopping away. I still love trance music and miss my clubbing days when this music was on.
L'amour Le Monde will be performing with United Shapes of Drag at the Two Brewers, 114 Clapham High Street, SW4 7UJ on Sunday 17 February.