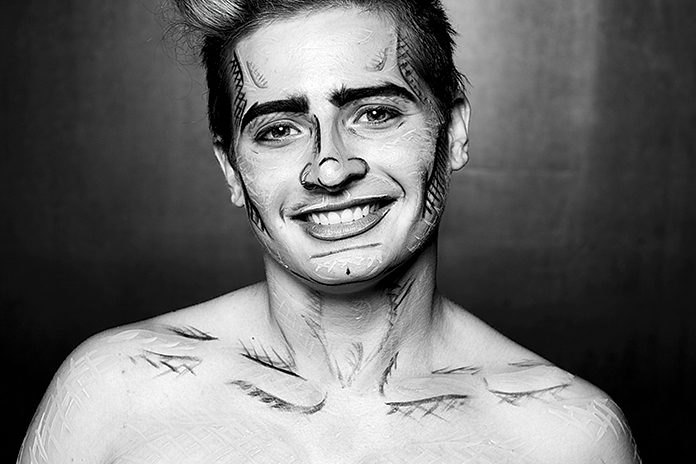 Loveshaft, baby. Loveshaft!
---
Founder of the California-based queer cabaret Pangea and drag king dynamo. HP Loveshaft caught our attention recently with his super-slick, swaggering routine. Eager to find out more about the Loveshaft while he's in town, QX Cabaret Editor Jason Reid caught up with him for a brief chinwag.
---
Let's get this out of the way first because I'm very curious. What does the HP stand for?
You know, like the sauce? Because I'm saucy. No, it's a nod to Hewlett-Packard. Sometimes people guess Harry Potter. Okay, honestly… it's a pun on HP Lovecraft – a science fiction author who popularised the cosmic horror genre. In my case, I say it stands for Hal "pay it no mind" as a nod to Marsha P Johnson – the Stonewall revolutionary.
What do you make of the London cabaret scene, compared to the US?
I'm afraid I'm not terribly well-versed in the US cabaret scene, but since coming to London I've been blown away by the creativity and diversity I've seen. LA and London drag are both very punk rock. Something I've noticed in London is that many of the performers seem to have a formal musical or theatre training, which I find both intimidating and inspiring. And as in any large city, it takes a lot of work to get noticed; there's a lot of opportunities, but also a lot of people aiming for any given one.
I saw you perform last week and especially enjoyed your Johnny Bravo. Are you a big fan?
Ah thank you so much, you're too kind! I'm a big fan of cartoons, especially the self-referential stuff like Animaniacs. I grew up watching Ninja Turtles and Looney Toons and that shaped me as a performer. Johnny Bravo is a particularly fun character to play with as a drag king, because he is so hyper-masculine while also being a diva. I love a good pompadour and my friends used to tease me when I'd put my hair up, so I started thinking: oh, that'd be a fun act. He's a comedy gold mine so it didn't take much work to track down a couple of funny clips to intersperse with the music. The act basically wrote itself.
As a transgender man early in his transition, I've started to look to Johnny as a bit of a role model – he is very self-confident and while there's definitely a lot to be critical of in his objectification of women, I admire that he never gives in to despair; he rolls with the punches. I'm in a strange place with self-image right now: a year into HRT, I'm the happiest I've ever been with my appearance while simultaneously feeling the most undesirable I've ever felt. It's fun to put on Johnny and channel some of that confidence while also giving myself permission to not necessarily be sexually "successful" (as Johnny rarely is). Plus, it's fun to create a distinctive silhouette.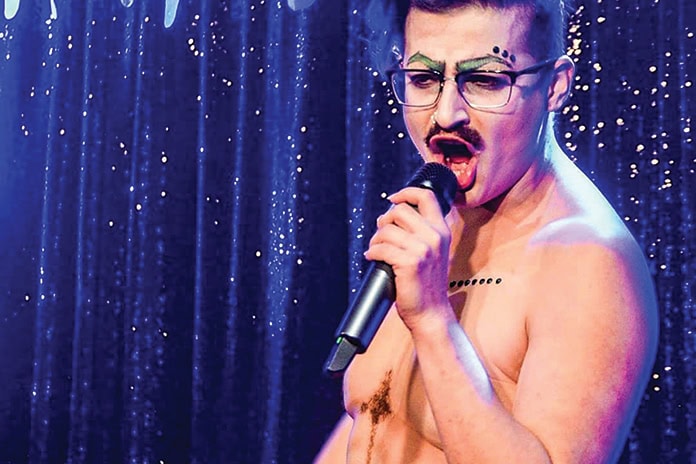 You have great energy and warmth on stage. Does that come naturally?
I hate to sound smug, but I suppose it does. As an autistic person I feel like all of my interactions are performative, so being on stage is no more terrifying than any other interpersonal exchange. Besides, once you've got a microphone in your hand the crowd is surprisingly supportive. I'm fairly frank about my insecurities; my dad always taught me to laugh at myself and my idiot brain is basically a pun factory and somehow that combines into the nonsense I spew on stage and entertains people? Honestly, I'm baffled but flattered. It's funny because the same charisma I seem to have on stage often translates into awkward personal interactions – but I'm glad I come off so well.
What do you like to see when you go to a cabaret show?
Variety! I love that the Cocoa Butter Club always has a dazzling array of performers. Something I appreciate about kings is the tremendous creativity I always see. I went to a queen pageant once and heard Survivor three times. That kind of thing doesn't happen as much at king shows, though we do have our stereotypes (who hasn't performed to Marilyn Manson?) Also, I love witty banter, especially of the musical variety.
Finally, if you were hosting a dream drag dinner party who would you invite?
Stormé DeLarverie, Jinx Monsoon, Murray Hill, Peaches Christ and the Grand Mere Absolute Empress I de San Francisco. Typical American exceptionalism.
HP Loveshaft will be performing at Vicious Von Vixen's Vaudeville, Central Station, 37 Wharfdale Road, London N1 9SD on Tuesday 12 February.