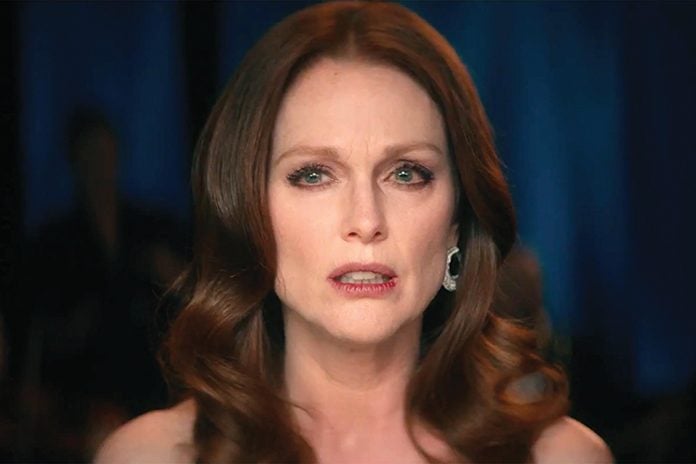 ★★★
In an ambiguous, revolution ravaged South American nation, a world famous American opera singer (Julianne Moore), is performing at a glittering private function for some of the country's most important figures in business and politics.
Mid-performance, all hell breaks loose as the doors burst open and rebel forces storm the party in a shower of gunfire and bandanas, taking the guests hostage.
On paper and premise, this film seems like it should be breathtakingly entertaining, in a fun but trashy popcorn thriller way. It's got it all; Action! Political intrigue! Glamour! Guns! Gowns! Its shrewdly put-together trailer provides a hair-raisingly camp shot of Julianne Moore staring, terrified, into a dressing room mirror, applying lipstick as machine gun fire crackles in the background.
It is, sadly, not quite as fun as its outward image would have you believe. A staid approach from director Paul Weitz (About A Boy) keeps things almost annoyingly realistic and dignified, focusing on grit rather than grandeur.
It means that if – like me – you're a bit of a sucker for guilty pleasure drama, you'll spend the whole film yearning to see it through the lense of directors with absurd flair. Like Darren Aronofsky with his nuts, stressful melodrama or Yorgos Lanthimos, who probably would have had Julianne Moore wielding a bazooka in a ballgown before the film's scant 100 minute runtime was up, petals and blood whirling dreamily around her while cellos thrummed ominously.
Despite not being particularly flamboyant, Bel Canto certainly isn't terrible. What most audiences will certainly find, is that it's unexpected – and in today's relentlessly predictable cinemascape, that's no bad thing. It turns the well-trodden hostage/action genre on its head, casting out all the tropes favoured by the Denzel Washington 90s schlockbuster days, in favour of something all together more emotional and thoughtful.
Perhaps the most refreshing is its questioning of who the villains really are. The government's motives are portrayed as far from trustworthy (something modern cinemagoers can certainly identify with), while the actions of the rebels transform from aggressive and senseless to human and true.
It's helped along by unusual, imaginative and diverse casting; an always spellbinding Julianne Moore is the aforementioned operatic luminary – the character grapples wonderfully with her ego and entitlement in the face of a very human crisis where suddenly, everyone's equal; Ken Watanabe is an uptight Japanese businessman, painfully guarded; Ryo Kase is charming and terrified as his translator; and Maria Mercedes Coroy gives a career-creating performance as female rebel Carmen.
Bel Canto is at times frustrating, with flashes of emotive realism let down by moments of telenovella absurdity. But it's heartfelt and well-acted, with an ending that'll leave you reeling. And that's well worth the price of a ticket
Bel Canto is out on April 26th.