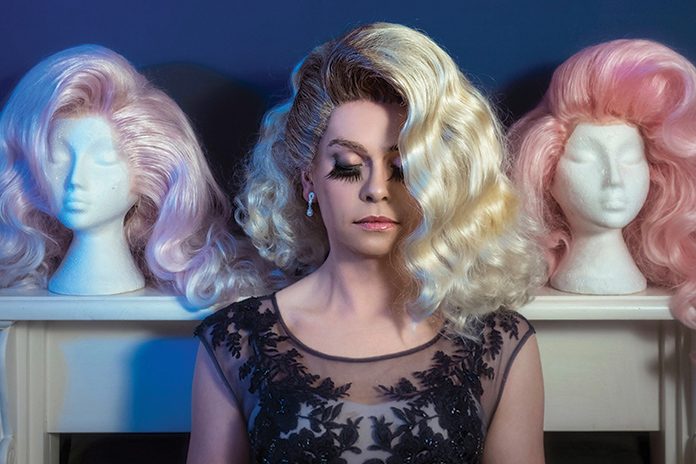 The drag star talks Pride's Got Talent and parenthood
---
We love Pride's Got Talent here at QX – it's a talent show with heart, which authentically reflects the inclusiveness of London's LGBT+ cabaret scene, and everyone actually supports each other!

Since its inception, the competition has thrust brilliant artists like Busty & Ginger,
Keith Ramsay and Dolly Trolley firmly into the cabaret spotlight, where they belong.

The heat stages of this year's competition are now all wrapped up and the semi-finals are on the horizon, so Jason Reid caught up with host Michael Twaits this week for a natter…
---
Hello Micheal; how's life treating you?
Life is sweet, thanks. I'm like the cat that got the cream at the moment and am just very happy.
Tell us briefly how you first got involved with Pride's Got Talent, and why it exists.
I was asked by Dame Ian Massa Harris-McFeely about the idea in 2014 and we discussed how it could work. The first year we didn't really know what it was going to become; it was planned as a one-off with closed auditions, and I was a judge at Madame Jojos. The talent was amazing and we just said 'this needs to become a real night out showcasing all the talent, not just the winner.'
How does it work now?
Now I host all the different rounds in various LGBT+ venues, and we have judges from all areas of the industry and community. And I'm delighted not to be judging – I get all the fun and none of the pressured.
How is this year's competition going so far?
It's amazing! Every year I say it but the talent just keeps on getting better – there are some brilliant acts across both cabaret and music sides of the competition.
Has Sinitta rocked up yet? She's a patron, right?
She is our Fairy Godmother, yes. She has been working and supporting behind the scenes but doesn't come out as a judge until the finals. More importantly though she's still working and supporting our previous winners and helping them find new opportunities.
Do you have any favourites yet? I know you will have by now…
Of course I do! But I couldn't possibly say. The diversity this year really means there's something for everyone.
What advice would you give the acts who are about to head into the semi-finals?
Pride's Got Talent is all about the semi-finals; it's the most important round. All our finalists are winners – they get a West End finale and a performance at Pride In London. The winner gets a headline slot and a few bonuses, but from the final onwards it feels like a real Pride family affair. So work hard and bring out the big guns now.
Those cabaret semis will be held at the Phoenix Arts Club and the RVT. What can we expect?
Top-notch talent to entertain you – so come along and enjoy the splendid assortment of talent. It's free entry too!
Looking at our LGBT+ community in 2019, what's makes you proud?
To be honest; recently since becoming a dad I'm going to LOTS of 'mummy and me' groups and almost every day I have to 'out' myself as gay, two dads, etc. I've met no hostility, hate or questioning; just lovely people who are so excited by same sex-parents. That's not the world I grew up in. I'm so excited for future generations to be growing up in this society.
Finally, who are your LGBT+ Heroes? People on the ground who work tirelessly, that you think deserve more recognition.
I have lots! From performers who inspired me like Bette Bourne, David Hoyle and Lavinia Co-op, to queer community voices who always have something to say and make it known like Bae Sharam, Sadie Sinner and Lady Phyll. And, of course, all the volunteers who get involved with their Pride (wherever it may be) and want to make the world better for all LGBT+ people.
The semi finals of Prides Got Talent 2019 are on Sunday 21st April at the Phoenix Arts Club, 1 Phoenix Street, London WC2H 8BU and Wednesday 24th April at the Royal Vauxhall Tavern, 372 Kennington Lane, London SE115HY.