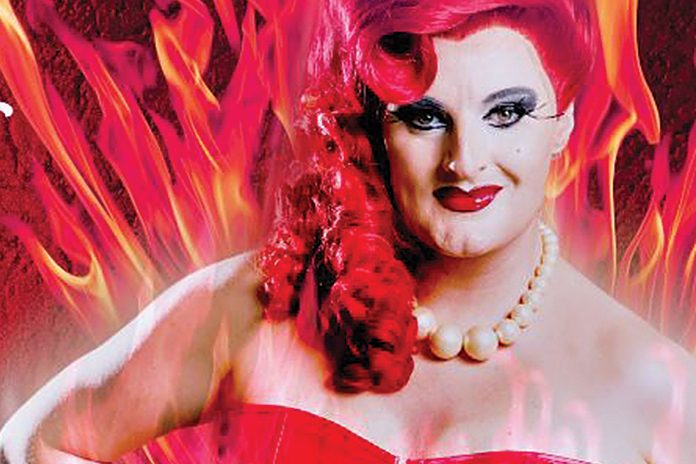 We talk to the man behind the viper-tongued, fire-crotched West End vixen.
---
Freedom Bar over on Wardour Street has been a home for West End performers, bringing exciting talent to its stage, from the infamous Monday night Kinky Kabaret, to their Wednesday nights of drag debauchery. One such performer is Miss Scarlet Fever, having thrilled audiences over at Freedom Bar for a few years now, and she's showing no sign of slowing down. Having appeared in shows like Les Miserable on the West End, it's clear that on the stage is where they're meant to be. Ahead of her taking to the stage for her red-hot and dangerous show at Freedom on the 24th of this month, we decided to catch up with Carl Mullaney, the man under the bright scarlet wig.
---
So how would one describe Mz Fever?
I would say she's a good time showgirl. The Scarlett Fever show is very audience interactive, we make sure everybody has a good time! I like to say that she's a very personal character. Sometimes to the point of overfamiliarity. She LOVES getting to know her audience, and then just generally take the piss out of them as well. We always have a good time. A big part of my show is finding out where everyone's from, because we get such an international crowd at Freedom. There are always people from all over the world! Ultimately the message is that no matter where you're from, you're very welcome into London, into Soho, and most of all into Freedom.
We hear you're a West End girl. Which role can you see Mz Fever playing?
She's definitely destined to be Norma in Sunset Boulevard. That's definitely it. She's already ready for her close-up.
You've really found a home for yourself in Freedom. What keeps drawing you back?
I've worked over at Freedom for over ten years now. Both as myself and Miss Scarlet Fever. In my opinion, before I was even working there, it's just one of the liveliest nights out, the most inclusive crowds and you get a mix of West End performers, and from all over the world, just coming together to have a great time. It's such a home for West End performers that, like myself, are always off the scale! Even when I'm not performing, I'm in the audience supporting the other performers. It's just like a second home to me, always has been.
A decade is a LONG time. With any live performance there's always that element of risk. Has anything ever gone terribly wrong?
Oh yes, always. We had a night where there was a power cut half way through. The whole of London went down. We ended up moving everyone upstairs, and had a candlelight, unplugged performance which obviously absolutely everyone loved.
Very that moment in Mean Girls when she kicks the stereo.
Very like that, but with less red fake fur.
You're also involved with Kinky Kabaret?
Yes! That's our Monday night show, and I've hosted that not as the glamorous Miss Scarlett, but as Carl, for what's coming up to be 9 years. The show is celebrating its 10th birthday this June, always packed out each Monday with some of the best performers from the West End, and also music talent, celebrities, drag queens. All rolled into one! After all this time it's still packed to the rafters and we're really looking forward to celebrating the 10th Birthday. There are some surprises in store.
So what's the main difference when Carl is on stage, and Miss Scarlett is on stage?
Well I'm quite outrageous as Carl, but when I'm in my alter ego as Miss Scarlett it's like all the colour and sound has been turned up. She's a lot looser with her tongue… She's not afraid to call a spade a spade.
Having a loose tongue can be quite dangerous. Has anyone ever taken offence?
I've only ever been booed once, actually. ONCE in 10 years. It was last month and I made a comment about Brexit and I got booed. Then I just told everyone to fuck off, and we all had a laugh. It's dependent on the amount of Sauvignon Blanc that I've had, it's those moment where you think "Am I actually going to say this?" and then it just comes out. I wouldn't say I'm an insult coming but I'm bordering.
Miss Scarlett Fever is Red, Hot and Fabulous at Freedom Bar, Soho W1F 0TA on Wednesday the 24th of April at 10:30pm. Free Entry.