This World AIDS Day, we round up some inspirational public figures Living with HIV openly and bravely.
---
This year marks the 31st year of the world coming together to raise awareness about HIV and AIDS. Every December 1st since 1988, people have been coming together to fight against HIV, show support for people living with HIV, and commemorate those who have died from an AIDS-related illness. Here in London, the LGBTQ+ community is doing their part to raise awareness and raise support funds with club nights, cabaret shows, vigils and the infamous World AIDS Day RED RUN.
Here in the UK, there are 101,600 people living with HIV, with an estimated 36.7 million people with the virus globally. All too often, the narrative surrounding the virus is stuck in the past, allowing prevalent misconceptions about the virus to prevail. Though it's important to mourn those we have lost, this World AIDS Day gives us an opportunity to celebrate those who are living with the virus and who are working to get people informed about it.
This World AIDS Day we wanted to spread the word about a few people who inspire us just by living their lives. Having public figures going about their lives, who just happen to be living with HIV, is important in overcoming the stigma surrounding the virus. It's also instrumental in letting the people know that a HIV diagnosis doesn't have to impact your day-to-day life. Here are some inspirational public figures that are living with HIV:
---
Gareth Thomas Rugby Player
When Gareth Thomas opened up about his sexuality back in 2009, it was a landmark moment in sports history. It made him the first openly gay professional rugby union player. Having had a glittering career as the Fullback for Wales, Thomas was enjoying his early retirement and making a career in the entertainment industry. This year he opened up about living with HIV. The day after announcing his status, he competed in the Ironman competition, having vowed to break the stigma around the illness. His documentary Gareth Thomas: HIV and Me on the BBC did important work on getting the British public informed on the virus.
---
Jonathan Van Ness –

Television Star
Yas, queen. Jonathan Van Ness was an instant hit with Netflix audiences when he brought his delightfully positive personality to Queer Eye. As one of the show's 'Fab 5', he hair-styled his way into hearts across the globe with his luscious long hair-whips and meticulously groomed beard. At arguably the height of his career, Van Ness revealed that he had been living with HIV since the age of 25. Now in his early thirties, he continues to spread positivity and self-love, speaking openly about the everyday experiences that come along with living with the virus.
---
The King of daddies. Anyone who has browsed an adult film site in the last year knows exactly who Rocco Steele is. His absolutely huge… talent has made him one of the biggest stars in the industry. He's one of many porn stars who are showing thirsty viewers that living with HIV can be sexy. From early on, Rocco Steele has been open about his HIV status and how effective treatment has allowed him to reach undetectable status. Using his platform to do some good, he takes every opportunity to educate his fans, followers and anyone who'll listen about what it means to be undetectable.
---
Kia LaBeija –

Artist
American fine artist Kia LaBeija was born and raised in New York's Hell's Kitchen. When she was three years old, Kia was diagnosed with HIV having contracted the virus through perinatal transmission. She later lost her mother to an AIDS-related illness. She made a name for herself on the house and ballroom scene, performing in nightclubs, walking for the House of LaBaija in 2012. When creating her first fine art pieces, LaBeija used her experiences as a young black woman living with HIV in series 24. The work has been exhibited, performed and screened at some of the US's most prestigious contemporary art galleries, and her advocacy landed her on POZ Magazine's 'Poz 100' list of activists under 30.
---
Lloyd Russell-Moyle –

Politician
It's easy to get numb to the shambolic mayhem that is British politics, but last year's World AIDS Day gave us an inspirational moment that was truly monumental. When the house of commons met in late November to mark the 30th World AIDS Day, Labout MP Lloyd Russell-Moyle revealed that he is living with HIV. In sharing his experience, he shared: "I have not only survived, I've prospered, and any partner I have is safe and protected". In doing so, he became the first MP to discuss living with HIV in the camber of the House of Commons.
---
Panti Bliss – Drag Queen
The Queen of Ireland. Panti Bliss, also known as Rory O'Neill is one of the most famous gay icons to come out of Ireland, second only to Nadine Coyle mispronouncing flour. Though mostly associated with the fight for equal marriage in Ireland, the fabulous Panti Bliss has also dedicated countless hours to her HIV/AIDS activism. She has appeared in several campaigns for My HIV, My Rules which aims to help people living with HIV plan for the road ahead. Over in Dublin this World Aids Day, she's teaming up with Gareth Thomas for a GCN and HIV Ireland fundraiser.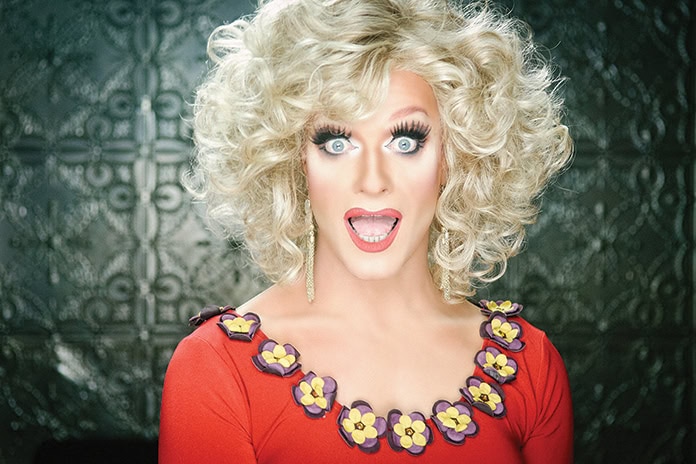 ---
Javier Muñoz – Broadway

Actor
Hamilton is arguably the biggest musical to hit Broadway in a long while. The show written by and starring Lin-Manuel Miranda took the musical theatre scene by storm. As Miranda's understudy, Muñoz played the lead role in the original production on several occasions, taking over Sunday and weekday performances in Spring 2016. His long-running career with Miranda, having appeared in his 2008 musical In the Heights, has made him one of Broadway's biggest performers. He's been open about living with HIV since being diagnosed in 2002, and has been speaking out against stigma ever since.
---
Conchita Wurst Singer
It takes a lot to impress Eurovision audiences, but in 2014 Conchita Wurst left them speechless with her breath-taking performance of 'Rise Like a Phoenix'. The bearded beauty left the gays gagging and women-lovers sexually confused. Last year one of her ex-boyfriends threatened to go public with the fact that she was living with HIV, so Conchita decided to disclose her status herself. Writing on Instagram she asserted: "I will not give anyone the right to frighten me and influence my life." Though she may have been forced to reveal her diagnosis, she was praised for handling the situation with dignity and for attempting to tackle the stigma surrounding HIV and AIDS.
READ MORE related to Public Figures Living with HIV:
Emerald Life – The LGBT+ insurance company