British television icon Phillip Schofield bravely announced through a statement on his Instagram Story that he's gay. The news surprised many since he has been married to wife Stephanie Lowe for the past 27 years. Schofield has been a notable presence within British television for decades, standing at the helm of ITV's most popular shows, from This Morning to Dancing On Ice.
The 57-year-old personality shared that he felt "pain and confusion" around his sexuality, but mostly due to the hurt that he is causing to his family.
Schofield has enjoyed great professional success this past year, picking up a National Television Award for This Morning. This brave move at the height of his career is sure to have an immense impact on people across the country who tune in to see him each morning.
His announcement formed a large part of Friday morning's This Morning program, with co-host Holly Willoughby interviewing him about the move to come out publically. He shared that it was his decision to come out saying: "It was something I know had to do. I was getting to the point where I didn't like myself very much because I wasn't being honest with myself."
On speaking about moving forward, he said firmly that he wasn't ready for a relationship with a man yet.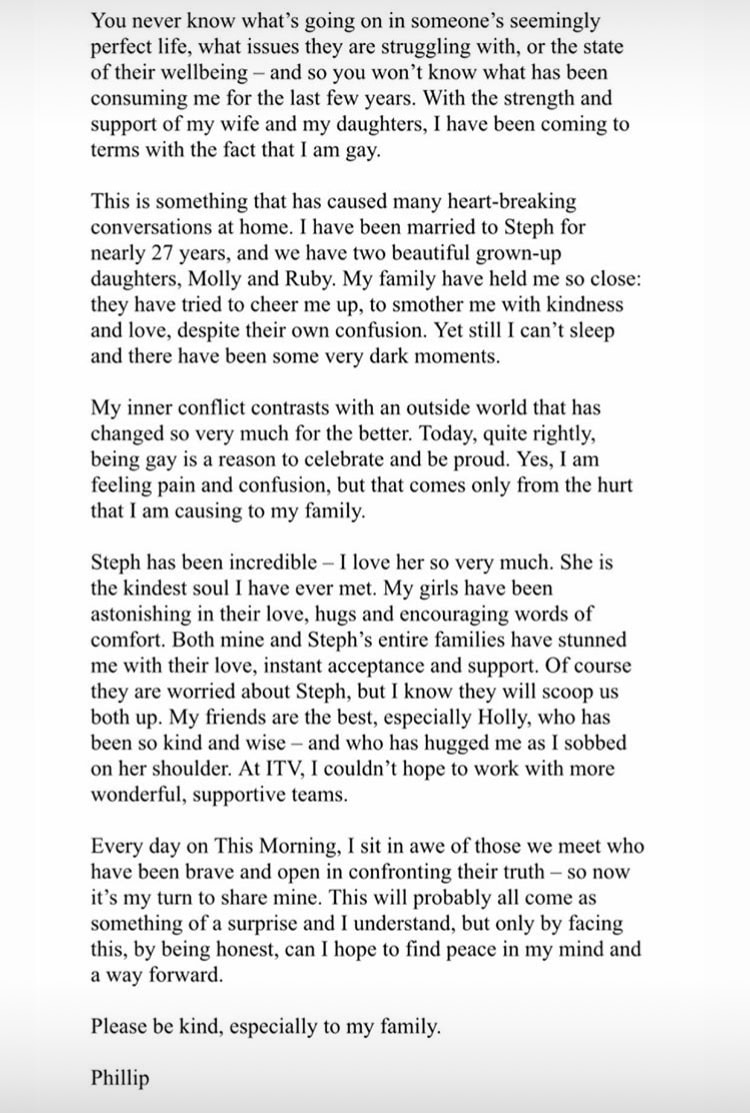 The announcement letter praises his wife's support during this difficult time:
"Steph has been incredible – I love her so very much. She is the kindest soul I have ever met. My girls have been astonishing in their love, hugs and encouraging words of comfort. Both mine and Steph's entire families have stunned me with their love, instant acceptance and support."
Social media has been a rush of support for the presenter, with many commending his honesty:
Thank you @Schofe for your bravery and honesty. Being your friend and colleague for the past 15 years I'm sending you and your family all the love and support. #loveislove

— Matt Evers (@TheMattEvers) February 7, 2020
https://twitter.com/jenlion/status/1225735407096213510
https://twitter.com/EllieJSkinner/status/1225735916095971328
READ MORE related to Phillip Schofield comes out at as gay:
Burnt Roti editor Sharan Dhaliwal talks coming out, stigma, fetishisation and more.