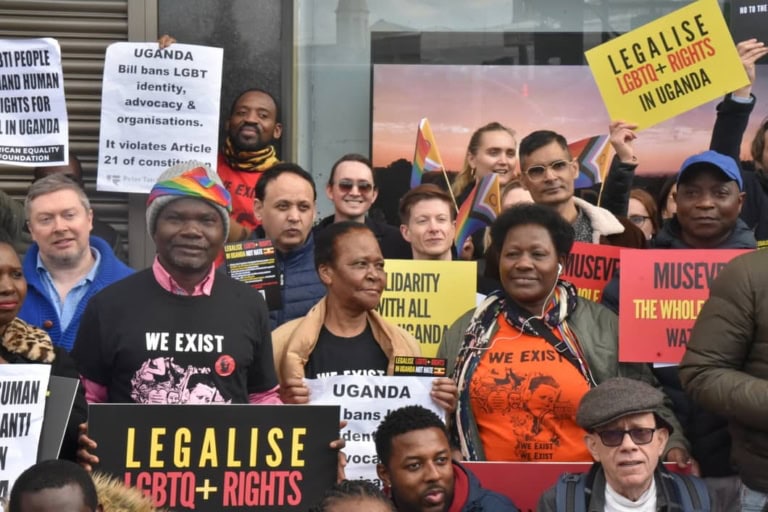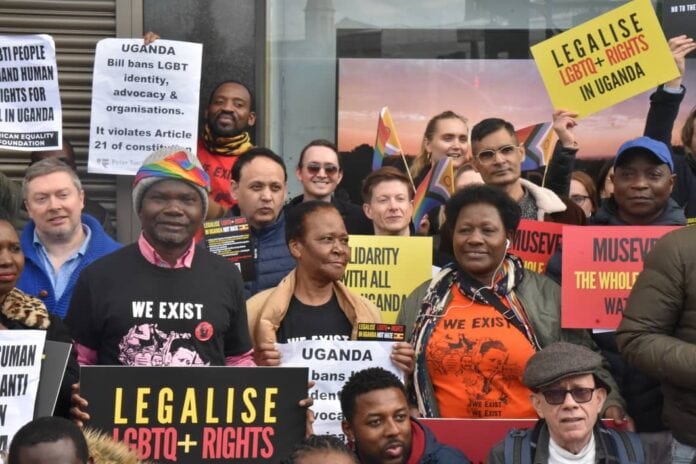 Fifty LGBT+ campaigners and allies staged a noisy vigil outside the Ugandan High Commission in Trafalgar Square London on April 25 2023, chanting "Museveni! Kill the bill" and "The world is watching! Kill the bill."
They were protesting in solidarity with Ugandan LGBTs against Uganda's Anti-Homosexuality Bill, which includes long jail time and even execution for LGBT+ people and supporters.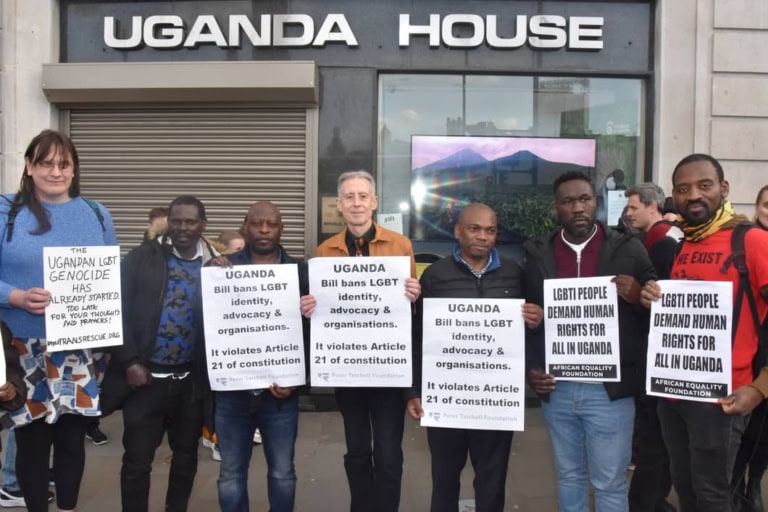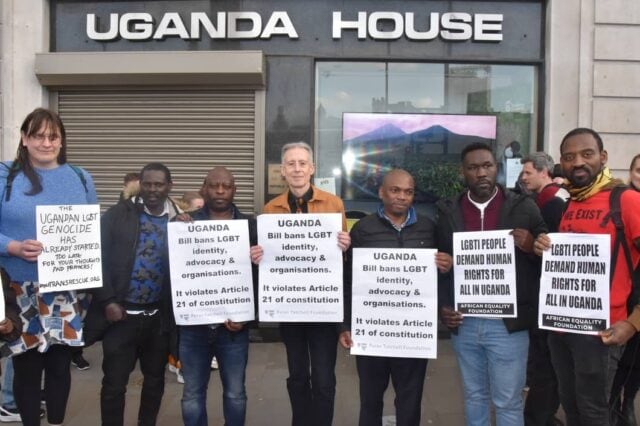 Many were Ugandan LGBTs who had fled persecution in their home country and are members of the African Equality Foundation and Out & Proud African LGBTI. They were joined by the UK Alliance for Global Equality, UK Black Pride, Rainbow Migration, ACT-UP London, Peter Tatchell Foundation and STOPAIDS.
STOPAIDS organised the vigil with Convening for Equality Uganda and Uganda Key Population Consortium.
Uganda's Parliament passed the Anti-Homosexuality Bill on March 21 2023, and on April 20 2023, and President Museveni told Parliament that it should make changes before he signs it.
Under the legislation identifying as LGBTQ+ would become a criminal act. Uganda's HIV response would be devastated: providing lifesaving HIV services to LGBTQIs would become crimes, and frontline care providers would become criminals. The Uganda Bill would outlaw every aspect of LGBT+ existence, including LGBT+ identity, advocacy, organisation and funding.
---
Punishments under the legislation:
"Aggravated homosexuality" – Death Penalty
"Promotion of homosexuality" – 20 years imprisonment
"Attempted homosexuality" – 10 years imprisonment
Failure to report someone who has violated any provision of the bill – a $28,000 fine or six months imprisonment.
---
"As a proud lesbian Ugandan woman … let me be clear that this bill is designed to eliminate people like me from my home country, and it must be defeated …The solidarity shown by activists and community members worldwide…is essential in this fight. We must reiterate to Museveni that the world is watching and not stay silent as our human rights are trampled on". – Clare Byarugaba, Ugandan human rights activist.
LGBTQI+ Ugandan civil society groups have been calling for international allies to apply political, diplomatic, economic and public pressure on the Museveni government, resulting in the Emergency Global Day of Action on April 25. Their appeal for solidarity can be found here.
Peter Tatchell told QX, "We are urging the UK Government to impose a travel ban on Ugandan lawmakers and clergy who supported the Anti-Homosexuality bill. It is outrageous that the UK has a travel ban on Uganda's democratic opposition leader, Bobi Wine, but not on the legislators who voted to execute LGBT+ people.
Please sign the Downing Street UK parliament petition demanding a travel ban on Ugandan MPs who voted for the Anti-Homosexuality Bill: https://petition.parliament.uk/petitions/636003 (only UK residents can sign).