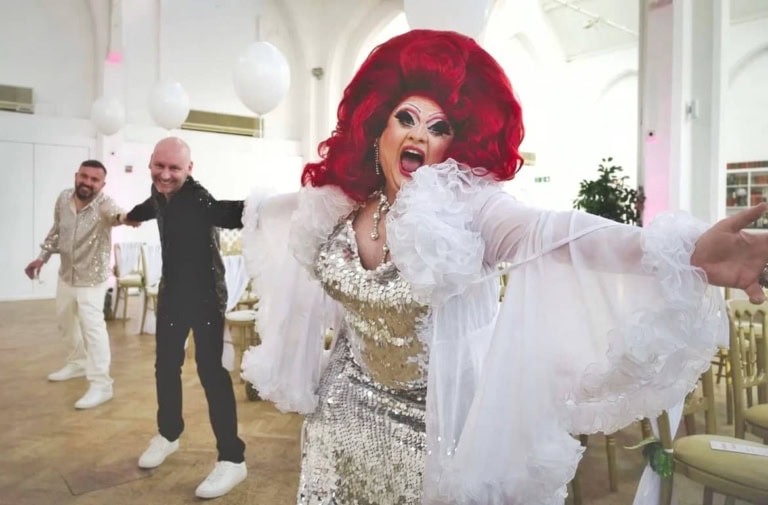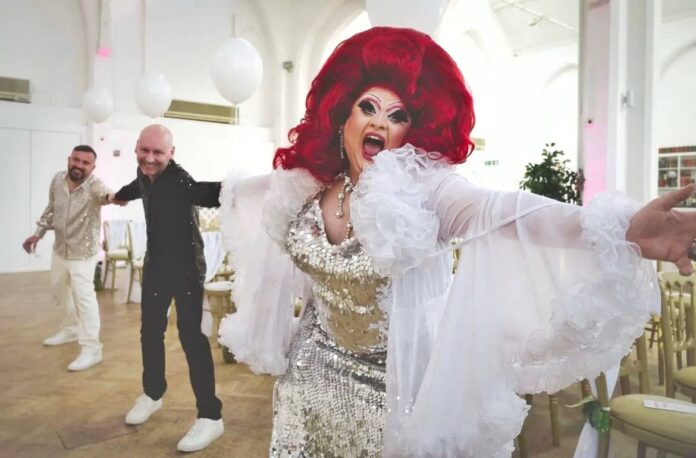 Martin Fox-Roberts is an Independent Modern Celebrant and he can make the queer wedding ceremony of your dreams. Here he tells QX how he goes about making people's dreams come true.
– Martin Fox-Roberts –
Ultimately being a Celebrant means that I can give couples a choice and a chance for them to have the Wedding Ceremony of their dreams! Meeting couples and working with them to create their ceremonies, a space for them to express and celebrate, and then seeing their reactions and the responses from their guest gives me such a buzz!!
I offer camp foxy ceremonies as myself, Martin, or couples can opt for a Drag Queen Wedding Celebrant, with #DragYouUpTheAisle ™️ with me as Maria Hurtz!
In my early years, I started as an Actor in theatre and TV, but my favourite job was doing Pantos, performing as the Dame! Many years later, I was organising my Husband Neil's 50th Birthday party, for which I hired Leicester Square Studio Theatre and booked an all-male burlesque show called Boylexe! They asked me to be part of the show to give our Neil a surprise – we'll. I wasn't madly keen on taking my clothes off in front of family and friends, but they did have a Drag Queen Pianist and Singer, so I thought I'd do an act as a Drag Queen! After I'd done it, friends encountered me to enter into competitions. So I did, but before I did, I enlisted on a Drag Course by Michael Twaites, which gave me a great foundation.
I have performed as a Maria Hurtz for the last eight years, mainly in London at renowned venues, including Royal Vauxhall Tavern, Soho Theatre, and The Aeronaut. I regularly perform at an East End pub, The Northcote, in E11. I was a Drag Idol Semi-Finalist and QX Magazine Awards Nominee for Best Drag Act and Best Comedy Act. I have loved hosting a cabaret night called, Can Can Cabaret, Un Cabaret De Cirque, and a charity show for Lupus called 'Reach Out And Touch' with Wilmot Mulley for the last few years.
I'm proud to be the first accredited Drag Queen Celebrant currently operating and creating weddings in the UK.
I decided to combine the two because it would be unique and wildly funny – again offering couples a choice! But the ceremony is the start of the celebrations; it shouldn't be the boring bit before the celebrations, so what better way than to start it all off with a big old camp Drag Queen?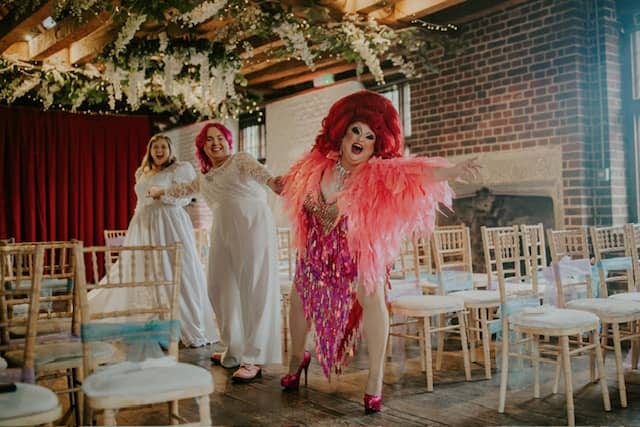 The style of the ceremony is very much down to the couple. We can keep it traditional, or we can go wild! Ideally, with #DragYouUpTheAisle ™️ , the couples are the stars of their very own show, standing centre stage, surrounded by family and friends! We can have dance routines, a sing-along, a lip-sync – tie you up and spank-you-I-do … the sky is the limit! And remember, we can do this anywhere, even your favourite club or bar.
Although she is cautious not to steal the limelight away from the couple, Maria Hurtz is perfect for a Drag themed or Cabaret Themed Wedding – or if you want to surprise your guests with something totally off the wall! She might also be available after the ceremony to entertain the guests with a set.
I'm different because I've combined all my other skills and put them into packages for couples to choose from!
So you can have me as (male) me#TheFoxyCelebrant – and as I'm a fully qualified & registered BSL Interpreter, I can officiate Wedding Ceremonies in British Sign Language, so Deaf couples and BSL users can have their Wedding in their first Language, without having to rely on an Interpreter #BSLWedding. Also, I'm an ITEC3 Holistic Massage Therapist, so I offer a Couples Massage session for when those Wedding plans start to feel stressful – Happy Begins to Happy Endings, haha! And finally, I can offer you a Drag style Wedding with #DragYouUpTheAisle ™️
I'm a firm believer in being multi-skilled. Armouring yourself for whatever life throws at you, and with my skills and experience, I can offer couples a lot to make their ceremonies utterly unique and memorable.
I have three delicious packages to choose from:
The Proud Package – a standard personalised ceremony.
The Foxy Package – a personalised ceremony which includes a symbolic unity ritual.
The Loud, Proud & Foxy Package – all of the above, plus a holistic therapeutic couples massage.
Also included are a couple of consultants, the Ceremony Certificate, and a copy of your vows. If couples have a Unity Ritual, they get to keep whatever they've used, such as the rope from which they have Tied-The-Knot etc. I will offer expert advice along the way, and we'll contact each other via a WhatsApp group to throw ideas. Back and forth or simply being there whenever couples need that little extra help. I also include travel if it's within the M25 radius.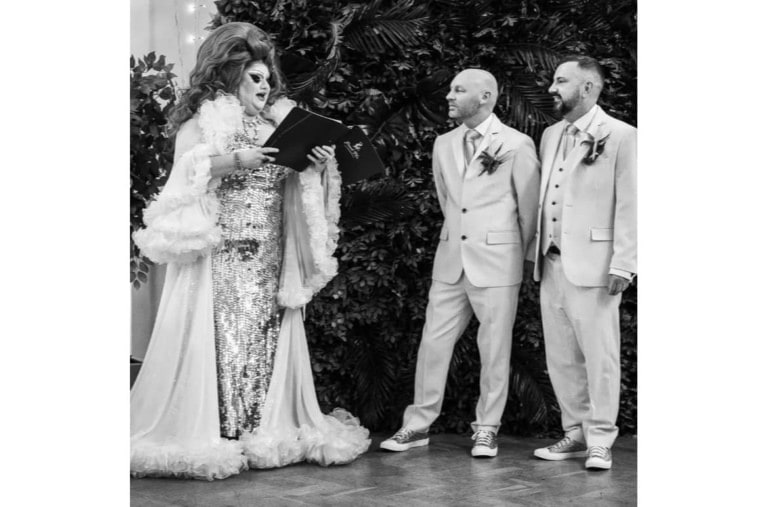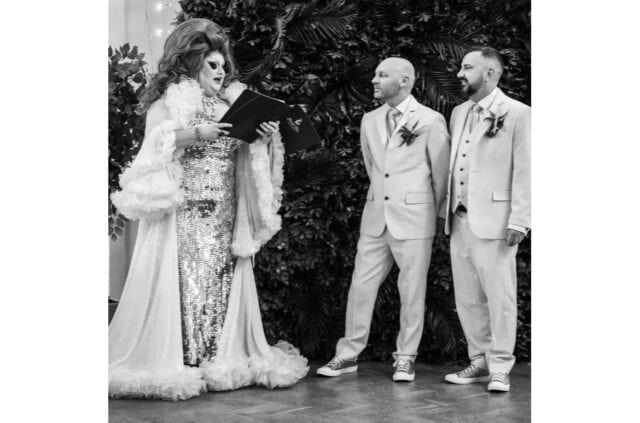 When I first receive an enquiry, I like to meet the couple face to face, either in person or remotely, which we are all used to now and chat about the ideas for their ceremony and get a feel for each other. Once I receive a booking form from the couple and responses to a questionnaire I send out, I arrange our first consultation when we discuss the couple's plans. I start assembling the ceremony and the couple's 'Love Story'! Then as we get closer to the Wedding day, we'll have another consultation when I go over the ceremony script together.
I do encourage couples to write their own vows. Although this doesn't come easy for everyone, in which case I can help by offering ideas about how to structure them, what to include and how to make them really personal.
Working together and getting to know the couple, we can really personalise the ceremony, firstly by creating the couples' Love Story, which is shared with guests as an integral part of the ceremony – and what's great is from listening to guests learn something new about the couple or get some juicy inside gossip, (yes we spill the 'T'), which also helps as an ice-breaker for guest who doesn't know each other to have something to start a conversation with!!
We can also personalise an LGBT+ wedding ceremony by adding a memorial tree or table of family or friends who are no longer with us but who the couple want to be part of their special day.
It really is the couple's choice about what they want to include, and this can be extended to Unity or Symbolic Rituals! These can be the traditional Handfasting, Sand Ceremony, Breaking A Glass or Planting a Tree, to something more modern and foxy, such as First Shots together, A Gin ceremony or taking these ideas and inventing your own!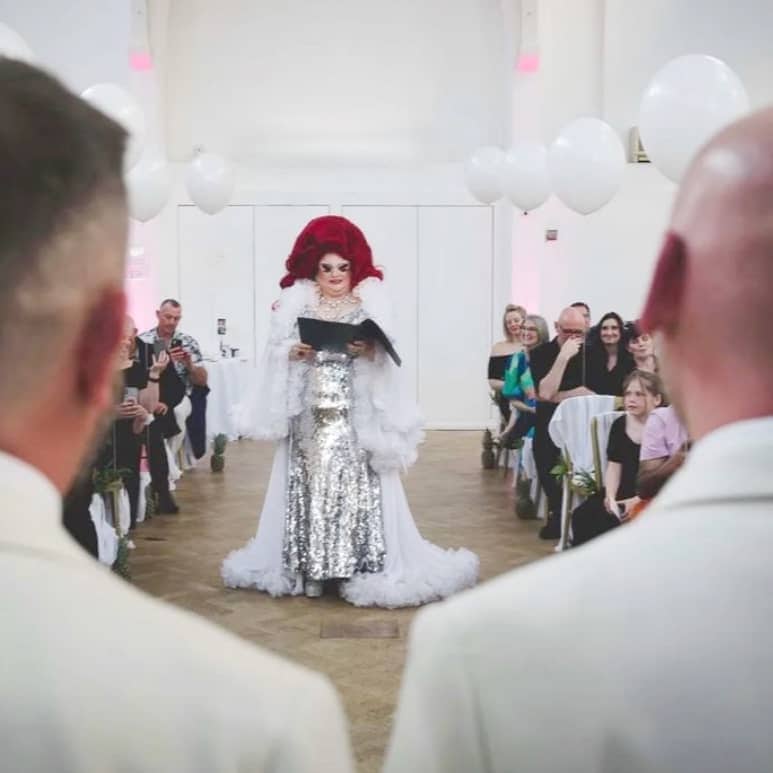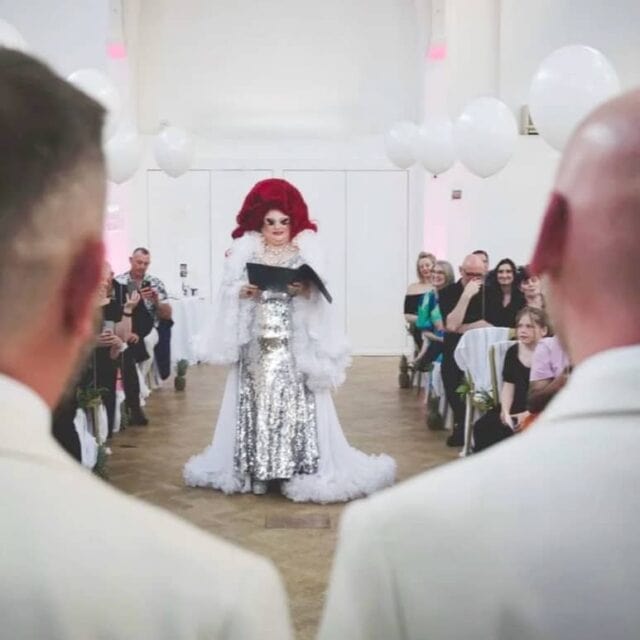 I also love to get guests involved too! So as I mentioned before, this could be a Sing-A-Long or a Sing-Off, a Dance (nothing is stopping us from doing the Conga mid-ceremony!), a Group Committal – and Maria Hurtz favourites, A Ring Warming, Handcuff Vows or Spank Me I Do!!
Apart from my paperwork, which is completing a Booking Form & Agreement and filling out my Questionnaire, the only other formality is registering your marriage with the Registry Office to make your marriage legal. It takes 15 mins and can be done before or after your Wedding Ceremony. If you really wanted to, you could have it as part of the Wedding Ceremony. The Registry Office will offer you a ceremony too, but remember you don't have to; that's what your LGBT+ Wedding Ceremony is for and with a Wedding Celebrant, your ceremony can be wherever you want it to be (it doesn't have to be in a licensed venue)! Include whatever you want to include and be as long as you want it to be!
Twitter: @proudfoxcms
Facebook: @proudfoxceremonies
Instagram: @proudfox_ceremonies