Obituary by David McGillivray

Peter Searle, professionally known as Peter Steadman, who as 'Adrella' was a huge star of the cabaret circuit from the mid-70s and directly inspired many of those who are part of the current drag revival, died 11th April at the age of 56 after many years of illness.
Adrella worked both solo and with partners such as Lily Savage, David Dale, Ebbonknee and Ruby Venezuela. An old-school drag act, who mostly mimed to show tunes, he was best known for his Liza Minnelli routine. But his repertoire included Eartha Kitt, Shirley Bassey and Stephanie Beacham (Sable from The Colbys).
He was also a Eurovision fanatic and even juror for the UK's judging panel in 2008. For a while, during the darkest days of the AIDS crisis, he was one of the most adored performers on the gay scene and did so much charity work that in 1987 he was given an award by the Terrence Higgins Trust.
Tragically his ill-health resulted in an early retirement and less recognition than he deserved. But in recent years he made a comeback, delighting new audiences with his almost undiminihed star quality.
The son of a policeman, Searle claimed that he was raised in a police station in the middle of Hyde Park and that he was still living there in 1975, when he entered a talent competition at the Black Cap. "I beat Dave Lynn in spite of his claims to the contrary," Searle insisted, then conceded, "Long story short, we were joint winners. Sabotage!" From 1977 he compered at the 'Cap six nights a week: "Great training as I got to work with all the best acts!" Although Adrella's biggest success was in London, he toured Europe throughout his career and from 1979 he was based in Hamburg for 18 months.
He popped briefly into the West End in 1982, when he appeared in La Vie en Rose at the La Vie, formerly the Windmill Theatre. But he will be remembered by most as one of the great gay scene acts, especially for his work at the Royal Vauxhall Tavern.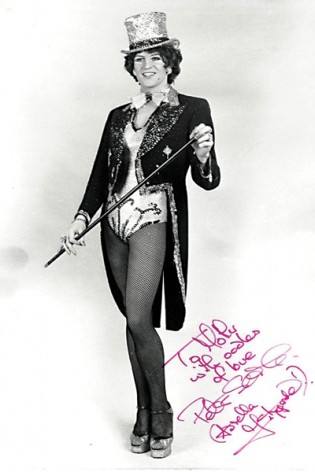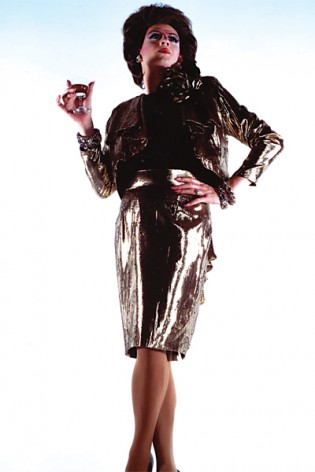 His RVT debut came as early as 1976. But his ten year residency there began in 1982, when he and David Dale began a regular Sunday slot as High Society. Later Dale was replaced by Lily Savage. Simultaneously Adrella, Ebb-on-knee and Ruby Venezuela toured as The Bizarre Sisters (the trio had met at the Windmill). In 1983 Adrella began 'Sunday School', the RVT's biggest Sunday afternoon show before the arrival of 'S.L.A.G.S.' Many of the Adrella tributes online reference Sundays in Vauxhall in the 1980s.
A typical one is, "There will never be an atmosphere anywhere again like Sunday School with Adrella at the Vauxhall Tavern. Staggered out of there often and then to the Market Tavern for the rest of the afternoon. Fantastic days." Thankfully there are many recordings, notably of Adrella's Nativity at Christmas, 1987, a show that drove the crowd wild. He also made numerous TV appearances on game shows, including Treasure Hunt, Talkabout, the Weakest Link and 15 to 1.
Adrella's last big success was 'Camp Camp', which he produced at Butlin's, Skegness, in 1991. A follow-up was abandoned. Searle later wrote, "The second one collapsed after Butlin's withdrew, due to negative press affecting their bookings [reports linked the event to the AIDS scare], and in-fighting between the two companies who produced the first event." Adrella continued to host the RVT's Sports Days. But subsequently Peter's health deteriorated.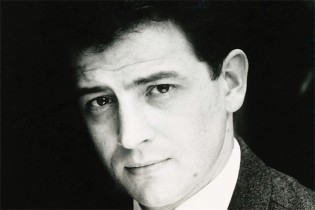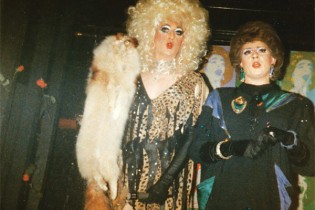 He revealed in an article he wrote in 2008 that he was probably infected with the HIV virus before 1981. He tested positive in 1984 and announced his status in 1987. But he survived for over 25 years without developing life-threatening symptoms.
In 1994 he injured his back. Surgery in 1996 did not help. He was also showing the signs of the depression which was to seriously hinder his career. "I turned down opportunities that would literally have changed my life", he wrote. One of these was the character of Felicia in The Adventures of Priscilla, Queen of the Desert, a role that was originally written with him in mind by the film's writer Stephan Elliott.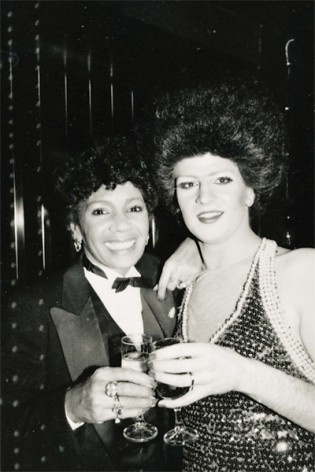 He retired in 1998 and later began work on an autobiography, which he is thought not to have finished. He also continued his charity work, volunteering for the Metropolitan Police's 'Diversity in the Community' training scheme. ("Dad nearly wet himself laughing when I told him that one!") Adrella was back in 2009 when he hosted the 6th Annual Winter Palace Gala, honouring the late Regina Fong, at the Black Cap. In his final years Peter Searle was unable to work because of cancer.
Jeremy Joseph, who first met Adrella at the Royal Oak, Hammersmith, in the 1970s, remembers the early, liberated drag scene, dominated by Lily Savage, Regina Fong and Adrella, as "the time of our lives." When AIDS was at its worst, he continues, "It was the drag queens who first stood up to raise money."
Writer Sebastian Sandys confirms, "They affirmed us all, when few others did." Captured by so many fans' early video cameras, Adrella can clearly be seen as one of the most entertaining and the most loved cabaret acts the gay scene has ever produced.
Remembering Adrella…

• Spike Rhodes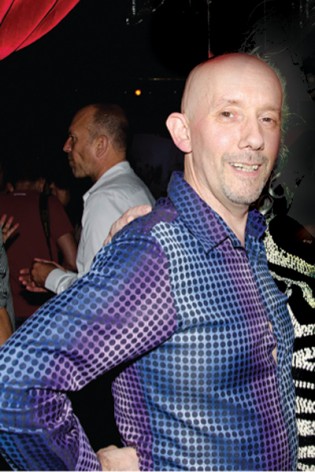 We met in the 80s, when I compeered at the George 4th in Poplar. Our friendship developed whilst my alternative drag group ADC hit the scene. I headed his Pink Coats at his 'Camp Camp' weekend. With fear over AIDS infections, outrage in the press and the local Mayor trying to ban the event, Adrella took a host of performers (Lilly Savage, HIH Regina Fong, Dr Evadne Hinge, Bay City Rollers and legend Eartha Kitt into a Butlins family holiday Camp in Skegness for a pink queer weekend.
When Katherine Heartburn, one of the RVT's Pink Coat drag queens made the front page of The Sun newspaper, Peter knew he was breaking down barriers. I've often known him to use his stage to be political, when he felt the need in those pre-equality days. He became the patron for my Drag Group 'Company' based at the RVT, helping us raise money for Food Chain.
I admired and supported him when we talked about him going public about his HIV, which he did in an article in newspaper Thud, in the 90s. Even then, still only a small group of us were open about our status, he was one of the most famous at the time and the impact and help his article had on many gay men at the time was something that the scene should also proudly remember him for. An amazing performer, wicked and quick witted, big hearted and generous, I'm so grateful to have known you Peter, no more pain now.
• Titti La Camp

Adrella did more in a few short years of performing than many of us will achieve in a lifetime. A true all round performer with his mime routines being as good as his live shows. Along with Lily Savage, David Dale and HIH Regina Fong, he was part of the golden years of drag and when he was at his best, on those Sunday afternoons down at the RVT, there was no one better.
He used to perform a hilarious routine to the track 'Science Fiction, Double Feature' where he came out as an usherette and proceeded to throw sweets at the audience from his tray, and that gave me the permission to chuck bread, and hence come up with 'Feed the Birds'. Thanks Adrella for the inspiration and the career!
• EbbOnKnee

The last song Peter heard before slipping away was 'I'm every Woman' by Chaka Khan, and never a more apt number could have been played. Peter was every woman when he was Adrella. Whether as the world's second best Shirley Bassey, or when he persuaded Eartha Kitt to do Champagne Taste at Camp Camp (a number that was a staple in his shows).
Liza Minnelli became another one of his many, many, characterizations, which were performed with unique style and panache. His attention to detail was incredible and I have been very blessed to have had him as my mentor and friend. As for me it was a Dionne Warwick song that played shortly before which was 'I don't know what to do with myself', one of the last numbers that he loved to listen to in his final days. Rest in Peace Pete.
• Lola Lasagne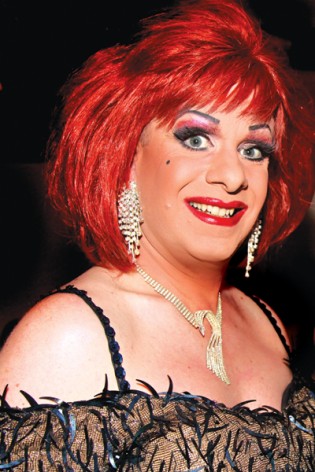 Adrella was without doubt one of the stars, along with Lily Savage, Regina Fong and The Trollettes, who formed the cabaret scene we love today. I met her at the RVT where she ruled Sundays and she took me under her wing. I first sang live with her at a RVT Sports Day and I owe much of the way my career turned out thanks to her influence. She was wickedly funny on stage and off, and inspired so many of us to work as hard for charitable causes as she did. The best stars shine brightest and Adrella's will continue to do so for years to come.
• Dave Lynn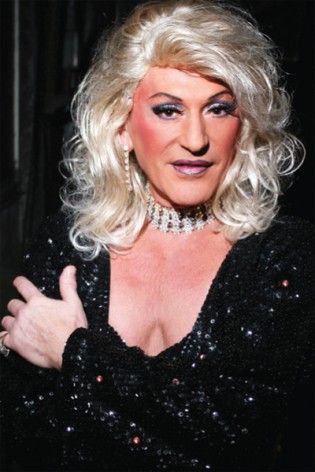 I first met peter over thirty years ago when we both took part in the Black Cap talent show. Peter was 17 and I was 16! We became very close even though we were in competition with each other. We spent a lot of time going out together and at his flat with his gang; he was great fun and had a brilliant wit. I remember his version of 'Three Little Fishes' to this day. As time went on we both went on to have fab careers on the scene.
We worked together many times and had a kind of pretend rivalry. One show we did with Lily [Savage] called The Golden Girls. I feel like a part of my past has died with him. I can never forget as kids his diamante studded T-shirts with the name of his latest lover, and of course Liza Minnelli and for his Sunday afternoons at the Vauxhall Tavern! Rest in peace, darling, I will never forget you and your massive talent.
• George from The Sharp Boys

Before I started in the business he was one of the people you had to see at the RVT. You never knew what was going to turn up next. He would make us laugh and cry. It was an explosion of excitement. He was the absolute diamond of performers and we'll never see his like again.
• Jeremy Joseph

I've only got fond memories. He had a way with an audience. He knew how to get them in the palm of his hand. His death is really sad but thinking about him has left me smiling. That's a credit to the kind of person he was. He shouldn't be forgotten. He helped lead the way for the artists of today and it's a shame the newer people don't know who Adrella was.