ent This London gay saunas guide was updated in October 2023. This is your complete gay London sauna guide.
London gay sauna guide covers gay saunas in Soho, South London saunas and East London saunas.
We know our saunas, so we do. So here it is, the definitive sauna list.
---
Gay saunas in Soho
Sweatbox Gay Sauna and Gay Gym, open 24/7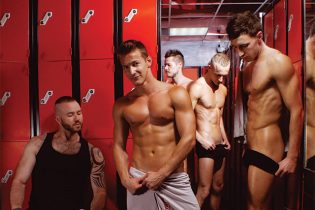 This award-winning gay sauna and gym is located in the gay neighbourhood of Soho. Sweatbox attracts a younger crowd who pour out of the dozens of local gay bars every weekend come closing time. It's open 24/7 and is, not surprisingly, one of the busiest gay saunas in Central London.
This large venue has a well-equipped and rarely crowded gym upstairs and massages on tap. A large 30-man jacuzzi and three steam rooms are linked by a maze! PLUS a large Turkish hot room, infrared sauna and private cabins. It's the perfect place to work up a sweat, however you that may be. Corridors of private cabins are available at no extra charge. There's also a darkroom to fumble about in.
Events at Sweatbox gay sauna and gay gym
Sweatbox gay sauna and gym hosts London's only gay steam maze and foam parties, including forthcoming naked workouts, plus FREE entry offers for under 25s with ID on Mondays and Thursdays.
SWEATBOX SAUNA: HARD UP MONDAYS Every Monday, 8 am-Midnight. Under 25s get your IDs ready, as it's FREE entry for under 25s with ID! ZERO FOR HEROS TUESDAY All key workers (blue light card holders) get in free. 10 am-2 pm. MIDWEEK FOAM PARTY Sweatbox re-launches it's infamous foam parties on Wednesdays. Enormous fun as the sauna's jacuzzi has the capacity to take a football team or two! 8 pm & 10 pm. SWEATBOX SAUNA: HARD UP THURSDAYS Every Monday, 8am-Midnight. FREE entry for under 25s with ID! SWEAT BOX GYM: NAKED WORKOUT SUNDAY Naked Workouts are every Sunday from 2 pm to 4 pm. Hosted by a special guest every week. Find out more at SweatboxSoho.com.
Sweatbox welcomes people who identify as he/him and they/them. Treat yourself to a relaxing body massage: Massage prices are 30 mins at £30, 60 mins at £50 and 90 mins at £80. Antibacterial, environmentally friendly, towels. Cafe plus internet access.
Entrance prices to Sweatbox gay sauna and gym: 25 & Under £12 with valid photo ID, 24hr pass £20, 48hr pass £25, weekly pass £45. More info link to Sweatbox. Opening times: 24 hrs a day, 7 days a week. The nearest Station Oxford Circus.
1-2 Ramilles Street, London W1F 7LN, United Kingdom.
---
Covent Garden Health Spa (CGHS)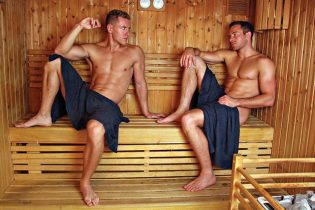 CGHS is in the heart of Soho. It's a gay sauna with a host of facilities, including a sauna, spa pool, steam room, wet room, restrooms and a licensed bar. The venue hosts a range of private events by JamieHP including pool parties and TFN (Totally Fekking Nude) which leave little to the imagination. If you want to pamper yourself book in for a relaxing massage.
29 Endell St, London WC2H 9BA, United Kingdom.
---
Gay saunas in South London
Locker Room Gay Sauna
This ready-for-action little South of the river sauna is known for its chilled vibes and personable crowd. They won a Travel Gay Europe Award as one of the best saunas in London, as voted for by international patrons! So it's got to be good! They're equipped with a sauna, steam rooms, private cabins, free Wi-Fi and internet, and free coffee, tea and juice. Perfect if you're looking for somewhere a little less posey.
8 Cleaver Street, London SE11 4DP, United Kingdom.
Gay saunas in East London
Sailors Gay Sauna
Come and get your man-sails hoisted and your scuttle well and truly jibbed. Yeah, that's right. We bet you love a good jibbing, you filthy minx. You can find Sailors Sauna bobbing around in the serene waters of Limehouse. It's on the cosier side but has a bubbly spa pool and plenty of spaces to get acquainted with other seamen. There's also a roof garden. There are plenty of themed nights offering discounts for students and those that are big-n-cuddly.
570-574 Commercial Road, London E14 7JD, United Kingdom.
---
Gay saunas in East London
E15 Club in Stratford
This gay sauna is open Thursday-Tuesday 12.00p – 7.00 pm. You need to book so call them. Used to regularly run promotions and themed days, such as Bears Day. Bring your own towel. Late-night private sauna sessions are available. Facilities include a steam room, large dry sauna, infra-red Sauna, showers, coffee and snack Bar, TV lounge, relaxation rooms, video lounge and cruising Rooms.
6 Leytonstone Road, Stratford, London E15 1SE, United Kingdom
---
---
Gay saunas in Bournemouth
Sauna Bar
This is Bournemouth's premier men's spa! Why a sauna in Bournemouth, you ask? Well, Bournemouth's lovely. An affluent seaside town, the perfect place to escape the hustle and bustle of London living. Sauna Bar has got a great clean, modern vibe with lots of ambient light fittings and sparkling tiles. They've got a licensed bar and a lounge with a pool table, music, movies, magazines, free wifi and complimentary tea and biscuits! How civilized. Open 7 days a week, 12 midday until late.

140 Commercial Road, Bournemouth, BH2 5LU
www.gaysaunabournemouth.co.uk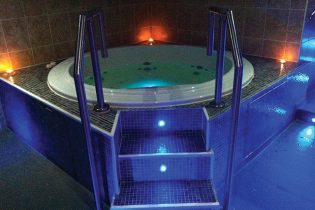 ---
Gay saunas in Manchester
Base and Basement Saunas
If you'd rather head oop North than dahhn Sarf, then look no further than Base and Basement Saunas, a salaciously successful chain of steamy venues across Manchester, Leeds and Newcastle. All three cities have brilliant and/or burgeoning gay scenes, and all four venues enjoy lots of traffic from all sorts of guys wanting to take a load off (insert "load" joke here).
Basement Manchester is at 18 Tariff Street, Manchester M1 2FN
Base Manchester is at 38 Sackville Street, Manchester M1 3WA
Base Leeds is at Arch 7, Heaton Court, Leeds LS1 4LJ. www.base-leeds.com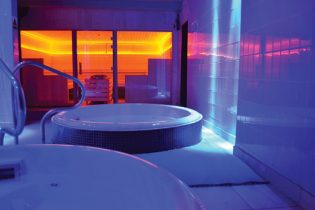 ---
Gay saunas in the Midlands
Greenhouse Saunas
They've got branches in Darlaston (Birmingham), Newport and Luton. The Darlaston branch is the biggest sauna in the midlands with more facilities than you can shake your cock at and it's even open on Christmas Day –who wants to stuff a turkey?
Check their website for details of Darlaston, Newport and Luton saunas.
More: Let's Go Outside
London's best outdoor gay spaces