DJ Tafkanik is bringing his Homostash crew to supercool club night Berlin Berlin on Saturday December 30th at Egg London, with DJs Sexshooters and Anahita.
In the Main Room catch Dirty Doering and Kyle E, whilst on the Middle Floor Pornceptual takeover with DJs Sciarada and Projekt Gestalten + Performers/Hosts, Raquel Fedato, Chris Phillips, Eric Phillips and Pierre Emo.
It's gonna be wild! In fact, we'd go as far as to say it's gonna be FERAL. With rip-roaring, shirt-ripping, drink spilling performances from some of our absolute faves: Lewis G Burton Kassandra Powell, Bambi Blue, Cynth Icorn, FoxGlove, Lilith D'Luxe, Kokaine Tyson, Luke Harris, Plastic Sister Parma Ham, Prince JayJay and Santi Storm. Whew!
We had a chat with Tafkanik to get a bit of an idea of what we can expect!
Hi Tafkanik.. can you tell us where you're from and how you came to be involved in the Berlin Berlin party?
Hi! I'm originally from Poland, and I grew up in Vienna and have lived in L.A. as well as Brighton but I call London my home! The Berlin Berlin crew were looking to spice up their new party with a queer touch, which was shortly after the very successful launch of Homostash at Dalston Superstore in 2015. We agreed to try it out on the 2nd Berlin Berlin event in October 2015 and that was the great start of our wonderful co-operation that's continued ever since!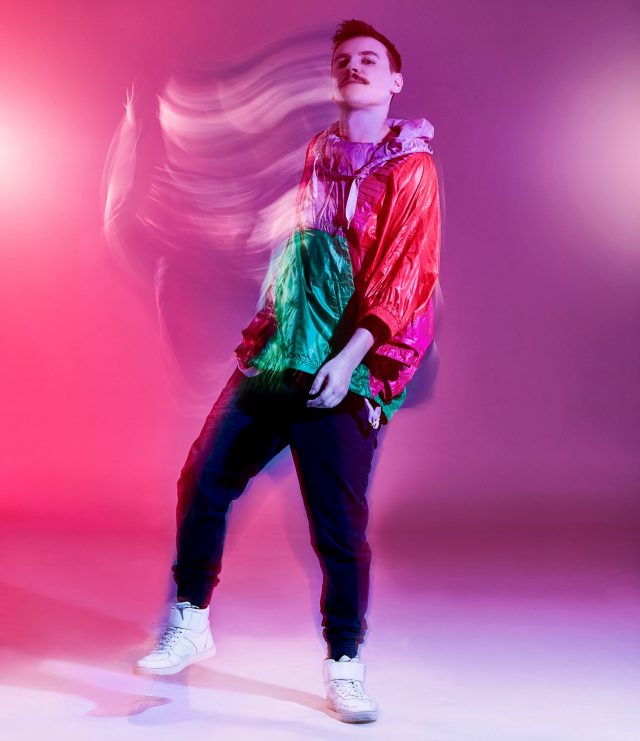 Can you tell us more about your obsessions with Trip Hop, Italo-Disco and Downtempo and what artists attracted you to these musical genres?
I've was fascinated by trip hop as a little kid and I was lucky that my parents and their friends listened to quite cool music so I came across Bjork and Massive Attack pretty early on. As I became older I found a lot of other trip-hop and downtempo acts such as Portishead, Lamb, Pati Yang, Morcheeba, UNKLE, GusGus etc. and I couldn't get enough of their sounds. Their music spoke to my artistic and quite melancholic teenage tastes. My fascination with Italo-Disco on the other hand is probably there to balance it all out and bring some easy-going happy vibes into my world!
You sing and write your own material, and your piece of music "Two Lovers" was massive in Austria. Has being a pop star been on the cards from a young age and were you always hoping to pursue something musical?
I wouldn't call it massive, but the radio airplay of 'Two Lovers' opened a few opportunities such as performing at international festivals and on TV and they were fantastic experiences. Most importantly it gave me the confidence as a song writer to do my own material and the chance to work with musicians, producers and artists I always admired but did not have the confidence to approach until I got the reassurance that my music and vocals weren't that bad.
Give us the lowdown about your renowned party "Homostash" which has a massive gay following. Explain in a few sentences what makes it so special and why?
Well first of all it's the crowd who come to the parties. We started off as quite an alternative event…a moustache was supposed to be a synonym for something that stands out and makes you a bit different, something that you can wear with pride. Having a moustache might not raise an eye brow in East London these days, but head west or outside of the city and some people still feel the need to comment or make a joke if you have a moustache. So Homostash, became a place where kids could admire people with moustaches, just be themselves and have a crazy fun time! We don't exclude anyone, in case you can't grow a moustache or if you are a girl we will give you a fake one and you can join in the fun. The other main factor is the music and we make sure that the DJs are top notch and that people want to go there because of the music too as well as some great visuals and art by local LGBT artists that we showcase. We continue to work together with Dalston Superstore and Egg LDN in the upcoming year but we are also going to work with the LGBT History month UK in 2018. We will run the official party for it at Five Miles on the 10th of February and I am very excited about that!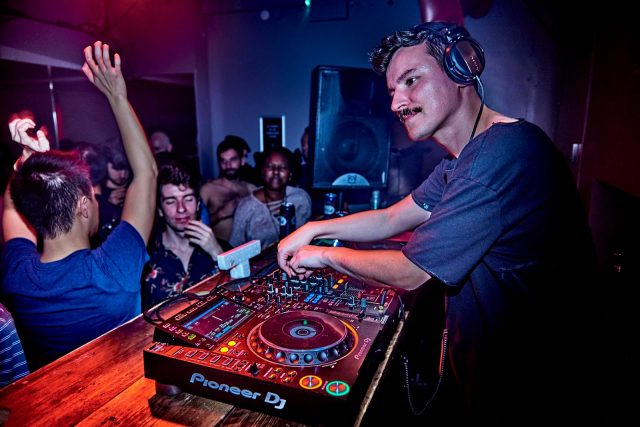 Where do you find your rather fetching moustache sexy male models from?
Everywhere really. Sometimes I meet them on the street and approach them, sometimes they contact us via our social media platforms and sometimes I meet them at the Homostash parties. My moustache guys radar is on 24/7 and if there is a moustache around I will spot it!
So you host the Loft at Berlin Berlin and does this differ from the regular parties you do at Dalston Superstore?
Well the main difference is that although it's a mixed crowd at Dalston Superstore the majority comes from the LGBT community. Whereas at 'Berlin Berlin' we bring that crowd to Egg London plus a lot of curious people who were probably not intending to go to a LGBT party or are just discovering their sexuality and they feel more at ease in that setting. They check out The Loft and feel the Homostash vibe, enjoy the music and it's such a crazy and relaxed atmosphere that many people get drawn to it.
What can clubbers expect from you at Berlin Berlin musically?
My crew and I want to take the crowd on a journey. We usually start with a happier House vibe then move on to Tech-House and finish the night off with Techno.
What plans have you got for Homostash in 2018?
Besides making our Homostash parties even more exciting and bringing a variety of international DJs to the event in the coming year. After the event with Berlin Berlin on the 30th of December we will bring the first Homostash of the year on the 12th of January to Dalston Superstore. We have a lot of exciting stuff in store including Yam Bataller, who is the resident at Berlin's Sado Maso Disco Club. Additionally my friend Maciek Groman from HAWT Photography will be launching his zine called [HAWT!] on the night. The first issue is moustache themed and there will be lots of Homostash references in it. On top of that we will have a concept performance art show by my friend Electra Fantasy, called 'The last Twink on Earth'. It's going to be an exciting party!
As mentioned before I'm also extremely excited about working together with the LGBT History month next year where we will host the official party 10th of February at Five Miles!
Are there any up and coming DJ/producers that you have been taking note of on the London gay club scene and what makes them special?
Definitely Anahita Shamsaei who will play with us at the Berlin Berlin party. She is studying in London but is originally from Iran where she played at a lot of underground parties. Producer wise the Sexshooters have been doing very cool remixes lately and they will be playing with us on the night too!
Lastly, what should we be listening to before we head out the door to Berlin Berlin?
Get into the groove by listening to a techno or tech house mix from one of the DJs on the night – Sexshooters, Anahita Shamsaei, or myself. And don't forget to turn up the bass!
Berlin Berlin is on Saturday 30th December at Egg London, 200 York Way, N7 9AX. 11pm – 8am. Tickets available at egglondon.co.uk.