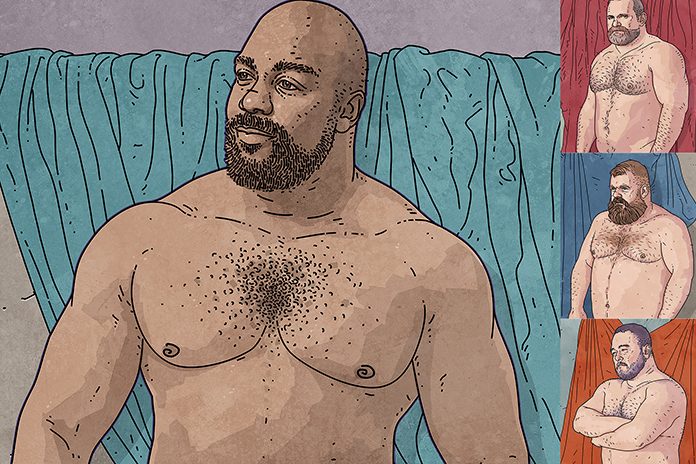 Meet the artists behind these beautifully beary illustrations
---
"Remember the guy who told us that 'It's always nice to have a finger in your arse and not know whose' says artist Mike casually, "There have been a lot of stories like this."
Artists Charlie Hunter and Mike Wyeld have both shown their work in galleries separately, including the V&A, The Boston Museum of Fine Art and more.
Through their combined project LOVED, they've drawn and interviewed hundreds of beary and differently bodied guys from around the world. "All shapes and sizes, ages, abilities, locales…there are people from everywhere, and all walks of life."
LOVED is an installation made up of a combo of illustrations of these gorgeous men, and an audio soundtrack that tells their stories. It is at times harrowing, funny and touching.
"I like to think that our work uses the bear community as a lens to look at wider LGBTQ+ issues," says Charlie. "We set out to tell the gay bear story in some sense, but I think it expands to become something more universal."
"Initially it was just about our friends in London," says Mike. "But we have since been everywhere, we just got back from the Outburst festival in Belfast."
Charlie added, "LOVED has also played in cities around the world, including Provincetown Bear Week in Cape Cod, Helsinki Pride, Liverpool, Estonia, Toronto and more."
"Bears in some towns don't have the freedoms that Londoners have, it's been eye-opening to take this around the world," Mike says, "there is still a good deal of bullshit that goes with being gay out there, let alone being fat or hairy or whatever and trying to navigate your way."
The project has earned the pair many fans, too. "We have been lucky that LOVED has been embraced by the community When we started, we did wonder who would come to the show. But now I think we are more confident.
So come, come to see and hear the bears!"
LOVED is at The Department Store, 248 Ferndale Rd, Brixton, London SW9 8FR. 11am – 5pm daily, 1st to 9th December.