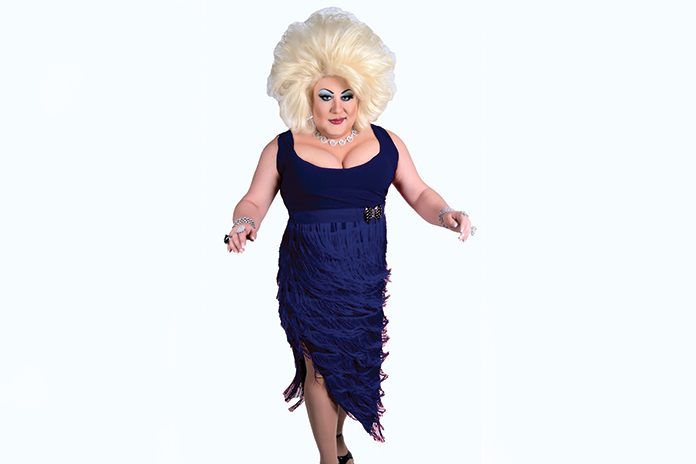 The drag stalwart talks to Jason Reid about the legends who shaped her
---
We all have those special soulmates who are always there unconditionally, or people who have just been there at the right time to positively impact our journey through life; almost as though the universe has brought about those encounters.
This week, Darren Evans aka Crystal D'Canter talks to Jason Reid about the people who shaped him and her…
---
My Godmother
If there was someone from my youth who truly loved and accepted me for who I am and has influenced me in every stage of my life it would be my godmother, Ellen. Crystal is very much a manifestation of her; she was a curvy goddess who could sew a frock or artex a ceiling, and she possessed amazing strength, love and warmth. She taught me how to whip up a frock, style a weave and shimmy. Ellen was possibly the greatest woman I've ever known.
Rose Garden
It's no secret that Crystal is a 'House of Garden' queen. Rose was the first drag queen I regularly went to see – at The Stag in Victoria. Rose was there when I started performing and she let me be her guest – instilling in me an ethic of working for what you want to achieve and to always shoot for the stars. In turn, we (CK) try hard to promote new talent and give them a chance to perform and grow.
Miss Julie Paid
I had some serious highs and lows with the queen who really boosted my early career at Molly Moggs but to deny her influence on me would be dishonourable. I look back with fondest memories of Miss Julie Paid, and my original residency on Sunday evenings. I've recently returned to the venue (now called the Compton Cross) on a Friday Night residency.
My Dad
I met my dad in my early twenties and he has shaped me in many ways; he taught me tolerance, inner strength, determination and to stand firm in my beliefs. He's supported me throughout my career and no matter what crazy ideas I throw at him, he's always been there to help me make them work.
Susan Coleman
This wonderful woman took me under her wing as a young gay lad and taught me how to love and laugh, as well as introducing me to some amazing people (including Miss Bruce who gave us the Halfway residency). Sue's passion for the LGBT+ world and the Ministry of Defence combined is outstanding and she taught me so much about my heritage and was a considerable influence in my deep-rooted love and support for the MOD. It was a bet with our Sue that resulted in me becoming Crystal. She bet that I couldn't be a drag queen and enter the very first Drag Idol competition (a million years ago). It's all her fault.
Kelly Mild
A queen who's not only become one of my very best friends, but more of a younger sibling. We tease each other, rip each other to pieces when the other isn't there yet love one another with every fibre of our being. Kelly (Marc) taught me to shake off my worries and have faith in myself. The Audrey to my Seymour and my stage partner for over eleven years; Miss Kelly Mild really is responsible for my quiet yet shady eye roll, lip curl and sarcastic glint – mainly because she never shuts up and I can't get a word in edgeways… But I wouldn't have it any other way.
Crystal D'Canter performs at the Admiral Duncan, 54 Old Compton Street, Soho, W1D 4UB every Saturday from 8pm.