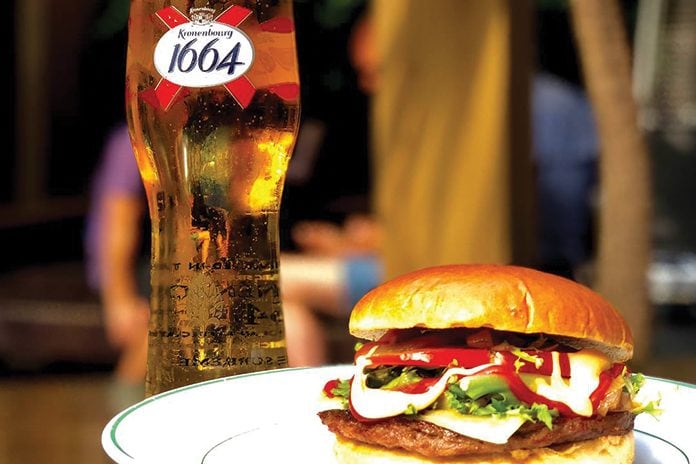 The world is burning – LET'S HAVE A PINT
---
It's February! It's also SUMMER! Hooray!
Already the weather is warm enough to sit outside with some lovely tapas and a bottle of rosé. Granted, you'll still need a jumper, but by London standards the weather is totes warm enough.
It's a bit WORRYING though, isn't it.
Basically, global warming is here, and it's happening, and we're all going to die quite soon, but don't fret! Have a drink in one of London's many and varied gorgeous beer gardens.
We've selected our faves below.
---
The Fence, Farringdon
Especially considering its zone 1 location, this beer garden is impressively ROOMY. You can usually sniff out a seat even on its busiest days, mainly because there are just so many seats! They've also got some snugs for when it gets chilly, and huge cushions on the terrace to lounge on. The crowd is a pleasing mix of handsome city boys and slightly eccentric bougie Farringdon locals. And they've just started a drag brunch on Saturdays – yas kween!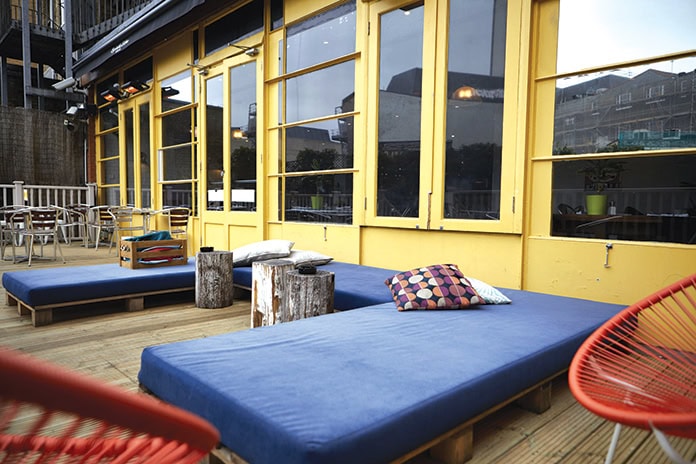 ---
Vauxhall Street Food Garden
Gosh, if the walls of Fire's beer garden could talk…they'd probably say "Jesus christ, have you got an aspirin babes? Actually wait a sec, isn't that David Guetta?" Fire's beer garden beggars belief! A bastion of gay clubbing and the sight of many a 5am snog, it has to be seen to be believed. So get down there and see it!
---
Eagle London, Vauxhall
This is truly a beer garden for all seasons! There's cover for when it rains, there's heaters for when it's cold, they've got it all! Perch and flirt with a hot dad called Greg beside a fetching potted plant. Or sit raucously on benches with friends on one of those long, languorous Sunday afternoons. You can stay for Horse Meat Disco after, one of London's best-loved club nights, dontchaknow!
eaglelondon.com
@eaglelondon
---
The Faltering Fullback, Finsbury Park
This is not so much a beer garden as a vaulting, wood-hewn wonderland. There's such a magical mish-mash of cascading plants, wood carved sculptures and fairy lights that you half expect tinkerbell to pop out from behind your pint glass. The Fullback is in that coveted void between cult fave and major destination – it hasn't become unbearable yet but it WILL, so get in there over the next few months, before the hipster hoards descend.
---
The Apple Tree, Farringdon
Not TECHNICALLY a beer garden, more just a few tables scattered outside on the sidewalk, but sometimes that's the best! It's great for people watching, and new queer haven The Apple Tree has the sort of vibe where most of the clientele often spill out onto the street, happily chatting about things like MENSA memberships and Munroe Bergdorf. They're great in there, it's got quite a unique vibe for a London venue – think queer left-wing Brighton bar, if it got beamed up and dropped in Central London. Def worth a visit!
theappletreelondon.com
@theappletreelondon
---
The Yard, Soho
Unignorably ornate and vivaciously verdant (ugh, shut up), The Yard is an oasis of calm tucked away behind Piccadilly's dusty, debauched streets. The drinks are cold, the staff are hot, and the atmosphere is the perfect melding of gossipy and flirty. Bring yer wallet though, two Aperol Spritzes will set you back twenty quid.
yardbar.co.uk
@Yard_Soho
---
The Garden Gate, Hampstead
One of London's bougiest beer gardens! Don't be surprised if you see Sienna Miller sucking down a sangria. But that's half the fun – we all love a bit of pretension don't we. Let's be honest, we do. We revel in silly poshness, it's part of the reason we love London. Thankfully, The Garden Gate's prices don't reflect its Class A clientele and affluent location – it's pretty much normal pub prices. Well, normal for London anyway – fiver for a pint. Its beer garden is gorgeous, with punters pontificating under shady trees, whiling away gorgeously breezy afternoons.
www.thegardengatehampstead.co.uk
@thegardengate