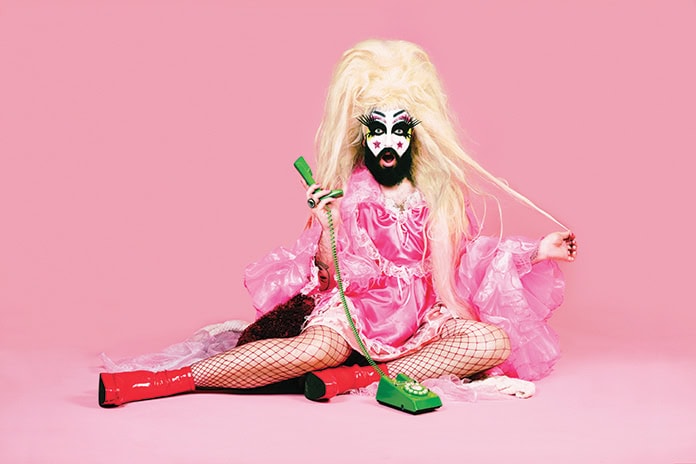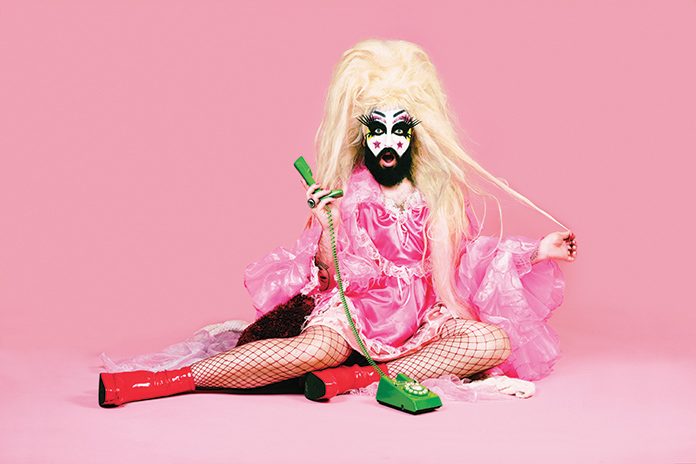 Punk-horror-drag superstar and QX Cabaret Awards nominee Baby Lame is one of the most idiosyncratic and exciting cabaret characters to hit the London scene in the last few years. A towering, slightly terrifying but acutely endearing cabaret clown who goes where few others would dare.
This week, the person behind the Baby, Chris Weller, chats to Jason Reid about Baby's birth, shock value, their night at The Glory – Shit Show – and crossing over into the mainstream…
When I first saw Baby Lame I thought they were like nothing I'd ever seen in my two decades of working on the London cabaret circuit. Where did the idea originate from?
I take that as a huge compliment. Baby was birthed on Halloween via an incredibly bad Whatever Happened to Baby Jane costume. I was always obsessed with Dawn French spoofing Baby Jane on French and Saunders, and when I finally got to see the film years later, I found an instant connection with Bette Davis as Baby Jane – on the outside she's viewed as this completely bonkers monster, but at the core is just an honest soul trying to navigate her way through life. I think that's always been at the heart of Baby Lame's character. That was the starting point; the rest of the character was originally built around tragic reality stars like the Honey Boo Boo child and Anna Nicole Smith. I wanted Baby to be a reflection on what was messed up about pop culture. But since then there have been a lot more personal layers that have built into what Miss Lame is today.
What was the reaction from audiences and bookers when you started out with the character?
Nobody wanted to book me, so I literally had to beg for free spots. I was in a weird position because as a performer I had zero connections in the cabaret world, but as an audience member I'd watched a lot of cabaret shows and had a massive knowledge of the scene. I knew there was a place for someone like me on the circuit, I just had to make other people believe it.
How did you navigate that?
It was a tricky path to manage – starting out I don't think many audiences or bookers trusted me. Baby's performances were very punk, very aggressive and very feral. I hadn't really harnessed the character and like many new performers made a lot of mess. If I'm completely honest I didn't have much respect for the audience – which is probably the biggest mistake a performer can make. Like with everything, performing requires development, and the only way you can truly do that is by getting on a stage and learning from your mistakes.
Do you like to shock?
I LOVE to shock! Although I often find it ridiculous to think that people find me shocking. Why is talking about shit such a taboo subject? We all shit. Why is smearing Nutella on your bottom to mimic the act of shitting yourself, shocking? People get shocked about the way I look in drag – a hairy man with a beard, in a dress and clown makeup. There are a lot of VERY basic, VERY vanilla, VERY complacent people, cruising on by with their lives that need to wake up. Just look around at what's happening in our world: truly shocking political events, trans people getting murdered, the fucking environment – yet people are still shocked by a poo joke? WAKE UP! Like most new performers starting out it was easy to go for the 'shock for shock's sake' approach, but audiences can see through that. There has to be a reason for it. As an audience member I like to experience a whole spectrum of emotions. I want to actively participate, rather than just sit there. I'm not saying I have the skills to achieve all of those things with my performances, but it's definitely something I consider when creating new work.
You cite John Waters as a main influence in Baby's creation. Who or what else do you draw inspiration from?
From a young age I have always been drawn to freaks, monsters and underdogs. I've always rooted for people who aren't meant to succeed. I remember watching a pantomime at Butlin's in Bognor Regis and wanting to be friends with the Wicked Queen, whilst everyone else was booing her. It might surprise people but as an MC I've taken a lot from Joan Rivers and Wendy Williams – the pair of them in my mind are both incredible speakers and know how to drive conversations, generate content out of nothing and are bold as hell in their delivery. I have studied the hell out of them! Performer wise, there are too many people on my list, but Jayne County, David Hoyle, Peaches Christ, Dina Martina, Joey Arias, Christeene and Whitney Houston are probably my biggest influences.
Tell us a bit about Shit Show, what sets it apart from other cabaret revues, and how it has evolved since starting out four years ago?
Shit Show will always be my passion project. It is a dark underground variety revue that probably differs to other cabaret nights because it's not particularly scene-based, and I think that is reflected in my lineups. I truly believe that I programme some of the best artists London has to offer, and I don't think they'd normally be seen together under one roof. I spend a lot of time researching acts and curating the performances and really don't care where people come from or how many Instagram followers they have. I like to take risks with material we showcase and the focus has always been about variety. As any independent producer knows, it's fucking hard running a regular cabaret night in London, so I think I've earned the right to brag about it.
So Baby Lame…what can we expect from the birthday bash?
I'm lucky that very talented people like to do my show. For the birthday show I've managed to get some of my favourite acts: someone who I think is really starting to change the game, Lilly Snatchdragon; Blanche Dubois from the iconic Lipsinkers; the ridiculously talented Queerstory, who are going to be HUGE; Rodent, who in my mind is another next-level performer, and the bloody brilliant Snakeboy Sunny.
You've just landed the BBC RuPaul's Drag Race UK Podcast presenting gig with Scarlett Moffatt. Congratulations! Now that Baby is about to cross over into the mainstream, do you think you'll have to tone the content down or compromise?
It's an interesting and exciting time for Baby Lame; who knows where she'll end up? I don't think anybody thought I would ever get an opportunity like this, but it couldn't be more perfect for me. Not many people know that I've actually been working in TV for the last 13 years, and have been a TV Producer for about eight years – so I really feel built for this gig. I've written hundreds of scripts for TV presenters and worked on thirteen series of The Paul O'Grady Show. Paul is obviously drag royalty and a master entertainer, so I learned a lot from working with him. I'm approaching the podcast in a slightly different way from my cabaret persona – it's not necessarily a compromise, just more figuring out what will work for that platform. I worked on Drag Race as a consultant producer, so it would be weird to ignore that side of things in favour of being full-on Baby. I'm going to be a mix of Chris and Baby… whatever that means!
Sounds amazing! You must be so exited?
I can't believe it's happening! Scarlett is a complete babe and very talented at what she does. To be honest I've given myself so much shit over the years and for way too long have been full of self-loathing and doubt, so it's time to change that. This is a brilliant chance to get Baby out to a bigger audience and take what I do to the next level. I've stopped caring about what people think – I'm just going to fucking go for it!
Shit Show – 4th Birthday Special is on Saturday 14th September at The Glory, 281 Kingsland Road, London E2 8AS