Europe's first HIV+ newly qualified pilot launches new film about landmark campaign to overturn ban
James Bushe from Stoke-On-Trent had wanted to be a pilot for as long as he could remember – but his HIV diagnosis at 25 threatened to jeopardise his dreams. At just 15 years old, he started flying lessons and got a private pilot license two years later.
His childhood dream was on track to becoming a reality in 2017, just two years after his HIV diagnosis, after being offered a place on a pilot training course. However, he was unable to pass the medical examination needed to obtain his license due to his HIV status.
At the time, the UK's Civil Aviation Authority (CAA) and the European Aviation Safety Agency (EASA) prohibited people living with HIV from training to be a pilot. The rationale was that someone living with HIV is more likely to become unwell during a flight, but this was a flawed position. If someone is on effective treatment, HIV is undetectable and poses absolutely no risk to the individual or others.
As well as being outdated, the legislation was also contradictory. It allowed people to continue as a pilot if they were diagnosed with HIV, but didn't allow people living with HIV to start training. From James' perspective, 'this was blatant discrimination'.
The Tyranny Of Petty Things, directed by Cameron Nicoll and executive produced by Paul Sng, documents how James campaigned to overturn discriminatory legislation and made history by becoming Europe's first HIV positive newly qualified commercial pilot. The film travels into James' memory to tell his story and explore his complex relationship to the cockpit. It takes its title from a quote from Antoine de Saint-Exupery, a pioneering aviator.
The film premiere and Q&A is being hosted by Terrence Higgins Trust on Tuesday 17 August from 8pm-9pm in an online event as part of the Life Really Changed campaign. As well as celebrating James' story, the campaign also spotlights the stories of individuals from all walks of life, and highlights the advancements we've made in the fight against HIV.
James Bushe told QX: 'Being denied the opportunity to pursue my childhood dream was heartbreaking. It made no sense as I was on a treatment that supresses the virus to an undetectable level, therefore I was medically no different to someone without HIV. My diagnosis did not even slightly affect my capability to be a pilot.
The real obstacle was stigma. It continues to pervade UK society and we all have a responsibility to fight it.
I wouldn't be flying today if I hadn't have challenged discriminatory legislation. I hope the film shows that HIV isn't a barrier to anything.'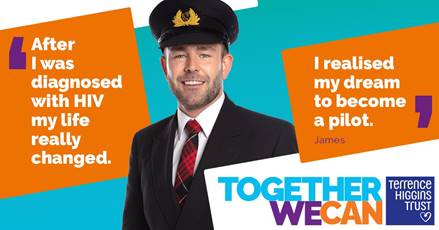 Terrence Higgins Trust CEO Ian Green said: 'We're honoured to be hosting the premiere and Q&A for The Tyranny Of Petty Things. James' historic win challenges negative perceptions around people living with HIV and demonstrates that the virus no longer limits our success.
'This is the message of the Life Really Changed campaign. The incredible progress we've made in the fight against HIV means that a diagnosis doesn't have to be a barrier to success. The campaign models have incredible achievements since their diagnosis – from becoming a circus performer, to marrying their childhood sweetheart.
'There is no place for discrimination based on status in 2021. HIV has changed. Tell everyone.'
There is still more work to be done to tackle unlawful discrimination against people living with HIV. 25% of countries maintain entry requirements that prevent people living with HIV from becoming a pilot. Additionally, legislation still prevents James from flying on his own.
Despite this, James encourages others to not give up on their dreams. 'It's okay to be HIV positive and a pilot, everything in the world up until that point had told me it wasn't. I wanted to tell everybody and myself that it is'.
Register for the free screening and Q&A here. The event will be recorded and the audience will be able to see the speakers but will not be visible themselves. HERE
"I knew there would come a point where it had to be done." – we meet the man who's changed the world for pilots living with HIV