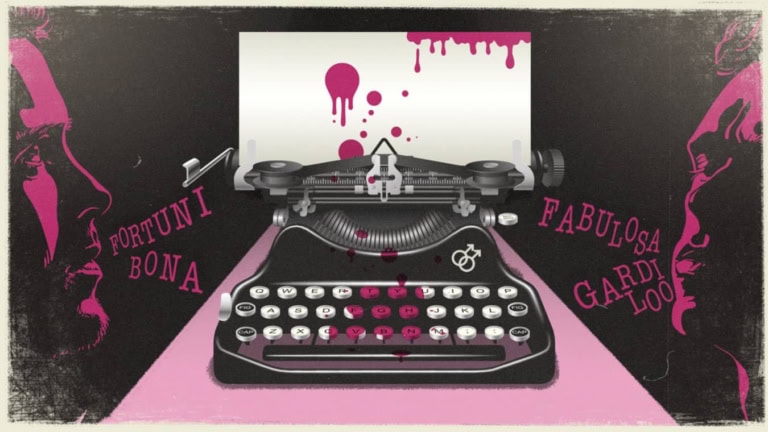 Presented by Theatre North and Dermot McLaughlin Productions, the hilarious murder mystery Scream Queer Murder is written by the critically acclaimed Martin Lewton. The play makes its London debut at King's Head Theatre 01 – 12 August as part of the King's Head Takeover Season, curated by David Cumming and his Queer Futures season.
Commissioned by the International Agatha Christie Festival, Scream Queer Murder was first performed to great acclaim in 2019.
This unusual and extremely funny comedy skewers queer identity and queer stereotypes in the fifties and today. It is 1953, and two queer men are inside the head of a famous murder mystery author waiting to be written into her latest novel. Excitement turns to suspicion and fear when the penny drops that one must kill the other. In desperation, they turn to their own language – the queer language of POLARI – to turn the tables on the author.
Martin Lewton, the writer, told QX: "Agatha Christie has always had a following in the gay community. After all, both Hercule Poirot and Miss Marple never married. I wanted to explore what might happen if the play's protagonists were, in fact, the usually 'minor' gay characters. As I researched the play, I became increasingly interested in Polari – "Britain's secret gay language" – which opened several funny and interesting ways for me to tell the story!
For most of the last century, queer characters in classic English murder mysteries were outsiders: a bit different from the rest of us and, therefore, on the surface, prime suspects – but also red herrings, too obvious to be the killer. Or were they? Is the author playing with us with her colourful queer characters: or, this time, could one of these stereotypical minor characters be the one – the murderer?"
Award-winning Theatre North has produced more than thirty-five plays and performance pieces that have toured in the UK and internationally, specialising in work with a gay sub-text accessible to gay and straight people alike. Productions include Naked Homo, Billy Budd Sailor, Lords Arthur's Bed, Handel's Cross, Mirando the Gay Tempest and Queer Bodies and Scream Queer Murder.
Directed by Andrew McKinnon, with Design by Ellen Cairns. The cast includes Martin Lewton and Isobel Arnett.
Scream Queer Murder runs from 1st to 12th August at King's Head Theatre, 115 Upper Street, N1 1QN, United Kingdom.