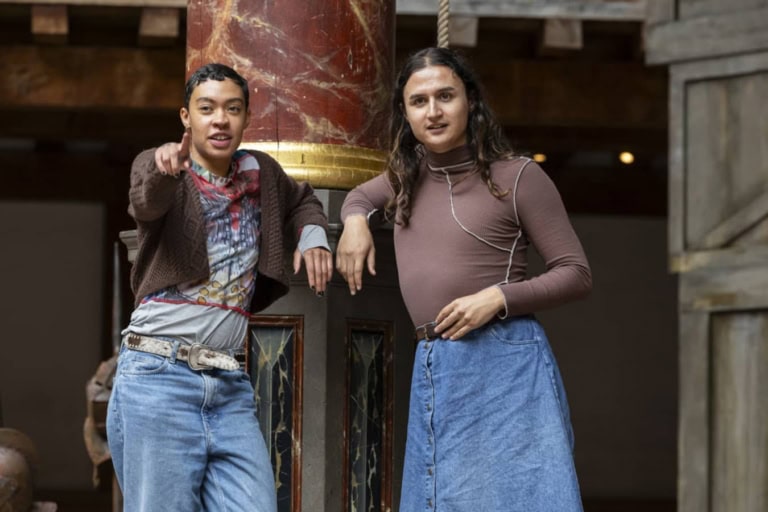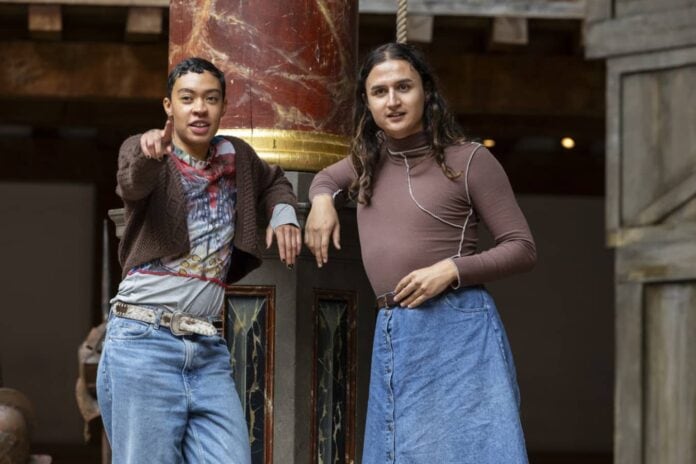 Hi! My name is Macy-Jacob Seelochan, I use all pronouns, and I'm playing Celia in As You Like It at Shakespeare's Globe this Autumn.
I've been out of training since 2019, and in the past 2 years have publicly come into my gender queerness. In a way, it's been like graduating all over again, refinding where I sit in the acting industry and what parts I'm suitable for, especially as someone whose gender feels quite flexible day-to-day. As You Like It will be my first time working with Shakespeare's Globe, and my first time playing a Shakespearean leading lady.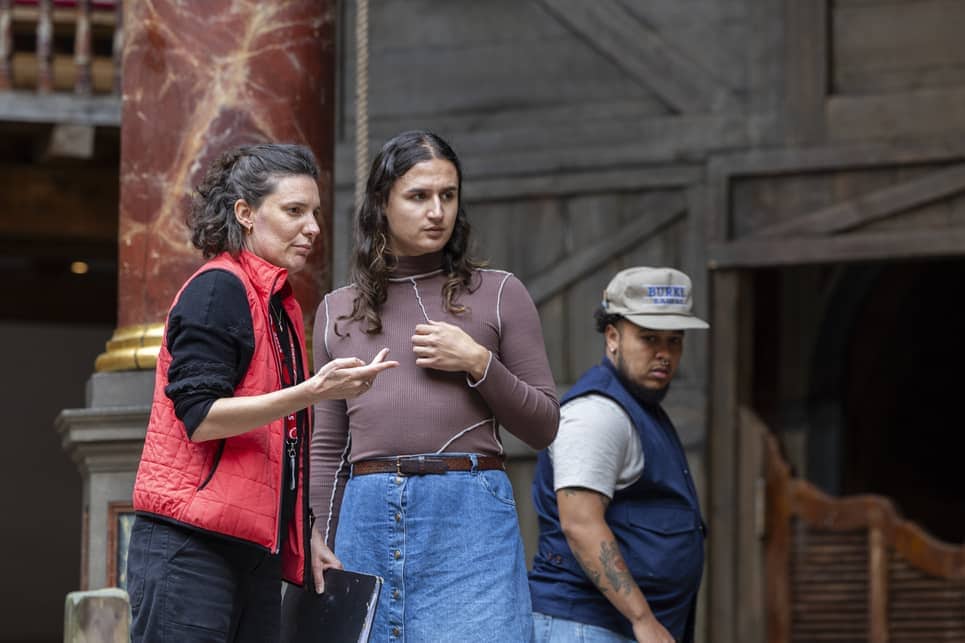 Just before As You Like It, I played one of the leads in another classical production, a large-scale revival of John Lyly's 450-year-old Galatea, for the Brighton Festival. The show featured a cast of both deaf and trans performers, and I played Phillida, Galatea's love interest. It was the first time I've played a character whose gender was a huge part of their story, and funnily enough the director of As You Like It, Ellen McDougall, saw the show. For me, Phillida was a character I totally understood. Her journey from believing life could only be lived in the binary, to the freedom of existing with whatever pronouns and in whatever clothing she wanted, rang true to my own experience. It also felt like a concrete reason as to why the acting industry is beginning to focus more and more on people playing parts that are in line with their own life stories. Those extra layers and subtle shifts that your own life experience can bring to a role really do matter.
Working on As You Like It has been a real testament to that. It's also highlighted the value of bringing not just actors, but artists into the room. Several cast members, including myself, have previously created their own work, so rehearsing for this show has felt like a very communal experience. Every company member is bringing their own perspective, and offering ideas that have only strengthened the show. Also, a lot of us had worked with Ellen before, (myself very briefly on a Development Day for this show, as well as Dear Elizabeth at the Gate Theatre), and so there is a lot of trust in the room. Trust in the vision, trust in what she wants to say, and trust that everything will turn out. There's no unmoldable vision slapped on, (we're not doing As You Like It set on a submarine!), instead we've really focused on the universal topic of the show: love. Familial love, partner love, love for strangers, all the different types of love that can blossom if you let it. And I think that's seeped quite beautifully into our interpersonal relationships. It's a very caring cast with a lot of time for each other in and out of the room, and I don't think it's a coincidence that this love has blossomed in a room of mostly queers!
I'm so grateful to be a part of a production where a trans Celia is not even something to be discussed, aside from when I bring it to the table. It's been truly accepted and welcomed as a reflection of our times, when visibility and uplifting our community is more vital than ever. Even off stage, in costume fittings and WHAM (Wigs, Hair & Makeup), there is no comment on my otherness. And after staying late at the Globe one night, to catch another very queer cast perform A Midsummer Night's Dream, I think I'm realising that's because this kind of work really needs that otherness. It asks for it, it even celebrates it. Words that are 400 years old have a magic to them, and so does queerness. Even the theatre itself has a magic when filled with an audience. And meeting that space with the ferocity of that queer perspective, with a radical sense of these words now belonging to us, creates something that is truly timeless.
– Macy-Jacob Seelochan –
As You Like It runs 18 August – 29 October at Shakespeare's Globe, 21 New Globe Walk, London SE1 9DT.